---
Notice
You have reached the portion of our website explaining the apostasy of the Worldwide Church of God (WCG). Start here if you do NOT have a WCG background.
---
---
Founder and Pastor General of The Restored Church of God, Editor-in-Chief of The Real Truth magazine, and voice of The World to Come program, David C. Pack has reached many millions around the globe with the most powerful truths of the Bible—unknown to almost all. He has authored 80 books and booklets, personally established over 50 congregations, and appeared as a guest on The History Channel. Mr. Pack attended Ambassador College in Pasadena, California, entered the Worldwide Church of God ministry in 1971, and was personally trained by its founder, Herbert W. Armstrong.
Learn more
---
Why the Worldwide Church of God Apostasy and Splinter Groups
---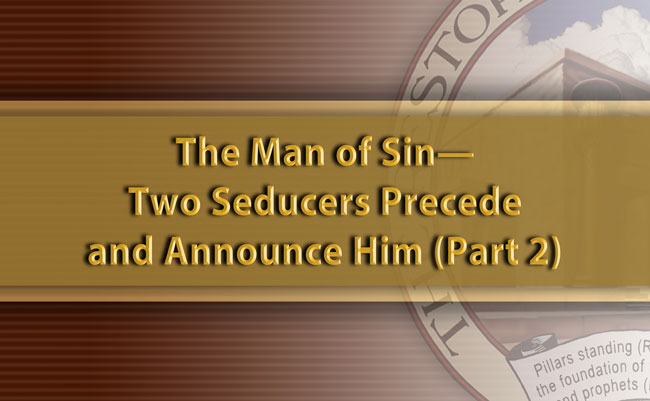 Mr. Pack brings additional powerful biblical proof about the soon-coming Man of Sin among God's people. God's Word contains plain warnings about the methods used by this deceiver, and two other prophesied figures who prepare the way for him. You will see clear statements from both the Old and New Testaments, including from Jesus Christ Himself. View this entire video!
---
Centerpiece Book
"Anoint Your Eyes" Christ's Warning to His People
Christ warns Laodiceans to "anoint your eyes"—WHY? What did He mean? WHO did He mean—and how can you know? This all-important instruction, to all Christians living in the last days, must be understood.
This extensive book—the most crucial written to the WCG splinters—thoroughly covers things never before explained, and in extraordinary detail. For those hoping to escape the Great Tribulation, it reveals exactly what Christ meant and how to apply this most critical warning!
Read more
Centerpiece Book
The True Church One Organization, or Many?
Jesus Christ built His Church nearly 2,000 years ago—and promised it would never be destroyed (Matt. 16:18)!
Is this Church and Christ's Body still a single unified organization? Or, after the death of Herbert W. Armstrong in 1986, and the prophesied "falling away" (II Thes. 2:3), did it split into multiple organizations, groups and scattered individuals?
Read more
---
Centerpiece Book
The Government of God Understanding Offices and Duties
The Church of God—the biblical Body of Christ—is not divided, and is the only place where the government of God is present, the only organization Christ leads. He has placed offices and assigned special duties within His Church. All of the splinters have rejected God's government! This has led to mass confusion about these God-ordained offices and duties.
What exactly is a deacon?—a local elder?—a preaching elder?—a pastor?—an evangelist?—a prophet?—an apostle? What about "teachers"? Who are the "messengers" to the seven Churches in Revelation 2 and 3?
Read more
Centerpiece Book
The Work of God Its Final Chapter!
Herbert W. Armstrong announced the kingdom of God to the world and proclaimed the special warning to the modern nations of Israel for 52 years! Did he teach that his death would end this commission, believing both duties to be his own "private work"?
How did he instruct his successor? Does "the kingdom shall be preached in all the world" (Matt. 24:14) before the "end come" still apply? What of "go…and teach all nations…all things whatsoever I have commanded…
Read more
---
---