Learn the
why

behind the headlines.

Subscribe to the Real Truth for FREE news and analysis.

Subscribe Now
SEOUL (Reuters) – Over the past year North Korea has moved to boost its navy with new nuclear weapons, including an underwater drone, warships, and its first operational missile submarine, unveiled on Friday.
North Korea's navy has historically been dwarfed by the country's land forces and overshadowed by its rapidly advancing ballistic missile program.
Now, leader Kim Jong Un has said the navy will play a key role in the country's nuclear deterrence, and analysts say it may also assure support among naval commanders and boost national pride.
"Until quite recently, Kim has largely appeared to neglect naval nuclear programmes," said Ankit Panda of the U.S.-based Carnegie Endowment for International Peace. "The recent refocus on naval nuclear capabilities has likely been welcomed by the Korean People's Navy."
Here is what we know about North Korea's navy and its latest advancements.
How Big Is North Korea's Navy?
The Korean People's Army Naval Force (KPANF) has about 470 surface vessels, including guided missile ships, torpedo boats, small patrol vessels, and fire support boats, according to the South Korean military's 2022 Defense White Paper.
It has about 70 submarines, including Romeo-class vessels of Soviet-era design, and midget submarines.
The navy also has about 40 support craft and 250 landing craft.
The navy is divided into two fleet commands that cover the country's east and west coasts, and about 60 percent of the force is positioned south of Pyongyang, the White Paper said.
"The North Korean Naval Force possesses the capacity to carry out a surprise attack any time," the paper said. "However, its capacity for deep-sea operations is limited because its force is primarily consisted of small, high-speed vessels."
What Are the Navy's New Weapons?
In March and April, North Korea tested what it said was a nuclear-capable unmanned underwater attack weapon.
Dubbed "Haeil", or tsunami, the new drone system is intended to make sneak attacks in enemy waters and destroy naval strike groups and major operational ports with an underwater explosion, state media said.
Analysts said the weapon's operational concept was similar to Russia's Poseidon nuclear torpedoes, a new category of retaliatory weapon meant to create destructive, radioactive blasts in coastal areas.
However, a report by the Washington-based 38 North at the time said the weapon's slow speed and limited range made it substantially inferior to the North's existing nuclear-armed ballistic and cruise missiles in terms of time-to-target, accuracy and lethality.
In August, Mr. Kim inspected a new Amnok-class corvette, a patrol ship that state media said was capable of firing nuclear-armed cruise missiles.
"Despite the fact that the majority of the weapons and sensors on board are severely obsolete in comparison with western or Asian designs, it is a major step forward for North Korea," the specialist website Naval News said in an analysis, calling its nuclear cruise missile capability a "game changer" for potential adversaries.
On Friday, North Korea said it had launched its first operational "tactical nuclear attack submarine" and assigned it to the eastern fleet.
The vessel appears to be a modified Romeo-class submarine with 10 launch tubes, most likely armed with ballistic missiles and cruise missiles.
South Korean officials said it appears that the new submarine may not be fully functional, but they did not elaborate.
Like the nuclear drone, its use in a war may be limited compared with North Korea's more robust land-based missiles, analysts said.
"Their submarines just aren't going to be able to be as survivable as their land-based forces," said Vann Van Diepen, a former U.S. government weapons expert who works with 38 North. "And they'll have a hard time deploying enough missiles at sea to make a big difference."
Real Truth Magazine Articles
ASIA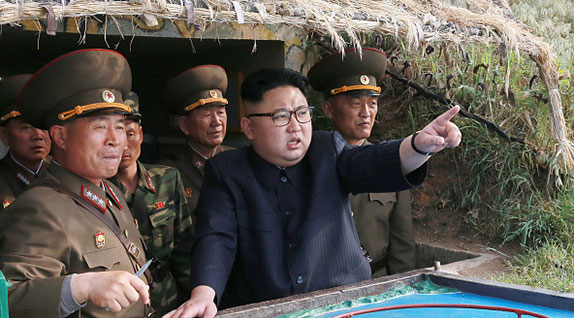 The Korea Conundrum
Why has North Korea remained a thorn in the world's side for decades?