Learn the
why

behind the headlines.

Subscribe to the Real Truth for FREE news and analysis.

Subscribe Now
The world will need to produce at least 50 percent more food, 45 percent more energy, and gain access to 30 percent more water to meet the demands of a growing population, United Nations research shows.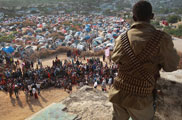 John Moore/Getty Images
"Although the number of people living in absolute poverty has been reduced to 27 percent of world population from 46 percent in 1990 and the global economy has grown 75 percent since 1992, improved lifestyles and changing consumer habits have put natural resources under increasing strain," Reuters reported.
The news outlet continued, "There are 20 million more undernourished people now than in 2000; 5.2 million hectares of forest are lost per year—an area the size of Costa Rica; 85 percent of all fish stocks are over-exploited or depleted; and carbon dioxide emissions have risen 38 percent between 1990 and 2009, which heightens the risk of sea level rise and more extreme weather."
With the world population expected to top nine billion in 2030, authorities are scrambling to find ways to accommodate this number.