Learn the
why

behind the headlines.

Subscribe to the Real Truth for FREE news and analysis.

Subscribe Now
During Jordanian King Abdullah's visit to Washington, D.C., to attend United States President Barack Obama's nuclear summit, the National Post reported that the Mid-East leader affirmed that conflict between Israel and Hezbollah is "imminent."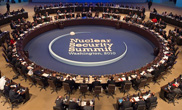 Paul J. Richards/AFP/Getty Images
His comments came as tensions in the Middle East continue to escalate due to Syria's alleged sale of Scud missiles to Hezbollah, an Islamist political and paramilitary organization based in Lebanon.
"Israel estimates Hezbollah's arsenal at some 40,000 rockets, a significant rise from the group's 14,000 rockets in 2006, when a 34-day conflict killed 1,200 Lebanese, mostly civilians, and more than 160 Israelis, mostly soldiers," Agence France-Presse reported.
Conflict between Hezbollah and Israel could put Lebanon at risk.
The Syrian Foreign Minister has denied the claims, and criticized Israel for using the accusations to raise tensions in the Middle East, yet he indicated his country would join a war between Israel and Hezbollah.
"The Syrian leader, Bashar al-Assad, has balanced overtures to Washington with reassurances his alliances with Hezbollah and Iran remain strong," National Post reported.
While the Lebanese government had no comment on the matter, Hezbollah lawmaker Hassan Fadlallah accused the U.S. of taking sides with the Israelis.
"This American interference that has completely adopted the Israeli position, is condemned and rejected by Lebanon. This U.S. position presents a threat to Lebanon. These American pressures and Israeli intimidation will not affect our choices and our commitment to defend our country by all means" (ibid.).