Learn the
why

behind the headlines.

Subscribe to the Real Truth for FREE news and analysis.

Subscribe Now
Battered survivors drifted among the crumpled buildings in the streets of L'Aquila in central Italy, calling to missing kin and picking up the pieces of their possessions after a 6.3-magnitude earthquake rocked the region, leaving more than 200 dead and injuring 1,500.
The quake, the worst to hit Italy in 30 years, was felt 60 miles away in Rome.
Rescuers climbed silently onto the tops of what were once three-story buildings, surveying the damage and trying to listen for the cries of trapped townspeople. Other quake victimes softly sobbed in the streets, mourning the deaths of loved ones, or tried desperately to dig through the rubble with their hands to find missing family members.
One traumatized woman had to be quieted so that rescuers could identify the source of a child's faint cries.
According to Italian officials, 15 people are still reported missing and 40 of the dead have not been identified.
Five miles from L'Aquila in the town of Onna, another area hit hard by the quake, shaken townspeople huddled under blankets as they worked to identify dozens of bodies laid across a field and wrapped in blankets. Nearby, a coroner carried an infant's tiny, lifeless body and placed it next to the larger coffin of its mother. More than 40 people have been killed in the town of less than 400.
In both of the towns, houses were reduced to hundreds of pounds of rubble, or left sliced in two by the earthquake's deadly force. Roofs hung by threads off buildings and flattened cars covered in debris littered the abandoned streets, making the areas appear more like war-zones than once well-preserved historic medieval towns.
Newspaper worldwide reported accounts of the destruction.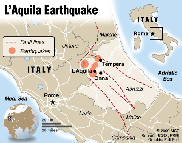 One firefighter, who found his daughter dead inside a collapsed house, struggled with emotion as he and his colleagues pulled her body from the wreckage.
Another man jumped out the window with his girlfriend during the earthquake only to find that his 60-year-old mother had not escaped. Although he flagged down firefighters for help, they left saying that the search was hopeless and that they needed to take care of more serious matters (The Independent).
One desperate woman, who watched firefighters struggle in vain to search for her sister while battling repeated aftershocks, cried out in anguish, "Enough, God! Enough! Enough of these earthquakes!" (Reuters).
Even a priest awoke to find the entire façade of his church had been pulverized.
"'The heavens fell in,' he said. 'It was like the end of the world. I ran into the street in my pyjamas. Everything in the house was crashing down; books, crockery. Everything was on the floor, the furniture was moving'" (ibid.)
Although Italy is earthquake-prone, the tremor's devastating force shocked the residents.
"I woke up hearing what sounded like a bomb," 87-year-old Angela Palumbo, a long-time resident, said. "We managed to escape with things falling all around us. Everything was shaking, furniture falling. I don't remember ever seeing anything like this in my life" (Telegraph).
The government quickly set up camps to aid the survivors. The Italian-English Daily, Corriere della Sera reported that more than 17,000 people have been displaced from the region and approximately 60 to 70 percent of all buildings in the area are uninhabitable.
Condolences and aid offers came from nations across the globe including Australia and Singapore.
During his trip to Turkey, United States President Barack Obama sent a letter that said, "We want to send our condolences to the families there and hope that we are able to get rescue teams in."
In a letter to Italian Prime Minister Silvio Berlusconi, Romanian Prime Minister Emil Boc said, "The government expresses its sympathy to the victims of the earthquake in Italy and conveys sincere condolences to the mourning families" (ACTmedia). Mr. Boc also offered aid to the nation if it was needed.
"'At the order of the Russian president [Dmitri Medvedev], the Russian Emergency Situations Ministry is ready to send specialists to Italy to assist the work to deal with the aftermath of the earthquake,' said ministry spokesperson Irina Andrianova" (Xinhua).
However, Italy has declined offers for assistance.
Mr. Berlusconi told reporters, "We thank foreign countries for their solidarity, but we invite them not to send their aid here," he said. "We are able to meet our needs by ourselves; we are a proud nation" (Christian Science Monitor).