Learn the
why

behind the headlines.

Subscribe to the Real Truth for FREE news and analysis.

Subscribe Now
Hong Kong police arrested more than 300 in the first protest against sweeping security legislation introduced by China that critics say is aimed at snuffing dissent.
From Tokyo to Brussels, political leaders swiftly decried Beijing's move to impose a tough national security law on Hong Kong that was unveiled late on Tuesday, pushing China's freest city and one of the world's most glittering financial hubs on to a more authoritarian path.
As thousands of protesters gathered downtown for an annual rally marking the anniversary of the former British colony's handover to China on July 1, 1997, riot police used pepper spray and fired pellets as they made arrests after crowds spilled into the streets chanting "resist till the end" and "Hong Kong independence."
The law, which punishes crimes of secession, subversion, terrorism and collusion with foreign forces with up to life in prison, will see mainland security agencies in Hong Kong for the first time and allow for extradition to the mainland for trial.
But the rhetoric from the international community has more bark than bite. For people in Hong Kong, the question is: Will international anger and statements of concern make any difference?
Individual countries have little leverage over Beijing on human rights, experts say. A joint effort could make a difference, but coordinated action seems unlikely.
"The U.S.A. and EU are moving in different directions in many areas. It is perhaps to China's advantage that that should be so," said Rod Wye, an Asia-Pacific associate fellow at the Chatham House think tank in London. In particular, Europeans do not want to be drawn into the U.S.-China trade war, he said.
"Expressions of concern are certainly not going to change the Chinese intention one little bit," he added.
A joint U.S.-European report released this week on relations with China described "a deep sense of frustration, fatigue, and futility. The stronger China gets, the less willing it has become to even engage perfunctorily with the West on the issue."
The report—from the Asia Society, the Bertelsmann Stiftung and George Washington University—said that concern about human rights abuses in China remains deep, from the new security law in Hong Kong to the repression of Muslim minorities in the Xinjiang region in western China.
China routinely dismisses all such criticism as interference in its domestic affairs. One of the crimes in the Hong Kong security law explicitly outlaws receiving funding or support from overseas to disrupt lawmaking in Hong Kong or impose sanctions on the city.
"This issue is purely China's internal affairs, and no foreign country has the right to interfere," Chinese Foreign Ministry spokesperson Zhao Lijian said.
Many fear the law will be used to curb opposition voices and see it as Beijing's boldest move yet to erase the legal firewall between the mainland's Communist Party system and Hong Kong, which was promised a high degree of autonomy and civil liberties under a "one country, two systems" principle.
Britain called the law "deeply troubling" and said it "lies in direct conflict with China's international obligations." The U.S. warned that China's repeated violations of its international commitments "is a pattern the world cannot ignore." And the European Union warned that China risked "very negative consequences" to its reputation and to business confidence in the global financial hub.
Steve Tsang, who directs the China Institute at London's School of Oriental and African Studies, said that if the EU were to join forces on the issue with the "Five Eyes" alliance—the U.S., Britain, Canada, Australia and New Zealand—the group would have real economic clout. The EU is China's largest trading partner.
But he said it was "far-fetched" for either British Prime Minister Boris Johnson or U.S. President Donald Trump to work with the EU on the issue.
"It is reasonable for Beijing to calculate that both the U.K. and U.S. are paper tigers," Mr. Tsang said. "[Boris Johnson] is focused on Brexit. He is happy to cooperate with anyone except for the EU."
Chinese experts said the West is not able to sway China because of fundamental differences in their views. The West stresses political rights, while China emphasizes economic rights, said Yu Wanli, an international relations professor at Beijing Language and Culture University.
"It is not that China is trying to withstand pressure from the West, but it is that China's own policies have achieved results. China doesn't need to care about pressure from the West."
"Birthday Gift"
In Beijing, Zhang Xiaoming, executive deputy director of Beijing's Hong Kong and Macau Affairs Office, said the "law is a birthday gift to [Hong Kong] and will show its precious value in the future."
Speaking at a flag-raising ceremony to mark the handover, the city's Beijing-backed leader, Carrie Lam, said the law was the most important development since 1997.
"It is also an inevitable and prompt decision to restore stability," Ms. Lam said at the harbor-front venue where the last colonial governor, Chris Patten, a staunch critic of the security law, tearfully handed back Hong Kong to China.
Some pro-Beijing officials and political commentators say the law is aimed at sealing Hong Kong's "second return" to the motherland after the first failed to bring residents to heel.
Luo Huining, the head of Beijing's top representative office in Hong Kong, said at the ceremony the law was a "common aspiration" of Hong Kong citizens.
Some pro-democracy activists gave up membership of their groups just before the law came into force at 11 p.m. on Tuesday, though they called for the campaign to carry on from abroad.
"I saw this morning there are celebrations for Hong Kong's handover, but to me it is a funeral, a funeral for 'one country two systems'," said pro-democracy lawmaker Kwok Ka-ki.
This article contains information from Reuters and The Associated Press.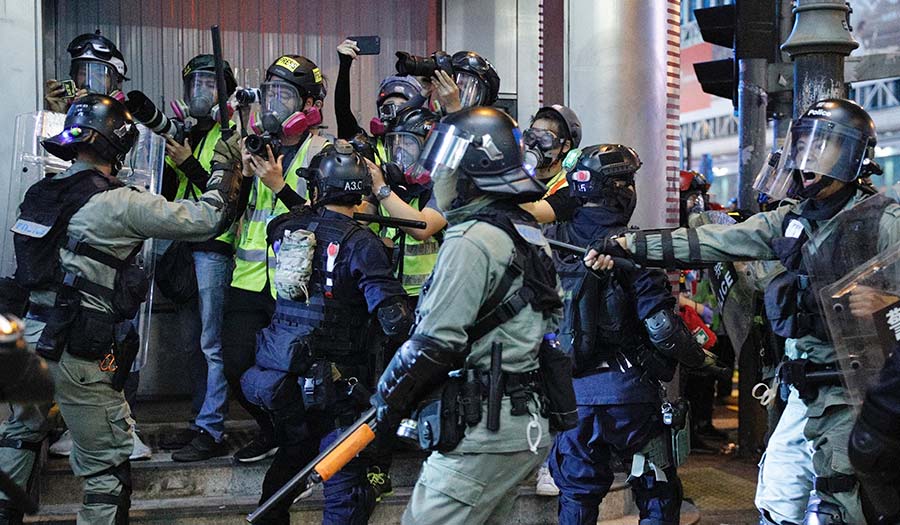 The Battle for Hong Kong
Protests in Hong Kong have spiraled into a clash of East and West, communism and democracy.
Other Related Items:
More on Related Topics: