Learn the
why

behind the headlines.

Subscribe to the Real Truth for FREE news and analysis.

Subscribe Now
After Britain's general parliamentary election left the nation with no clear ruling party, Prime Minister Gordon Brown announced his resignation, making way for the Conservative Party's David Cameron to become the next British premier.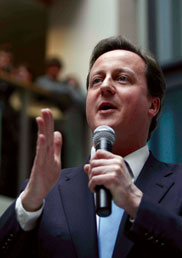 Lefteris Pitarakis - WPA Pool/Getty Images
According to British House of Commons rules, the majority party must have more seats than all other parties combined to elect a prime minister. In the recent election, Mr. Brown's Labour Party had only 29 percent of the vote, or 306 of the 326 seats needed to remain in power. Mr. Cameron's party won 36 percent and the Liberal Democrats 26 percent.
Mr. Brown, Britain's prime minister for nearly three years, revealed why he stepped down.
"The reason that we have a hung parliament is that no single party and no single leader was able to win the full support of the country," he said.
"As leader of my party I must accept that as a judgment on me. I therefore intend to ask the Labour Party to set in train the processes needed for its own leadership election."
In a surprising move, the center-right Conservative Party allied with the left-wing Liberal Democrats to form a coalition government, choosing David Cameron as their leader.
British news analysts are unsure how Mr. Cameron will lead the nation—with BBC calling him an "unknown quantity"—especially considering that one coalition term gives Liberal Democrats five seats in the cabinet and one-third of the seats in the majority party.
Mr. Cameron has quickly revealed he is not afraid to stand his ground in political debates. After only two weeks in office, the new prime minister refused to help rescue Europe from financial crisis, despite insistence from Germany and France. He also announced a controversial $8.6 billion worth of cuts in British governmental spending, which will take effect immediately.