As Kofi Annan's term as Secretary General of the United Nations ended, Ban Ki-moon, South Korea's Minister of Foreign Affairs and Trade, was appointed to take the baton. What can be expected during his tenure?
Learn the
why

behind the headlines.

Subscribe to the Real Truth for FREE news and analysis.

Subscribe Now
Through four informal straw polls, Ban Ki-moon (pronounced pan gi mun) quickly moved to the head of the candidates vying to succeed Kofi Annan as Secretary General of the United Nations. With the other six possibilities quickly withdrawing from the race, approval of Mr. Ban's nomination was almost guaranteed.
His appointment is a capstone on his 35 years of service to his native South Korea, the seeds of which began in the early 1960s. As a high school student he decided to pursue a career as a diplomat after meeting U.S. President John F. Kennedy in Washington, D.C. This was a benefit of winning an English language competition organized by the American Red Cross.
Mr. Ban went on to receive a bachelor's degree in international relations from Seoul National University in 1970. In 1985, he earned a Master of Public Administration from John F. Kennedy School of Government at Harvard University.
Married to his childhood sweetheart, and father of two daughters and a son, Mr. Ban is said to be fluent in English and French, the crucial languages of diplomacy. Indeed, part of his acceptance speech before the general assembly was given in French, perhaps to underscore his diplomatic abilities.
He has also received numerous awards, including the Order of Service Merit in 1975, 1986 and 2006 for service to his country, the Grand Decoration of Honor from the Republic of Austria (2001) and the Grand Cross of Rio Blanco (2002) from the government of Brazil.
Having served in various capacities beginning in May 1970 when he joined the Ministry of Foreign Affairs, the 62-year-old brings decades of experience to his new appointment. New Delhi, India, was his first overseas post, after which he worked in the United Nations Division at the foreign ministry's headquarters. Mr. Ban has also served as First Secretary at South Korea's Permanent Observer Mission to the UN in New York City, and then assumed the post of Director of the United Nations Division. He was twice posted to the Republic of Korea (ROK) Embassy in Washington, D.C., serving in between as Director-General for American Affairs in 1990-1992. He was promoted to the position of Deputy Minister for Policy Planning and International Organizations in 1995. The following year saw his appointment as National Security Advisor to the President, followed by assuming the office of Vice Minister in 2000. He recently served as Foreign Policy Advisor to South Korean President Noh Moo-hyun.
In 1999, Ban Ki-moon was elected Chairman of the Preparatory Commission for the Comprehensive Nuclear-Test-Ban Treaty Organization. During this time, he also served as Ambassador to Austria. In 2001, he worked as Chef de Cabinet of the President of the General Assembly during the ROK's Presidency of the 56th Session of the UN General Assembly.
Issues relating to inter-Korean relationships have long seen his involvement. In 1992, while serving as Special Advisor to the Foreign Minister, he served as Vice Chairman of the South-North Joint Nuclear Control Commission. This was following the adoption by South and North Korea of the Joint Declaration of the Denuclearization of the Korean Peninsula. As Foreign Minister, he had an important role in diplomatic efforts to adopt the Joint Statement on resolving the North Korean nuclear issue at the Six-Party Talks held in Beijing in September 2005.
During an October 9, 2006 press conference, this issue weighed heavily on his mind, even after learning of his selection: "This should be a moment of joy. But instead, I stand here with a very heavy heart. Despite the concerted warning from the international community, North Korea has gone ahead with a nuclear test."
Up to the Task?
Mr. Ban feels he is up to the job. "I may look very soft from the outside but I have an inner strength when it's really necessary. I've always been very decisive," he said commenting on the perception some have that he is not able to handle this difficult post. He went on to say, "In Asian countries humility is regarded as a virtue" and noted that "soft speaking should in no way be regarded as a lack of leadership or commitment." Ko Ki-Seok, a spokesperson for the foreign ministry said, "Minister Ban is a kind of iron-hand-in-the-velvet-glove person at work," also indicating that Mr. Ban is a "people person" who takes staff welfare seriously.
His work day is characterized as a "killing work schedule that divides each day into a schedule of five minutes at a time," one in which "he never fails."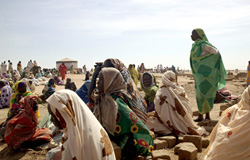 ArtToday, Inc.
During an Oct. 13, 2006 press conference given at United Nations headquarters, Mr. Ban described the challenges waiting for him: "I am well aware of the enormous challenges awaiting the next Secretary General. I see three areas where concerted action is needed." He went on to explain them: "The first is to rebuild trust among all stakeholders…the second is to stay the course with ongoing reform of the Secretariat management" with the intent to "keep up the reform momentum so that we may build the twenty-first-century Secretariat for a twenty-first-century Organization. The third is to enhance coherence and coordination" aimed at "streamlin[ing] work for greater efficiency and better use of resources and better service delivery."
In his acceptance speech, Mr. Ban stated, in regard to the UN, "We should be more modest in our words, but not in our performance. The true measure of success for the UN is not how much we promise, but how much we deliver for those who need us most."
In an earlier press conference he said, "The UN needs to promise less and deliver more."
The major players of the United Nations see Mr. Ban as someone they can work with—someone who can guide the UN in the needed direction. He has pledged, "As Secretary-General, I intend to fully mobilize all of my experience, all the network of friends and colleagues I have forged during the past four decades in the diplomatic service of a country with uniquely difficult foreign policy challenges, to do my utmost in dealing with these tasks."
Yet Ban Ki-moon is not without his critics. Some see him as a "yes man who will shrink from standing up to the big powers and driving overdue reforms through the world body." He has at times been labeled by the South Korean press corps as "slippery," while others worry about his religious beliefs.
Perhaps these two concerns are best illustrated by these questions posed by a reporter: "Do you believe in God? And to what degree does God or that religious belief inform your decisions?" His answer: "As Secretary General, it will not be appropriate at this time to talk about my own belief in any particular religion or God. So maybe we will have some other time to talk about personal matters."
The Big Question
Will Ban Ki-moon's tenure as Secretary General bring the needed reforms to the United Nations, thus making it an effective problem-solving body to which the international community can look? Will he transform the UN in such a way that it will effectively deal with the issues preventing peace among the nations? And will the UN be able to solve the myriad of world problems?
Perhaps Mr. Ban will effect some changes that will allow it to do all this—however, Bible prophecy reveals that man's solutions to humanity's problems or his efforts to bring world peace will be at best short-lived.