Amid a storm of criticism, "Lula" has brought Brazil back to life.
Learn the
why

behind the headlines.

Subscribe to the Real Truth for FREE news and analysis.

Subscribe Now
After three attempts, Luiz Inácio Lula da Silva achieved victory in the 2002 election and assumed office as the 35th president of the Federative Republic of Brazil on Jan. 1, 2003. For the first time in 40 years, Brazil—the largest economy in Latin America, and the 10th largest in the world—was led by a member of a leftist party from the working class. President da Silva (popularly known by his moniker "Lula") was reelected in October 2006 for a second four-year term.
Mr. da Silva was one of the founders of the Workers' Party (Partido dos Trabalhadores) in 1980, which is based on ideologies developed in the military dictatorship of the 70s. His election to the presidency was at first seen as the final nail in the coffin of the ailing Brazilian economy due to his move to bring a previously isolated Brazil into the world economic scene.
But after seven years in office, President da Silva has managed to turn around the Brazilian economy. The nation is among the most rapidly growing economies in the world, known as BRIC (Brazil, Russia, India and China), which is expected to dwarf today's richest Western economic systems by 2050.
Life Story
World leaders did not readily accept President da Silva as he assumed office. Illiterate until age 10, he quit school after the fourth grade. From age 12, he spent most days working in the street, shining shoes and selling peanuts. At 14, he took a job in a copper-processing factory as a lathe operator. Five years later, while working as a press operator in an automobile parts factory, he lost his finger in a work-related accident. The incident sparked Mr. da Silva's interest in workers' rights, leading him to become part of the Workers' Union.
With Brazil's dictatorship government of that era restricting union activities, Mr. da Silva's political views pushed to the left, and he began to focus on changing the traditional social order to create an equal distribution of wealth and privileges to the poor.
In 1978, he was elected president of the Steelworkers Union in Sao Paulo, Brazil's most industrialized city, which houses the automotive manufacturing facilities of Ford, Mercedes Benz, Toyota and Volkswagen.
Social Outreach
As president of Brazil, Mr. da Silva began a process of reaching out to expand national ties with the rest of the world, a feat rarely done by previous leaders. He visited 75 countries and opened 33 embassies, including 14 in Africa. President da Silva sought to unite developing economies in the wake of the global financial crisis.
Within his country, Mr. da Silva maintains a rigid schedule of giving attention to the poorest areas of Brazilian society and creating employment through public works programs. Kenneth Maxwell, director of the Brazil Studies Program at Harvard University's David Rockefeller Center of Latin American Studies, said of President da Silva, "His charisma and his ability to mobilize the poor have been remarkable" (Reuters).
Coming from humble roots has given the president the ability to sympathize with the poorest of the poor, giving him an edge over his opponents and keeping the support of the majority.
At the top of the president's social agenda is to eradicate hunger, which has received international praise for its progress—yet critics at home have derisively labeled it a "food for votes" program.
Under Mr. da Silva's presidency, Brazil has secured a better investment credit rating in its longest economical growth in 30 years. Under his guidance, 20 million people have been lifted out of poverty.
Praise and Criticism
In dealing with other nations, the Brazilian president has practiced a "hands on," down-to-earth approach. Mr. da Silva sees himself as an arbitrator for his nation and is directly involved, as opposed to being a spectator. He has gained the respect of several world leaders, including former U.S. President George W. Bush and President Hugo Chávez of Venezuela. According to The New York Times, U.S. President Barack Obama referred to Lula as "My man," even though Brazil sides with other developing countries against the United States in economic trade summits.
Mr. da Silva's pragmatic approach to his presidency and the upward swing in the national economy have resulted in him being accepted more widely among the Brazilian people. Though the country is in a recession, most believe that the economy will recover before Lula's term in office expires. During his presidency, unemployment has dropped and per capita earnings have increased substantially. The relaxing of taxes on cars and major domestic appliances has also helped put more money back in consumers' pockets, thus alleviating social burdens.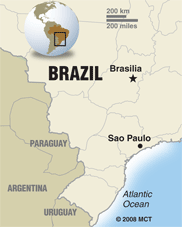 President da Silva weathered many scandals involving key advisors. The Workers' Party, which has positioned itself as a tower of strength, has suffered scandals involving the bribing of candidates. In addition, the president lacks support for privatizing large areas within the Amazon to be deforested for cattle ranching to aid in meeting the local population's needs.
Leader of the largest Roman Catholic nation in the world, Mr. da Silva has garnered support for the government's decision to pay for sex-change operations. At the conference, Minister José Gomes Temporão said that the move was in line with the government's homosexual policies. "It is one more step towards the consolidation of that policy," he stated, "in which Brazil is a world leader" (DPA).
The Future?
Overall, President da Silva's term in office has proved beneficial for Brazil. Newsweek named him as the 18th most important person in the world, and he is the only Latin American featured in the magazine's list of the top 50 most influential leaders.
With Mr. da Silva's presidency ending in January 2011, Brazilians will need to seek a leader to take his place. President Luiz Inácio Lula da Silva ushered in a new era of leadership, despite scandals, charges of corruption, and bizarre sexual legislation, yet has generally improved conditions for tens of millions of the Brazilian people.
On May 23, 2009, leaders of South American governments signed an agreement of the Union of South American Nations in a move to mirror the European Union's style of government. Brazil's president referred to the treaty as the "fulfillment of a dream."
One may wonder if it will truly aid Brazil's future.