Learn the
why

behind the headlines.

Subscribe to the Real Truth for FREE news and analysis.

Subscribe Now
Early in 2009, Norway's Prime Minister Jens Stoltenberg said there was no doubt that the global financial downturn would affect the nation. He also told citizens not to become pessimistic.
Mr. Stoltenberg informed his countrymen that the government would introduce financial aid packages to secure jobs and safeguard the Norwegian economy. He emphasized that Norway has reserves—namely, the Government Pension Fund-Global—from which it can draw.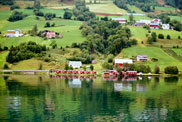 Getty Creative Images
The fund, established in 1990, was previously known as the Petroleum Fund of Norway. According to Norges Bank Investment Management (NBIM), the fund (as of October 2008) was worth $326 billion (all USD, unless noted otherwise)—the largest pension fund in Europe and the second-largest in the world. Norway saves almost all state revenue from the petroleum sector, in its sovereign wealth fund, a state-owned fund of financial assets in holdings and investments.
Norway is the world's third-largest gas exporter; its position as an oil exporter has slipped to seventh-largest due to decline in production.
"Norway's sovereign wealth fund, Europe's biggest equity investor, has had roughly a zero percent return on its investments in global stocks and bonds so far in 2009," Executive Director Yngve Slyngstad said (Reuters).
Norway is committed to funneling more money toward making life better in poor countries, despite the deteriorating global economy. Norway announced it will boost its contribution to $4.2 billion in 2009, an increase of some $632 million over last year. For every $100 the Norwegian economy generates, the government will give one dollar to aid. This exceeds the goal for industrialized countries, generally 70 cents per $100.
Norway's action is consistent with its effort to help solve global problems. Six years ago, the BBC reported, "Norway is home to a tiny proportion of the world's people, yet it runs 10 percent of the world's biggest charities and spends vast amounts of tax-payers' money on running peace missions abroad. It exports its peculiar brand of pacifism all over the globe, sending envoys and negotiators to far-flung war zones, arranging ceasefires and listening patiently to political arguments which have nothing to do with its citizens."
Norway recently committed $1 billion to Brazil's Sustainable Amazon Fund, which provided the South American country the means to meet targets to reduce deforestation, and another $430 million per year to other developing countries for reducing emissions and forest degradation.
The Norwegian people even give aid to provide clean and potable water to impoverished peoples in China, despite the Asian country's great wealth, which is in trillions of dollars.
The Norwegians are also magnanimous in forgiving debtors. The government voted to write off Liberia's debt of $35 million.
A Glimpse Into Norway's History
Norwegians share ancestral roots with Sweden, Denmark and other Scandinavian countries. The peoples of Norway (as well as Normandy, France) are the descendants of Benjamin, one of the tribes of ancient Israel (Gen. 49:27; to learn more, read our book America and Britain in Prophecy).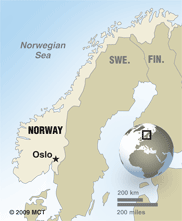 They were the Norwegian Vikings who plundered Europe—established colonies in France and England, and settlements in Ireland—and raided Scotland's west coast. Moreover, they colonized Iceland, the Faeroe and Orkney Islands, the Shetlands, the Hebrides, and the Isle of Man.
When King Harald I Fairhair united Norway after winning a war waged from A.D. 872 to 900, he proclaimed himself king. His son, Erik I Bloodaxe (so called because he murdered seven of his eight brothers; the official coat-of-arms of the Kingdom of Norway depicts a wolf holding an axe), ruled from 930 to 935. His surviving brother, Haakon I, who had been reared in England, replaced him, becoming Norway's first missionary king. In 960, he died in battle.
In 985, Erik the Red established a settlement in Greenland. From there, Erik's son, Leif Eriksson, sailed to North America in 1000, and established a colony in Newfoundland. The Viking Age ended in 1066 when Norway's King Harald Hardruler and his men lost the Battle of Stamford Bridge in England.
For many years, Catholicism was introduced, but most Norwegians resisted. It was during the reign of Olaf Haraldson (1016-1028) that Norway finally converted to Catholic belief.
During the 12th century, the rivalry between the church and the monarch contributed to the century of civil war, ending in 1217, when Haakon IV became king. His era was called the "Golden Age" of Norway. He created the chancellor's office and the royal council, and prohibited blood feuds. A national assembly (1260) passed a new law of succession.
In 1349-1350, the bubonic plague afflicted Norway, killing more than two thirds of its 4 million people. The aristocrats and the nobles were hit hard. Only one bishop survived.
The power of King Haakon VI (A.D. 1335-80) diminished. The central government lost control over the kingdom, with fiefdoms sprouting in the local areas conducting their own affairs.
Norway later united with Denmark and eventually converted to Lutheranism, by royal decree, following the reformation in 1537.
Denmark, after its defeat during the Napoleonic War (1814), relinquished Norway to Sweden, but kept Norway's island colonies—Bur, Iceland, Greenland and the Faeroes, in the Treaty of Kiel. The Norwegians rejected the peace treaty; on May 17 of that year, they formed a constituent assembly at Eidsvoll and drafted a constitution. They chose Prince Christian Frederick of Denmark as king. Sweden threatened Norway by mobilizing its troops, making the latter agree to unite under the Swedish monarch Charles XIII. However, Sweden recognized Norway as an independent kingdom, with its own national assembly, the Storting.
From 1840 to 1914, about 750,000 Norwegians emigrated, especially to the American Midwest. After Ireland, Norway had the highest relative emigration of all European countries.
Rising nationalism in the 19th century led to a referendum that granted Norway's independence in 1905. The Storting dissolved the union with Sweden and chose Prince Carl of Denmark (Haakon VII) as king.
During World War II, the Norwegians fought side-by-side with the Allied Forces, not only in Norway where some 400,000 German troops were stationed (1940-1945), but also other parts of Europe. The king of Norway and his government were stationed in Great Britain, directing the Norwegian resistance movement. The most heroic act of the Norwegian and British commandos was the sinking of a heavily guarded German ferry boat that carried heavy water bound for Germany's nuclear research and atom bomb production site. The daring commando operation was made into a movie, The Heroes of Telemark.
After the war, Norway joined the United Nations in 1945, and became part of NATO in 1949.
The nation implemented its generous welfare program in 1967, which includes many established social security plans under the National Insurance Act.
King Olav V died in 1991, succeeded by Harald V, the present-day monarch.
Economy
With its many glaciers, mountain lakes, rivers and waterfalls, Norway produces more hydroelectric power than the country needs, enabling it to sell the extra power to neighboring nations.
The discovery of oil and natural gas in the North Sea in the late 1960s catapulted Norway's economy, transforming the country into one of the wealthiest in the world today.
The government controls key economic areas, such as the vital petroleum sector, through large-scale state enterprises. The country is rich with natural resources—petroleum, natural gas, hydropower, fish, forests and minerals—and is highly dependent on the petroleum sector, which accounts for nearly half of all exports and over 30 percent of state revenue.
Still, national growth fell to 2.3 percent in 2008 as a result of the slowing world economy and the drop in oil prices.
Despite having opted to stay out of the EU during the November 1994 referendum, Norway is a member of the European Economic Area, contributing sizably to the EU budget.
According to Statistics Norway, the nation's 2008 revenue totaled more than NOK 1,430 billion ($264.3 billion), an increase of about NOK 150 billion ($27.7 billion) from the previous year. There was a dramatic rise in the two most significant components of the income from oil extracting activities. The taxes and duties related to the extraction of petroleum and withdrawals of income from corporations increased by almost NOK 100 billion ($18.48 billion)—or about 33 percent.
The general government expenditure increased from NOK 870 billion ($160.8 billion) in 2007 to NOK 960 billion ($177.5 billion) in 2008. The NOK 43 billion ($7.9 billion) increase in final consumption expenditure was the main reason. Transfers to the private sector increased by almost NOK 25 billion ($4.6 billion), of which increased pension outlays accounted for NOK 13.5 billion ($2.5 billion), and sickness and maternity benefits, etc. for NOK 4.5 billion ($832 billion).
The largest share of government expenditure is connected to social protection. This category contains expenditure related to sickness and disability, old age and family and children, and constituted almost 40 percent of total government expenditure in 2008. Two other major concerns are health and education, with shares of 17 and 13 percent of total expenditure respectively.
With a gross domestic product of $481.1 billion, a labor force of 2.59 million, a 2.6 percent unemployment rate, and a 3.6 percent inflation rate, the country exported petroleum and gas product, machinery and equipment, metals, chemicals, ships and fish worth $177.6 billion (2008 est.). It also imported machinery and equipment, chemicals, metals and foodstuffs worth $93.21 billion.
The first quarter of 2009 saw 1,418 bankruptcies—an 88 percent increase, compared to the same period last year. Sectors most affected included manufacturing, construction wholesale and retail, accommodation and food service activities.
The Norwegian People
The majority of the population is Nordic in heritage and appearance. Ethnic groups comprise 89.4 percent of Norwegians.
Around 423,000 immigrants and 86,000 Norwegian-born persons with immigrant parents reside in Norway. Together, these groups represent 10.6 percent of Norway's population.
In 2005, the United Nations gave Norway the title "Most Prosperous Country" for the fifth consecutive year. The UN cited that the population benefits from its country's oil wealth, low unemployment and low interest rates (BBC).
Norway's wealth is distributed by a tax system that rules out a wide gap between the very rich and the very poor. Society frowns upon ostentatious lifestyles; even government officials use public transport.
Norwegians enjoy lower taxes than several major EU nations and other Scandinavian countries.
Most Norwegians are healthy, partially due to their love of outdoor life: cross-country skiing, picking wild berries and mushrooms, hunting, and angling. Some prefer solitude in the mountains or the Arctic Circle.
Threats to Its Security
The Global Peace Index of the Economist Intelligence Unit rated Norway the most peaceful nation in 2007. The survey was backed by Nobel Prize laureates the Dalai Lama, Archbishop Desmond Tutu, U.S. President Jimmy Carter and U.S. economist Joseph Stiglitz (BBC).
Meanwhile, Russia plans to create an "Arctic military" force to protect its interests in the disputed Arctic region, according to a Kremlin strategy paper. The document outlines Russia's policy for the Arctic, which is believed to contain as much as 25 percent of the world's undiscovered oil and gas. The paper was signed by Russian President Dmitry Medvedev in September and released by the presidential Security Council (Associated Press).
The strategy paper stated the Arctic must become Russia's "top strategic resource base" by the year 2020 (Norway News).
The Norwegian government has complained, via diplomatic channels, about Russian fighter bombers that fly over the North Sea and inside international air space near Norwegian territory in the past two years. Responding to these incursions, which have increased, Norway has scrambled fighter jets to follow the Russian planes.
"We face new threats," foreign Norwegian minister Thorvald Stoltenberg said at a news conference in Oslo, which foreign ministers of Denmark, Finland, Iceland and Sweden also attended.
One of the 13 proposals recommended that nations patrol Iceland's airspace and develop joint surveillance of the seas adjacent to the Nordic region, such as the Baltic Sea and North Atlantic, to monitor oil spills.
The Norway Post reported the following: Islamic extremists also pose a threat to Norway's security. The security branch of the Norwegian police (PST) said it has uncovered plans revealing possible terrorist attacks against targets in the country. The PST said it intervened against 25 Islamic fundamentalists it believes planned terrorist acts against Norway and other nations.
PST chief Joern Holme said, "I can truly say that we have on several occasions sent persons out of the country who were about to do things that could have turned out to be very serious" (ibid.).
He added, "It is important for us to prevent Norwegian youth from going on so-called Jihad-travels, which could mean that one carries out terrorist acts, and is willing to offer one's life in terrorist acts."
Despite internal and external threats to its continued well-being, Norway—with its abundant food supply and beautiful neighborhoods surrounded by a scenic environment—is still one of the safest places in which to live.
But for how long will the Norwegian "sly wolf" keep her hungry neighbors, such as the Russian bear, at bay?