Will his six-year term in office determine a new direction for Mexico?
Learn the
why

behind the headlines.

Subscribe to the Real Truth for FREE news and analysis.

Subscribe Now
In December 2006, Felipe de Jesús Calderón Hinojosa became Mexico's 20th president since the constitution of 1917, and the 16th president of the National Action Party (PAN).Of the three major parties in Mexico, PAN is the most conservative.
Mr. Calderón inherited many challenges upon taking office, namely the nation's growing influence of drug cartels.
Many saw his road to the presidency as filled with irregularities, accusing Mr. Calderón of vote-rigging because of software contracts he granted to Hildebrando, a company in which he was a minority shareholder. His brother-in-law also founded the company, which was responsible for writing the vote-counting software in the controversial election.
Political Background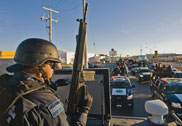 Getty Images
The youngest of five brothers, Felipe Calderón grew up in Morelia, Michoacan, one of Mexico's 31 states. He was a brilliant student, and, after school, he moved to Mexico City, where he obtained a bachelor's degree in law. Mr. Calderón later received a master's degree in economics from the Instituto Technológico Autónomo de México. He also studied at the John F. Kennedy School of Government at Harvard University, in Massachusetts, where he obtained a master's degree in public administration.
After his studies, Mr. Calderón spent most of his life working and promoting PAN, which his father co-founded. After serving as national chairman from 1996 to 1999, Mr. Calderón was elected president of PAN in December 2005, and held several important positions. He was the director of the state-owned bank, Bonabros, as well as Secretary of Energy. In January 2006, he began campaigning to become president of Mexico.
Family Life
While working in the PAN, Mr. Calderón met his wife, Margarita Zavala, who served in the Congress as a federal deputy. The married couple had three children and lived in the southern suburbs of Mexico City before he became president of the country.
Coming from a strong Catholic background, President Calderón strongly opposes homosexual marriage, abortion and euthanasia. He is also against contraception education, as Catholic theology teaches it is intrinsically wrong to use contraception to prevent new human beings from coming into existence.
In his approach to the challenges facing him as president, Felipe Calderón declared that the way forward was not a matter of being left or right, but rather making the right choices between the past and the future. He said the past represents nationalization, in which industry and private businesses were state operated and controlled, while the future means privatizing state-owned businesses, providing greater political freedom (an emphasis on human rights and freedom of speech and religion).
His aim is to remove Mexico's reputation as a gangster haven, and he has taken measures that reflect this during his tenure in office.
War Against Drug Cartels
On his first day as president, Felipe Calderón announced his government would cap salaries for high-ranking government officials and increase the salaries of federal and military police.
He then began to clampdown on the drug trade, systematically reducing the production of drugs on Mexican soil. This process made it increasingly difficult for drug runners who used Mexico as a transit zone for drugs coming from South America to be exported into the U.S. and Canada. His efforts dealt a substantial blow to the drug lords, with losses estimated in billions of dollars.
In merely four months, law enforcement authorities arrested more than 1,000 drug dealers and confiscated guns, planes and boats. The raids shut down tens of thousands of marijuana, cocaine, heroin and opium farms, and almost 1,000 drug production camps. The secretary of defense issued a report on the progress of the war on the drug trade, estimating that government efforts prevented more than a half a billion people from illegal drug use.
Defying the government, drug lords have stepped up violence throughout the country. During the first quarter of 2009, drug-related violence increased 41 percent above the same period last year.
World Acceptance
Together with China, India and Brazil, Mexico is rated as one of the largest emerging economies in the world.
Although Mr. Calderón received worldwide recognition for his war against Mexico's drug cartels, his visit to Europe was met with opposition due to the human rights violations that occurred during the Oaxaca uprisings (an annual peaceful teachers' strike that encountered excessive violence from government troops). There were also protests against the alleged irregularities surrounding his presidential election.
Mr. Calderón met with European leaders, including Chancellor Angela Merkel of Germany, in a bid to attract investment to Mexico. Ms. Merkel said, "Germany is Mexico's most important economic partner within the European Union" (El Universal).
President Calderón pledged his full support in ensuring that human rights were respected in his country. Mexico is to be "a state where all people can live in the knowledge that they are secure and where they can trust in the justice system" (The Herald, Mexico edition).
Due to the president's aggressive approach to the drug industry and his efforts to crack down on cross-border drug activities, Felipe Calderón led Mexico to forge closer ties with the U.S. and Canada.