Learn the
why

behind the headlines.

Subscribe to the Real Truth for FREE news and analysis.

Subscribe Now
HONG KONG (Reuters) – Hong Kong police arrested 53 people in dawn raids on democracy activists on Wednesday in the biggest crackdown since China last year imposed a security law which opponents say is aimed at quashing dissent in the former British colony.
Hong Kong's most prominent pro-democracy advocates were arrested in raids on 72 premises as the authorities said last year's unofficial vote to choose opposition candidates in city elections was part of a plan to "overthrow" the government.
The arrests were linked to an unprecedented, independently organized and non-binding vote to select opposition candidates for a since-postponed legislative election.
About 1,000 police took part in the raids, which included searches of the offices of a pollster and a law firm.
"The Chinese Communist Party has further turned the screw in Hong Kong," said Chris Patten, the last British governor of Hong Kong. "Liberal democracies around the world must continue to speak out against the brutal destruction of a free society."
Mr. Patten said the West should get tougher with China and scolded the European Commission for seeking a trade deal with Beijing.
"We should not be seeking to contain China but to constrain the Chinese Communist Party," Mr. Patten said.
Hong Kong Secretary for Security John Lee said those arrested had planned to cause "serious damage" to society and that authorities would not tolerate subversive acts.
"The operation today targets the active elements who are suspected to be involved in the crime of overthrowing or interfering seriously to destroy the Hong Kong government's legal execution of duties," Mr. Lee told reporters.
The arrests will further raise alarm that Hong Kong has taken a swift authoritarian turn.
Critics say the June 2020 security law crushes wide-ranging freedoms promised when the city returned to Chinese rule in 1997 and the arrests place China further on a collision course with the United States just as Joe Biden prepares to take over the presidency.
The security law punishes what China broadly defines as secession, subversion, terrorism and collusion with foreign forces with up to life in jail.
The Hong Kong and Beijing governments say it is vital to plug holes in national security defenses exposed by months of sometimes violent anti-government and anti-China protests that rocked the global financial hub in 2019.
In response to the law, Washington imposed sanctions on local and Beijing officials and several countries suspended extradition treaties.
Since its imposition, leading activists such as media tycoon Jimmy Lai have been arrested, some democratic lawmakers have been disqualified, activists have fled into exile and protest slogans and songs have been declared illegal.
Taiwan's government said Hong Kong had changed from the "pearl of the Orient" to "purgatory of the Orient."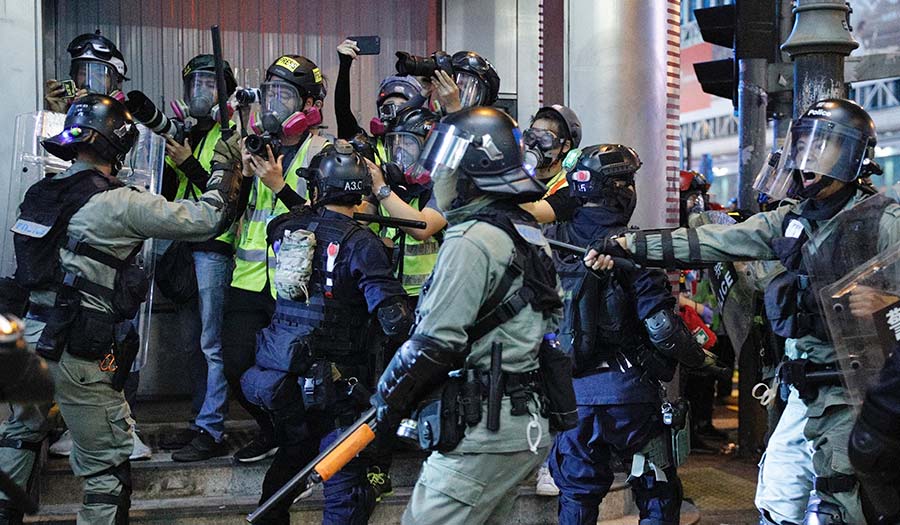 The Battle for Hong Kong
Protests in Hong Kong have spiraled into a clash of East and West, communism and democracy.