Learn the
why

behind the headlines.

Subscribe to the Real Truth for FREE news and analysis.

Subscribe Now
Rising food prices are squeezing budgets worldwide and the weather is a major cause. From droughts in the United States and Brazil to excessively wet conditions in the United Kingdom to brushfires in Australia, extreme weather and its effects have helped push up the cost of many pantry staples.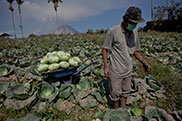 Ulet Ifansasti/Getty Images
In a recent Food Price Index, the United Nations Food and Agriculture Organization reported that the cost of food surged in March to its highest level in 10 months.
"The Index was influenced, as expected, by unfavourable weather conditions in the US and Brazil and geopolitical tensions in the Black Sea region, said Abdolreza Abbassian, FAO Senior Economist," UN News Service reported.
Dry conditions have affected farmers and ranchers, resulting in consumers having to pay premium prices for meat, fruits and vegetables, wheat, rice and coffee.
"Poor weather conditions across South-East Asia, Latin America and the US have been a particular problem and sugar and cereal prices were among the worst-hit crops—both up in price by more than 7.5 per cent during the [first three months of 2014]," according to The Independent.
Half of the U.S. is in drought conditions, including California, which has experienced a three-year drought. Many farmers in the state's Central Valley, where up to one-half of the nation's fruits and vegetables are sourced, have been denied access to reservoirs traditionally used to irrigate thirsty crops.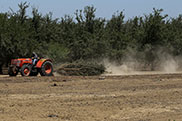 Justin Sullivan/Getty Images
Ranchers are also hurting. Higher grain prices have prompted them to cut back on livestock.
"Extreme weather has thinned the nation's beef cattle herds to levels last seen in 1951, when there were about half as many mouths to feed in America," Los Angeles Times reported.
Fewer cattle mean higher prices. And as wholesale food prices go up, grocers are forced to pass the increase to customers.
The media outlet also stated: "The retail value of 'all-fresh' USDA choice-grade beef jumped to a record $5.28 a pound in February, up from $4.91 the same time a year ago. The same grade of beef cost $3.97 as recently as 2008."