Learn the
why

behind the headlines.

Subscribe to the Real Truth for FREE news and analysis.

Subscribe Now
Concern over Iran-Israel relations continues to grow with both nations threatening preemptive attacks.
To protect Tehran's interests, top Iranian officials have hinted that they are ready to attack Israel using proxy groups such as Hezbollah and Hamas. In addition, the Telegraph reported that there is "growing concern in Washington that Israel is preparing to launch unilateral military action against Iran's nuclear facilities within months. US and British officials, including William Hague, the Foreign Secretary, have taken the unusual step in recent weeks of publicly urging Israel to avoid the use of force and instead give American and EU sanctions against Iran's central bank and energy sector time to work."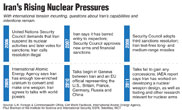 United States officials are closely monitoring the situation.
"Iran's actions demonstrate why Iran has failed to convince the international community that its nuclear program is peaceful," The Washington Post quoted White House spokesman Tommy Vietor. "Unless Iran changes course, 'its isolation from the international community will only continue to grow.'"
According to MSNBC, if the two countries were to go to war, the United States would inevitably be pulled into it.
"An Israeli pre-emptive attack on Iran's nuclear sites could draw the U.S. into a new Mideast conflict, a prospect dreaded by a war-weary Pentagon wary of new entanglements.
"That could mean pressing into service the top tier of American firepower—warplanes, warships, special operations forces and possibly airborne infantry—with unpredictable outcomes in one of the world's most volatile regions."
The media outlet cited Middle East specialist Karim Sadjadpour. "Israel can commence a war with Iran, but it may well take U.S. involvement to conclude it," he stated.