Learn the
why

behind the headlines.

Subscribe to the Real Truth for FREE news and analysis.

Subscribe Now
The sudden death of North Korean dictator Kim Jong Il resulted in his son Kim Jong Un taking power over the nuclear-armed nation. This has evoked much fear and uncertainty across the globe regarding the stability of the country.
Kim Jong Il, who was over 69 years old, kept the region on edge with what the Financial Times called "deft brinkmanship" during his 17 years as ruler of the impoverished communist nation.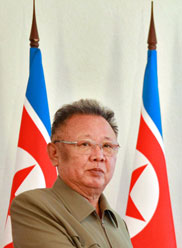 Dmitry Astakhov/AFP/Getty Images
Following his death, Chinese President Hu Jintao quickly visited the North Korean embassy to express his condolences.
In addition, South Korea's unification minister stated, "Regarding the death of Chairman Kim Jong-il, the Government conveys sympathy to the people of North Korea" (The Times of London).
Bloomberg quoted United States Secretary of State Hillary Clinton, who expressed "a common interest in a peaceful and stable transition in North Korea as well as in ensuring regional peace and stability." She continued, "We reiterate our hope for improved relations with the people of North Korea."
As of this writing, it appears there will be a power-sharing arrangement between Kim Jong Un, one of his uncles, and the military.
Officials worry Mr. Kim, who was appointed heir a little over a year ago, may assert his authority via military aggression.
"One question is: Will Kim Jong Un and others around him do something to prove him being in command?" said Michael Green, former National Security Council senior director for Asia under George W. Bush (ibid.).
There is also worry that the nation's military will not respect Mr. Kim, and eventually seize control, although, Reuters reported, "The military has pledged allegiance to Kim Jong-un."
In the coming months, it remains to be seen if Mr. Kim can pull the nation out of poverty, or if he will continue in the footsteps of his father.