Learn the
why

behind the headlines.

Subscribe to the Real Truth for FREE news and analysis.

Subscribe Now
With thousands of people either dead or missing, the possibility of nuclear meltdown, and more than a million households cut off from fresh water and electricity, Japan is struggling to cope with the destructive aftermath of a 9.0-magnitude earthquake and tsunami, which struck just days earlier.
Nearly two-thirds (roughly 30,000 people) in the town of Minamisanrikucho have not been heard from since the tsunami.
Though the death toll is estimated at 10,000-plus, as of Monday, March 14, officially 1,833 people have been confirmed dead. This number is projected to be much higher.
Still images and video from news outlets and social media show twisted power lines, tsunami-induced torrents sweeping away houses ripped from their foundations, trucks and cars being tossed like toys, and boats struggling to pull out of whirlpools. Entire communities were obliterated as the water reached as much as six miles inland.
At least 1.4 million households have been without water since the quake and tsunami first hit. Some 1.9 million households are without electricity.
Nuclear Crisis
Tremors from the 9.0-magnitude earthquake that rocked Japan on March 11 triggered 11 of the nation's nuclear reactors to automatically shut down. This included three of the six operating units at the Fukushima Daiichi power plant, 150 miles north of Tokyo.
To cool down the rising temperatures of the three reactors, operators had to dump sea water into two units to avoid a nuclear meltdown.
An explosion occurred March 12 at Unit 1, injuring four plant workers. The next day, a blast occurred at Unit 3, which injured six workers and released radiation. Officials assured that radiation levels remain within legal limits.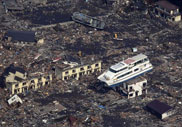 Yomiuri Shimbun/AFP/Getty Images
The Associated Press reported that "a senior official of the Economy, Trade and Industry Ministry, indicated the reactor core in Unit 3 had melted partially."
At a news conference, the director general of the International Atomic Energy Agency assured it was "unlikely" that Japan's nuclear crisis "would develop" into another Chernobyl, the world's worst nuclear accident to date.
CBS reported, "A complete meltdown—the collapse of a power plant's systems and its ability to keep temperatures under control—could release uranium and dangerous contaminants into the environment and pose major, widespread health risks."
Relief Efforts
Japan's Prime Minister told journalists that the earthquake, tsunami and nuclear crisis "is Japan's most severe crisis since the war ended 65 years ago."
Responding to the disaster's aftermath, the government sent 100,000 troops to provide food supplies, 120,000 blankets, 120,000 bottles of water, and 29,000 gallons of gasoline.
Elsewhere, Washington sent the U.S. 7th Fleet, including aircraft carrier U.S.S. Ronald Reagan, to deliver food and water. The United States, along with other nations, have urged its citizens to avoid traveling to Japan.
Aboard the U.S.S. Ronald Reagan, 17 naval personnel were exposed to low-level radioactive contamination from the Fukushima Daiichi Plant. As many as 160 people have been exposed to radiation, and officials have declared states of emergency at the Daiichi and nearby Fukushima Daini nuclear plants.