Learn the
why

behind the headlines.

Subscribe to the Real Truth for FREE news and analysis.

Subscribe Now
More than 30 people across the southeast died after a massive storm system hit Tennessee and neighboring states Mississippi, Arkansas and Kentucky. Torrential downpours devastated the region and caused the area's worst flooding in more than 100 years. It was the most destructive non-hurricane-related event in the United States since the Civil War.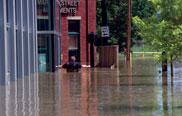 Rusty Russell/Getty Images
Storms lasting two days dumped more than 13 inches of rain into the Cumberland River and its tributaries, causing them to crest 12 feet above normal levels in some areas. Record-breaking downpours also caused deadly flash floods, which engulfed unsuspecting drivers on the interstate and trapped others inside their homes.
Rushing torrents snapped bridges off their supports, gouged holes several feet deep into roadways and created scrap piles of dozens of cars. Some residents had to be rescued by boat or by neighbors who pulled them to safety by breaking windows of their homes.
Authorities declared 52 out of 95 Tennessee counties disaster areas and over 22,000 residents lost power throughout the state.
One of the worst affected areas was Nashville, the country music capital of the world. Many of its historic buildings, which house prized country memorabilia, including the Country Music Hall of Fame and the Grand Old Opry concert hall, filled with water. The 160,000-square-foot area of Soundcheck Nashville, which houses gear for more than 1,000 musicians and business owners, was completely flooded, with losses estimated to be in the millions of dollars.
In certain sections of downtown Nashville, flooding more than eight feet deep forced streets to close. Approximately 1,500 residents were evacuated from the Gaylord Opryland Resort and Convention Center to a nearby high school for safety reasons.
Following the storms, residents were asked to conserve as much water as possible after one of the city's two water treatment facilities flooded.
"As the rising Cumberland River threatened a levee that protected the remaining plant, neighborhoods and businesses northwest of downtown, city workers and about 200 volunteers frantically filled and stacked sandbags," The Boston Globe reported.
But even after the rain stopped falling, floodwaters continued to rise. Rescuers and volunteers used boats and other amphibious vehicles to make their way through the water, picking up hundreds of trapped residents and tourists from various parts of the affected areas.
"Soggy furniture, drywall and flooring lined the curbs as residents and volunteers tried to stay positive while cleaning up the damage flooding left behind," CNN reported.
Nashville officials estimate property damage amounts to over $1.5 billion and maintain the recovery effort will take many months.