Learn the
why

behind the headlines.

Subscribe to the Real Truth for FREE news and analysis.

Subscribe Now
One of the strongest earthquakes ever recorded struck Chile during the early hours of February 27, registering magnitude 8.8—64 times stronger than the 2010 Haiti quake. More than 800 are reported dead, with at least 1.5 million homes damaged.
During the following days, several tsunamis and at least 100 strong aftershocks, one measuring magnitude 7.5, hit the region.
Hundreds of thousands of homes were leveled or damaged, leaving many without basic necessities such as food, water and fuel. Roads were destroyed, bridges collapsed, power lines were disrupted and resulting tsunamis swept away entire coastal villages. Emergency measures included curfews and the deployment of some 10,000 troops to assist police to prevent looting of supermarkets and maintain order.
The Associated Press reported that during the three-minute temblor, "Chileans near the epicenter were tossed about by the magnitude-8.8 quake as if shaken by a giant."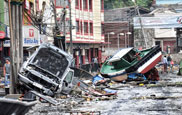 Martin Bernetti/AFP/Getty Images
Joe Raedle/Getty Images
Concepcion, a city of nearly 700,000 residents that is situated about 300 miles south of Santiago, Chile's capital, was hardest hit. The quake toppled a 15-story office building, and led to widespread looting of pharmacies, grocery stores and a collapsed grain silo.
In Talca, 65 miles from the epicenter, the earth shook for over a minute, toppling furniture in homes and destroying the city's historic town center, built largely of adobe clay.
Authorities immediately began rescue efforts to distribute food and restore vital electrical and communications infrastructure. Efforts to rescue victims trapped in collapsed buildings continued slowly due to recurring aftershocks. Fearful families abandoned their homes, choosing instead to camp outside.
"After huddling in a crisis meeting with her cabinet, President Michelle Bachelet called the damage caused by Saturday's magnitude-8.8 quake 'an emergency unparalleled in the history of Chile.' She said the death toll had reached 708 and suggested it would probably grow in the days ahead" (The New York Times).
Many neighboring countries quickly offered assistance, including Argentina, Peru, Colombia, Venezuela and Mexico. United States President Barack Obama also offered America's support.
"The United States stands ready to assist in the rescue and recovery efforts, and we have resources that are positioned to deploy should the Chilean government ask for our help," he told reporters at the White House.
One U.S. risk assessor, Eqecat, put the cost of the damage between $15 billion and $30 billion (BBC News).
The long-term economic effects this natural disaster will have on the nation is yet unknown. Agriculture and copper mining was halted in certain places due to power outages.
The earthquake was the strongest to hit Chile since a magnitude 9.5 earthquake struck the nation in 1960, taking the lives of approximately 1,655 people and causing $550 million worth of damage in southern Chile.