Learn the
why

behind the headlines.

Subscribe to the Real Truth for FREE news and analysis.

Subscribe Now
Hours after Sri Lanka's government declared the defeat of the Liberation Tigers of Tamil Eelam (LTTE) and the killings of top rebel leaders, Tamil protesters in London, England, clashed with police.
The Tamils had been protesting in London for over a month to stop the civil war in Sri Lanka. When the war officially ended, up to 5,000 Tamils held a sit-in protest in front of the Parliament asking for London to mediate the release of fellow countrymen still held in internment camps in northern Sri Lanka.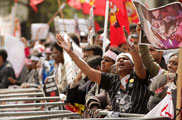 Oli Scarff/Getty Images
Violence erupted when law enforcement authorities tried to break up the demonstration and apprehend protesters for public offense. Of the 25 police officers and five protesters injured, three officers and three demonstrators were treated at the hospital.
Over the past several months, following Sri Lankan President Mahinda Rajapaksa's comments that he saw the imminent defeat of LTTE in their fight for a separate homeland, thousands of Tamil expatriates had been protesting in Toronto, Paris, Berlin, Washington, D.C., and at the United Nations headquarters in Geneva, calling for a ceasefire.
More than 800,000 Tamils outside Sri Lanka had been supporting LTTE rebels by pouring US$200-300 million yearly into a war fund, with most of the money coming from those living in Australia and other Western nations, making it one of the most well-funded rebel groups in the world (Jane's Intelligence Review).
Tamil insurgents had been waging war for over 25 years for a separate state in Sri Lanka. The rebel group was founded and led by Velupillai Prabhakaran, who died when the Sri Lankan military advanced into rebel territory. A master strategist, Mr. Prabhakaran was credited with changing the ragtag LTTE into one of the most feared and brutal insurgent forces. Each rebel, including Mr. Prabhakaran himself, carried a cyanide vial for suicide in case of capture.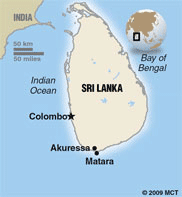 Listed as a terrorist organization by 32 countries, LTTE was considered one of the world's most ruthless insurgency groups. The Tigers pioneered the suicide belt and used women for suicide bombings.
Analysts attributed the Tigers' downfall to several grave errors:
• Mr. Prabhakaran refused to lay down arms in return for autonomy in a peace plan brokered by Norway.
• Ties to Russia and China gave Sri Lanka courage to face international criticism for suppressing basic civil liberties, including the banning of foreign press and indiscriminate shelling of civilians. It also allowed them to purchase fighter planes, assault rifles and other arms, improving SLA firepower, enabling the military to inflict heavy damage from safe distances, thereby minimizing SLA casualties.
• While LTTE relied on traditional warfare, the SLA used guerilla tactics, deploying soldiers in small groups.
The Hindu Tamils comprise nearly 20 percent of Sri Lanka's 21 million people, while the majority Sinhalese, who are Buddhist, make up nearly 75 percent of the population. The rest are Muslims and Christians.
Although their religion sets them apart, it is largely believed by Sri Lankans that Tamils collaborated with imperialist rule, and were thereby given preferential treatment by the British before the island's liberation, a factor which has also caused resentment between the two factions.
At the height of their power, the Tamil Tigers controlled much of northern and eastern Sri Lanka. They had their own police force, law school, taxation system, navy, air force, and a de facto government headquartered in the city of Killinochi.
Defense ministry spokesman Keheliya Rambukwella said the government hoped to resettle the estimated 265,000 Tamils displaced by the fighting as soon as possible. But when they return to their villages, they will be accompanied by a heavy deployment of troops (Associated Press).
When the government declared Prabhakaran was dead, the LTTE chief for international relations said, "Our beloved leader is alive and safe. He will continue to lead the quest for dignity and freedom for the Tamil people" (The Times, London).
In response, the government displayed Prabhakaran's corpse—with prominent head wound—on state television.
Critics said that while the SLA has defeated the LTTE, the minds of Tamils have yet to be won.
President Mahinda Rajapaksa told the Sri Lankan parliament that "all should live with equal rights. They should live without any fear or doubt" (The Australian).