Learn the
why

behind the headlines.

Subscribe to the Real Truth for FREE news and analysis.

Subscribe Now
As the global economic crisis continues, nations, businesses and private citizens struggle to stay afloat financially.
The U.S. Congress passed the White House-backed $787 billion stimulus package, whose bailout programs could cost $9.7 trillion tax-payer dollars over the next ten years—an amount just $1 trillion short of the total amount of national debt. The estimated budget plan by President Barack Obama would boost the deficit more than $1.75 trillion, the highest it has been since World War II. The Dow fell to its lowest level since 1997.
In February, Bloomberg reported, "U.S. consumer confidence collapsed this month and home values plunged in December, the latest evidence of a deepening economic slump that Federal Reserve Chairman Ben S. Bernanke today warned may last into 2010. The Conference Board's confidence index dropped more than anticipated to 25, the lowest level since data began in 1967, the New York-based research group said today. Another report showed home prices dropped a record 18.5 percent from December 2007."
Automakers, media outlets and other businesses face bankruptcy, job losses, closings and restructuring. The following is an international snapshot of the world-at-large:
Automakers: Germany announced it will lend funds to Opel, due to financial troubles at parent company General Motors (GM). According to German news media, the carmaker, which employs some 25,000 people, will face bankruptcy "as soon as May or June if it does not receive a credit boost from the state" (AFP). For Opel to survive, it reportedly needs at least 3.3 billion euros ($4.2 billion).
Swedish automaker Saab, also owned by GM, filed for bankruptcy protection so it can either restructure as a separate company or be sold off.
The British government turned down van maker LDV's request for a $43.6 million bridge loan. The decision threatens to close the Birmingham manufacturing plant and eliminate 850 staff, including thousands of linked jobs.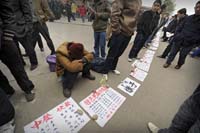 Peter Parks/AFP/Getty Images
Bankruptcy: With a dwindling readership, fewer advertisers and more people relying on the Internet for information, newspapers are shrinking their number of pages, downsizing staff, seeking bankruptcy protection and even going out of business.
In an attempt to restructure its debt, estimated at $390 million, the parent company of two major U.S. newspapers, the Philadelphia Inquirer and the Philadelphia Daily News, filed for bankruptcy protection. The E.W. Scripps Co., citing multi-million dollar losses, announced the closure of its Denver daily, Rocky Mountain News one day before the almost 150-year-old newspaper produced its last issue. The San Francisco Chronicle, owned by the Heart Corp. is also debating a possible shutdown, which could result in a loss of more than 200 jobs.
The Ritz Camera chain was another casualty of the changing times of instant technology, with film sales plummeting while digital cameras and related equipment rose. Ritz Camera filed for Chapter 11 bankruptcy protection.
Even the world of glamour was not immune to the current economic downturn. Modeling agency Irene Marie Models, famous for launching the careers of several supermodels, closed its doors and is seeking bankruptcy protection.
Economic meetings: Prior to the G20 meeting in London on April 2, European leaders met at Berlin, Germany, and agreed that "all financial markets, products and participants must be subject to appropriate oversight or regulation" (Reuters).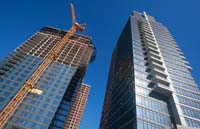 Mario Tama/Getty Images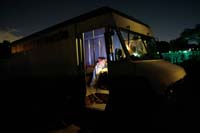 Joe Raedle/Getty Images
National, state and local government and private sector leaders worldwide continue to hold town hall meetings across the U.S. to discuss job opportunities and ways to avoid business and home foreclosures.
Joblessness: China saw its highest urban unemployment rate in five years, while the number of jobless claims in the U.S. reached an all-time high.
America's largest tire maker, Goodyear Tire & Rubber Co., plans to cut nearly 5,000 jobs in 2009, while Germany is expected to lose 5,000 jobs and the European Union is projected to lose 3.5 million.
Property: The New York metropolitan area is seeing slashed prices on luxury condos. On the other hand, with fewer customers and less sales, more small businesses are receiving eviction notices due to failure to pay rent.
Upswing businesses and projects: Movie box office grosses were up 20 percent, theater attendance was up 16 percent over last year and secondhand stores increased their revenue. Gold prices hit $1,000 an ounce, as stock prices and real estate values continued to fall. UK pawnbrokers are seeing higher profits.
States are beginning to plan how to use their share of the stimulus package. Florida is developing a road-widening project, and part of New York's money will be used to support public housing projects, and social welfare programs like Medicaid.
Economic outlook: Global analysts agree that infusing large monetary quantities into the world economy will help it to recover, but worry that the global community will not be able to repair itself quickly enough.
In response to the changing times, Media baron Rupert Murdoch warned his staff, "We are in the midst of a phase of history in which nations will be redefined and their futures fundamentally altered."