Real Truth Magazine Articles
SOCIETY & LIFESTYLES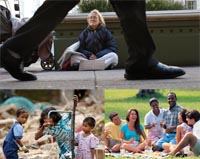 The State of Poverty: America, the World—and the World to Come!
Despite all the advancements in technology, industry, science, medicine and education over the past 100 years—despite all the humanitarian relief programs, policies and initiatives—poverty still exists. This article series (1) examines the true state of poverty in the United States, (2) compares this to the daily lives of millions in the underdeveloped regions of the world, and (3) reveals why poverty has persisted throughout history—and how it will ultimately be erased.