Learn the
why

behind the headlines.

Subscribe to the Real Truth for FREE news and analysis.

Subscribe Now
Five days of wildfires driven by intense desert winds and feeding on drought-parched terrain forced over 500,000 Southern Californians from their homes.
More than 20 separate blazes, from Santa Barbara to the Mexican border, consumed over 700 square miles of land, and destroyed or damaged at least 1,700 homes and businesses. Scores of injuries were reported, with at least three deaths from fire-related causes.
More than 12,000 firefighters and 1,500 National Guardsmen stretched their resources thin trying to battle the raging flames, which were fueled by Santa Ana winds reaching over 100 mph in some locations.
California Governor Arnold Schwarzenegger declared a state of emergency for seven counties, including San Diego, Los Angeles and Orange.
U.S. President George W. Bush later declared the same counties a major disaster area, allowing assistance from the Federal Emergency Management Agency. The president toured California to witness the fire and destruction firsthand.
Authorities estimated that the devastation had caused more than $1 billion dollars in damage in the San Diego area alone.
Those who had been forced to flee their homes found shelter in sports stadiums, schools, libraries, community centers, fairgrounds and other locations. Many whose homes had burned to the ground were left wondering where they would live.
The Qualcomm Stadium, home to the San Diego Chargers football team, was used as makeshift housing for evacuees. Small cots and one-man tents lined the outside walls of the stadium, and evacuees huddled together on blankets strewn across the field, clinging to the only belongings they could grab before they left their homes. Although over 10,000 evacuees reportedly took shelter at the stadium at the beginning of the week, officials report that only 2,500 have remained there.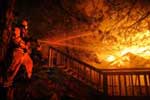 MCT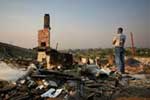 MCT
According to authorities, there were enough supplies and food for all of the evacuees, and clothing was donated for those who have lost everything. In addition, National Guardsmen paced the stadium to maintain order.
To authorities' surprise, the atmosphere in the stadium was festive, despite the grim circumstances. Rock bands, and clowns for children, entertained the evacuees, and free massages and gourmet buffets were made available.
Given the overabundance of items donated by local volunteers, there was only one incident of disorder. U.S. Border Patrol agents arrested six undocumented immigrants after they were caught stealing food and water designated for evacuees.
However, health authorities reported mounting stress levels among the evacuees. Along with nausea induced from smoke inhalation, people were increasingly anxious about what they would return home to, or grief-stricken about the realization that they had lost everything.
One stadium refugee shakily described pictures of the charred ruins of her home to a television news reporter, pointing out her daughter's first bicycle, and parts of her living room, which were consumed in flames. No longer able to hold back her emotions, she cried as she detailed where the barn was located that had housed her husband's woodworking shop and her photography equipment. She said she did not have time to grab anything from her home, except for a box of several family albums.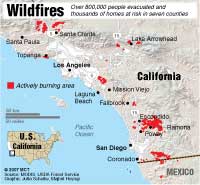 MCT
Another family sorrowfully described how they escaped the fire with just four cats, but had to leave behind their other 50 pets, including chinchillas, toads, finches and lizards.
Even while reporting live from the scene of the fires, a well-known San Diego reporter discovered his own home had become part of the 1,700 that had already turned to ashes. Struggling to keep his composure, he watched helplessly as his home and belongings for the past 25 years were consumed by the unrelenting flames of the crackling fire.
Evacuees and those in the surrounding areas tried to cope by turning to news site weblogs and posting their stories or offering help to those in need, along with using them to assure their friends and families that they were alive and safe.