Learn the
why

behind the headlines.

Subscribe to the Real Truth for FREE news and analysis.

Subscribe Now
Torrential rain caused flooding throughout England in June and July. In some areas, a month's worth of rain fell in just one hour—the wettest month since records began in 1766.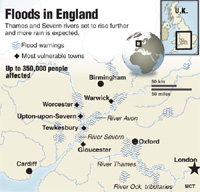 MCT
Unable to handle the increased water flow, three major rivers—the Severn, Ock and Thames—flooded Gloucestershire, Oxfordshire, Worcestershire and Berkshire, as the rivers rose as high as 20 feet above the normal level.
Thousands evacuated their homes, sleeping in sport stadiums and shelters. Thousands more who remained in their homes did not have drinking water or electricity. Utility buildings hit by the flood have contributed to the crisis. Over 300,000 citizens in Gloucestershire did not have running water after a treatment facility was flooded, contaminating the supply. Authorities estimated citizens in this region would be without a safe water supply for up to two weeks.
Travel was also hindered as roads were inundated and train stations shut down. With grocery stores cut off from their supply shipments, fresh produce and bottled water became scarce.
The last major flood in Britain, in 1947, is called by the Environmental Agency of England and Wales (EA) a "once in a hundred years" event.
However, 60 years later, Anthony Perry, an EA spokesman, stated, "We have not seen flooding of this magnitude before. The benchmark was 1947 and this has already exceeded it."
Despite continuing rainfall, flood waters are pulling back, revealing the true costs caused by the flood. Produce prices are expected to increase sharply as a result of flood-damaged farmland. Insurers expect to pay out 2.5 billion pounds (over $5 billion USD).
On top of the costs of restoring their flood-damaged properties, residents of affected areas can also count on higher water bills.