Part 2 reveals the last five rules of Bible study, and why you should study this living Book!
Learn the
why

behind the headlines.

Subscribe to the Real Truth for FREE news and analysis.

Subscribe Now
The Bible is the inspired Word of God—His Instruction Book to mankind. It answers every important question in life, revealing how to live and the road to salvation. But why do so few understand it? Why are millions of professing Christians woefully ignorant about how to study the Bible?
God commands His servants, "Study to show yourself approved unto God" (II Tim. 2:15). Do you understand the value of Bible study? How do you establish a routine and stick to it? What parts of the Bible should you start with? Part 1 covered the first seven rules. Part 2 brings the last five rules of Bible study, and why you should study this living Book!
Rule #8: The Bible Interprets Itself
We start with one example of men blatantly misinterpreting the Bible's plain meaning—the title of the book of Revelation. Most Christians believe it is "The Revelation of Saint John the Divine." But the real title is in its first verse: "The Revelation of Jesus Christ, which God gave unto Him, to show unto His servants things which must shortly come to pass; and He sent and signified it by His angel unto His servant John" (1:1).
The correct title is "The Revelation of Jesus Christ." It originated from God the Father, who gave it to Christ, who signified it by His angel, who revealed it to John. Men credit John, ignoring God and Christ.
Two types of symbols are used in Revelation 1—verse 12, where John saw seven golden candlesticks, and verse 16, where he saw seven stars in the hand of the Son of Man.
How is the meaning understood here? By continuing to read. Verse 20 explains: "The mystery of the seven stars which you saw in My right hand, and the seven golden candlesticks. The seven stars are the angels of the seven churches: and the seven candlesticks which you saw are the seven churches." The Bible interpreted itself! No need to invent meaning.
II Peter 1:20 declares, "No prophecy of the scripture is of any private interpretation." God does not permit men to bring their own interpretation to His Word. Instead, He provides the interpretation in other passages.
Another example of the Bible interpreting itself is in Revelation 17: "There came one of the seven angels which had the seven vials, and talked with me, saying unto me, Come here; I will show unto you the judgment of the great whore that sits upon many waters" (vs. 1).
What are "many waters"? Is this some woman sailing the seven seas? Or, as many conclude, something you just cannot know?
There is no need for confusion. Fourteen verses later, "many waters" is explained: "He [the angel] said to me [John], The waters which you saw, where the whore sits, are peoples, and multitudes, and nations and tongues" (vs. 15). In this case, the term is not immediately explained, but is later in the chapter. Again, the Bible interpreted itself! No human opinion was needed.
Rule #9: Always Start with Clear Scriptures
This means never establishing doctrine with unclear scriptures. An example is Acts 10 regarding unclean meat. It is incredible how the world has perverted this chapter. Initially ambiguous to Peter, the meaning becomes unmistakably clear later. God was teaching the apostle Peter a principle.
After he was shown a vision of all kinds of animals, birds and insects, Peter heard a voice: "Rise, Peter; kill, and eat. But Peter said, Not so, Lord; for I have never eaten anything that is common or unclean. And the voice spoke to him again the second time, What God has cleansed, that call not you common. This was done thrice: and the vessel was received up again into heaven" (vs. 13-16).
Millions presume this verse permits eating unclean animals that are now supposedly "cleansed." False teachers twist and creatively interpret vague scriptures. This gives them room to speculate and invent doctrine.
Peter did not understand the vision until verse 28: "You know how that it is an unlawful thing for a man that is a Jew to keep company, or come unto one of another nation; but God has shown me that I should not call any man common or unclean."
By itself, this vision was insufficient to establish doctrine. Reading the full account makes the real meaning apparent—Peter was speaking of calling men unclean, not about unclean animals. God wanted salvation opening to the Gentiles to be known.
Rule #10: Use More Than One Translation
There are many advantages to using several Bible translations. While the King James is generally reliable, some verses are hard to understand because of its more than 400-year-old archaic language and various errors by the translators. Some modern translations, like the New King James, help with clarity. The original King James Version does offer a big advantage—words added by the translators are italicized. This helps readers discern between translated words and implied words. Because italicized words can be wrong, caution is needed.
The Moffatt version is also good because it comes directly from the original Greek and Hebrew manuscripts—not Latin transcriptions. Most modern translations are so watered down by liberal interpretations it is best to avoid them. The New International Version is among the worst. Much there is invented.
A prime example of error being introduced is I John 5:7-8. It contains text that is not found in any older Greek manuscripts. It was likely added by a monk scribe to inject counterfeit theology in about AD 800. The portion in italics was inserted to promote the trinity: "There are three that bear record in heaven, the Father, the Word, and the Holy Ghost: and these three are one. And there are three that bear witness in earth, the spirit and the water and the blood: and these three agree in one." These words were just made up even though Revelation 22:18-19 powerfully warns against adding to or subtracting from Scripture.
Any time you come to a vague passage, cross-referencing other translations usually clears up questions.
An example of a deletion by scribes and monks is Matthew 27:49. Part of the verse was cut to promote the false idea that Christ died of a broken heart. The King James Version says, "The rest said, Let be, let us see whether Elijah will come to save Him." Yet Moffatt records, "But the others said, 'Stop, let us see if Elijah does come to save Him!' (Seizing a lance, another pricked His side, and out came water and blood.)"
The words in parentheses were omitted from the King James Version but appear in all other translations that reference the older Greek manuscripts. This shows exactly how Jesus died—He was killed! He did not die of a broken heart. Consulting other translations is effective at getting to the truth of a Bible matter. Remaining questions can often be answered with Bible helps.
Bible dictionaries and Strong's Concordance are among the best tools to find the original meaning of words. One must carefully distinguish words whose meanings have changed over time. An example is the word translated "conversation." It means conduct. Bible dictionaries help show this.
Rule #11: Do Not Use Bible Helps to Establish Doctrine
Well-known reference works include e-Sword, Jamieson, Fausset and Brown's Commentary and Halley's Bible Handbook. These and other helps and tools can sometimes increase understanding. Margin references and notes at the end of certain Bibles can also be helpful. But be cautious when using these because much of the information can be misleading. The scholars who wrote them lacked God's Spirit, so error is inevitable.
These works can help supplement understanding of historical and grammatical details but should never be relied on for doctrine. They bring their own interpretation. Most scholars simply echo the doctrines of mainstream Christianity.
Never forget: Reference works are ideal for filling in technical details but not for interpreting meaning or establishing doctrine.
Rule #12: Make Notes in Your Bible
Many believe God's Word is to be treated with so much reverence that it should never be marked in. But only the message it contains should be revered. The physical paper, ink and leather are not holy. What is holy is the truth that was recorded—the words of spiritual instruction.
Making notes in margins amplifies and reinforces God's message. It is perfectly acceptable to Him. How we act on His words is God's primary focus—not how reverently we treat paper and ink.
Wide-margin Bibles are ideal for inserting notes. These can come from sermons, Church Bible studies, technical details from reference works and other sources. It is satisfying to see a difficult verse and recall the correct explanation by looking at your notes.
Marking your Bible helps internalize precious truths. It may also be helpful to set aside special time to review your personal notes. You may find some are incomplete and need expanding. Besides providing an excellent review, this exercise should help you add effective notes to your Bible margins.
By diligently applying these 12 basic rules, personal study will be far more interesting. When you find it more difficult to break off than to get started, you can safely say your Bible study has become exciting and rewarding—as God wants it to be!
Study Goals
Dedicated Bible students must establish goals in undertaking this vital spiritual activity. There are three categories: short, medium and long-term goals. This makes goals more obtainable. Of course, one could work on more than one goal at a time by alternating or splitting study sessions. Let's see examples of each.
Short-term Goals—It is best to begin with these. For instance, read a short book of the Bible, such as James or Ruth. You might choose a particular book because it puts a personal trial or interest into better perspective.
Study a specific chapter of the Bible. Study a small Bible subject. An example could be: "Why kneel during prayer?" Or study the background of a book. This includes the time and circumstances in which it was written. Also, study a difficult scripture.
Make your study as exciting as possible—but keep it simple. When selecting a topic, give it forethought. Index cards are useful for listing ideas when studying.
Do not study haphazardly. Many people study wherever the Bible falls open. This is not the way to approach God's Word. God is not the author of confusion (I Cor. 14:33). He expects an organized approach to His Word.
Medium-term Goals—These are projects that could last a few weeks or even months. Read a larger book of the Bible, such as Isaiah, Psalms or Proverbs. Study a specific doctrine in detail. Examples could be the biblical principle of tithing or the seventh-day Sabbath. If faced with illness, you could study healing.
Memorize a series of key verses. The Pharisees were required to memorize the Torah—the first five books of the law. Others have memorized the entire Bible—yet do not understand it. The purpose should never be to recite verses to impress others, but to internalize them for application in your life.
Long-term Goals—A common long-term goal is to read the whole Bible. If you have never done this, challenge yourself to do it. The benefits are enormous! A full reading may take as little as six months. If you reference other material, it could take up to two years. Reading the entire Bible gives a foundational understanding that can be built upon. Read all the Major Prophets—Isaiah, Jeremiah and Ezekiel, and maybe Daniel. Read a selected "harmony of the gospels"—another excellent project. Make notations in your Bible. Perhaps study alongside our books and booklets, using your Bible to reference each scripture. Like the Bereans, prove if we know what we're talking about. Our vast library of literature is available on rcg.org.
You will find that the more you study the Bible, the more you will want to study it!
Bible Helps
Many useful Bible helps are available. Some are very expensive, but you may be able to access them at your library or on the internet. The following is not an exhaustive list, but it gives an idea of the wide variety of resources one could reference. Remember, authors always inject their own wrong ideas and misconceptions. While what follows can be useful tools, it does not represent an "officially sanctioned" list of perfect or near-perfect study aids.
Unger's Bible Dictionary: A thorough, practical one-volume dictionary.
The Interpreter's Dictionary of the Bible: While expensive, this five-volume set is probably the best Bible dictionary you could buy. You might find it in larger municipal and university libraries.
Manners and Customs of the Bible: This book discusses Bible figures, as well as manners and customs of a culture at a certain time in history.
The Bible From 26 Translations: This large work shows every verse in the Bible from at least four or five translations.
The Amplified Bible: This is based on the American Standard Version with modern English updates.
Jamieson, Fausset and Brown's One-volume Commentary on the Whole Bible: Although the full commentary covers six volumes, this one-volume commentary is perhaps the most highly recommended of all single-volume editions.
Adam Clarke's Commentary: Another six-volume set. This one is also well-known and widely used, and has a one-volume version available.
The Companion Bible: This Bible is filled with historical, scriptural and linguistic details.
Halley's Bible Handbook: This is compact, but filled with valuable archaeological notes and historical background.
The Angus/Green Bible Handbook: This is a little more thorough than Halley's.
Nave's Topical Bible is ideal for tracing references when no common terms are used.
The Works of Flavius Josephus are considered the most authoritative reference supplementing the Bible.
The Bible as History: An authoritative history relating to the Bible.
Baker's Bible Atlas: This helpful tool shows geographical locations and gives detailed explanations of the culture of ancient times. It has many helpful photos and illustrations.
Oxford Bible Atlas is similar to Baker's and of equal quality, but with differing emphasis.
All these sources provide a kaleidoscope of valuable information. They make study not just interesting, but exciting. These titles are but a small sampling of what is available.
Why Study?
Now, why study the Bible? What are the benefits? Recall II Timothy 2:15 admonishes, "Study to show yourself approved unto God, a workman that needs not to be ashamed, rightly dividing the word of truth."
Rightly dividing the Word of God—truly knowing the Bible inside and out—takes a lifetime. God's Spirit opens one's mind to spiritual understanding (read Psalm 119:18 and John 16:13). True biblical understanding comes from diligent effort and the Holy Spirit working in a person. Only by fully appreciating God's Word will we act on it. Jesus said, "It is written, Man shall not live by bread alone, but by every word that proceeds out of the mouth of God" (Matt. 4:4). Psalm 119 affirms this: "Your word is a lamp unto my feet, and a light unto my path" (vs. 105).
Taking in the Word of God for spiritual nourishment is even more important than physical food. The Bible gives wisdom to understand the weighty aspects of salvation. All scripture is designed by God to mold and teach His people so they become perfect and equipped for "all good works" (II Tim. 3:17).
Bible study is a vital process that does more than teach you. A washing or cleansing effect is involved. Notice: "Husbands, love your wives, even as Christ also loved the Church, and gave Himself for it; that He might sanctify and cleanse it with the washing of water by the word" (Eph. 5:25-26).
This is echoed elsewhere: "Let us draw near with a true heart in full assurance of faith, having our hearts sprinkled from an evil conscience, and our bodies washed with pure water" (Heb. 10:22).
Bible study washes the individual. This is our part of the cleansing process—God expects we do our part. This happens as one internalizes God's Word, which leads to the desire to repent and grow in godly character. God's Spirit is the key in this cleansing process, but diligent study is what we do within the process.
Now consider more benefits of daily study: "The word of God is quick [or living], and powerful, and sharper than any twoedged sword, piercing even to the dividing asunder of soul and spirit, and of the joints and marrow, and is a discerner of the thoughts and intents of the heart" (Heb. 4:12).
The Bible is a living Book that "discerns thoughts" in all situations. It should be looked to for daily guidance. Studied correctly, the Bible will make you "wise unto salvation" (II Tim. 3:15). It imparts wisdom to grow and survive in the proving ground of qualifying for salvation. It helps one recognize and shun error and be vigilant in resisting the devil's seductive arguments.
Bible study actually builds faith. This happens through studying the many examples of God's faithful servants—read carefully Romans 10:17.
Study can also be for comfort—to gain serenity, stability and peace of mind. Notice: "Whatsoever things were written aforetime were written for our learning, that we through patience and comfort of the scriptures might have hope" (Rom. 15:4).
Consider setting aside time early in the morning for your study. This is ideal if circumstances permit. Some people study at night—but this does not work for most. For study to be beneficial, one must be alert. It must be when you can concentrate without distraction. Set aside solid time—not just a few minutes here and there. Actively plan and make arrangements for better conditions to study the Word of the living God. This is vital!
My booklet Bible Authority...Can It Be Proven? provides more crucial foundation for why we must study the Bible. You need to prove that the Bible comes with God's authority.
Prayer is talking to God. Bible study is God talking to you. Failing to study your Bible will lead to doubt, discouragement, emptiness, negativity, anxiety, unhappiness, ignorance, confusion, deception, uncertainty about the future—and feeling that God is not with you. Bible study is a major priority—a matter of life and death.
Read and internalize this powerful passage: "If you abide in Me, and My words abide in you, you shall ask what you will, and it shall be done unto you" (John 15:7). The greatest goal is abiding in Christ and having His word abide in us. Answered prayer is one of the many benefits of attaining this greatest spiritual goal. Bible study brings its own immediate rewards in this life—but also leads to the ultimate goal of eternal life. Be diligent every day in using the 12 rules of Bible study. Eternal life is worth it!
If you are being called by God, the Holy Spirit will lead you into understanding more truth through Bible study. It will impart spiritual knowledge to you and help you apply God's Word in your daily life. Read my free article Are You Being Called? to learn more.
Suggested Reading: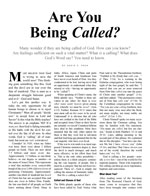 Are You Being Called?
Other Related Items:
More on Related Topics: