Photographs from around the world paint the same picture: We are in the midst of a global water crisis.
Learn the
why

behind the headlines.

Subscribe to the Real Truth for FREE news and analysis.

Subscribe Now
The United Nation's Sustainable Development Goals call for water and sanitation for all by 2030—yet water scarcity is increasing and more than half the world's population will be living in water-stressed regions by 2050.
Even though water covers 71 percent of the Earth, just 1.2 percent is available for human use. And it does not take much to taint this liquid resource. The U.S. Bureau of Reclamation said: "A gallon of paint or a quart of motor oil can seep into the earth and pollute 250,000 gallons of drinking water. A spilled gallon of gasoline can pollute 750,000 gallons of water."
The sad truth in all of this is that there should be plenty to go around. The UN estimated that if Earth's available freshwater was evenly distributed among this planet's approximately 7 billion inhabitants, each person could be allotted 7.5 million gallons during his lifetime.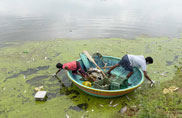 Noah Seelam/AFP/Getty Images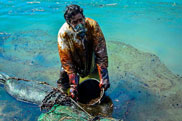 Jean Aurelio Prudence/L'Express Maurice/AFP/Getty Images
With that amount, each individual could consume 152 gallons per day for 136 years. Because water is a renewable resource, as long as it remains pure, it cycles through the environment perpetually without loss.
Despite this, nearly every nation struggles with H2O issues. The photographs in this article help tell that story.
It's Complicated
Dr. Julia Brown, a human geographer specializing in environment and development at the University of Portsmouth, said many countries with water-intensive agriculture and industry lacked adequate safe drinking water.
"When we buy products and buy food and clothing we don't always appreciate that we're actually importing somebody else's water and often those countries where we're importing water from, like in avocados or our denim jeans, they're actually very water-scarce countries," she told Reuters.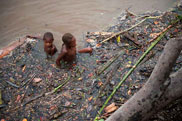 Bay Ismoyo/AFP/Getty Images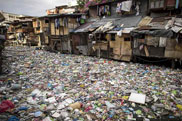 Noel Celis/AFP/Getty Images
In other words, the water needed to grow crops or for manufactured goods to be exported is used up for those processes rather than sustaining the people in that nation.
Dr. Brown added that access in some of the poorest parts of the world is often overlooked.
She said that non-profit organizations hand communities "a shiny new hand pump…then they walk away and it's handed over to communities to raise the funds to maintain these systems, to make sure that they're repaired. And if they're not?"
"The research indicates at any one time one third of hand pumps across Sub-Saharan Africa are broken."
So even when charity and government organizations step in to help communities, supporting those areas in the long run is an incredible challenge.
Ultimate Fix
Our water crisis needs a global fix. The UN knows this. On World Water Day in late March, Secretary-General Antonio Guterres said in a message that the "value of water is profound and complex." He noted that, to him, "water means protection."
"A well-managed water cycle—encompassing drinking water, sanitation, hygiene, wastewater, transboundary governance, the environment and more—means a defense against ill-health and indignity and a response to challenges from a changing climate and increasing global demand."
Mr. Guterres said that the world is not on track to ensure access to water and sanitation by 2030—and that UN nations would have to quadruple efforts to meet these goals.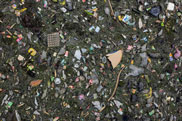 Reuters/Willy Kurniawan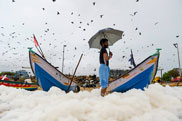 Arun Sankar/AFP/Getty Images
The water crisis is not unlike many of the problems the UN hopes to tackle. The world can see a problem—and know what needs to be done to fix it—yet never quite achieve its goals.
Still, the nations of the world hope they can pull victory from the jaws of defeat. This optimism is embodied by a statue outside the UN headquarters in New York. It depicts a man forging a sword into a plowshare. The idea is to promote and engender peace so that the world can focus its efforts on worthwhile pursuits.
The concept of beating swords into plowshares is a Bible reference to the books of Isaiah and Micah. The UN knows that, without world peace, we cannot truly tackle our worst problems.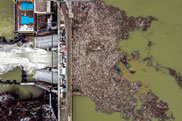 Reuters/Marko Djurica
Faced with the seemingly insurmountable odds of the multifaceted, worsening global water crisis, the world can hope for another Bible passage to come to pass.
The scripture is found in Zechariah: "His [God's] feet shall stand in that day upon the mount of Olives, which is before Jerusalem on the east, and the mount of Olives shall cleave in the midst thereof toward the east and toward the west, and there shall be a very great valley…and it shall be in that day, that living [Hebrew: alive, fresh] waters shall go out from Jerusalem…" (14:4, 8).
Ezekiel adds to this picture by stating that the waters of the Earth "shall be healed."
Chapter 47 states: "And it shall come to pass, that everything that lives, which moves, wheresoever the rivers shall come, shall live: and there shall be a very great multitude of fish, because these waters shall come there: for they shall be healed; and everything shall live where the river comes" (vs. 9).
Religion aside, everyone wishes these scriptures would come to pass. The Bible says a lot more about clean water, world peace—and how it will come soon.
Read Tomorrow's Wonderful World – An Inside View! to learn more.