Learn the
why

behind the headlines.

Subscribe to the Real Truth for FREE news and analysis.

Subscribe Now
The eyes are a window into the heart. You can learn a lot about people—particularly their thoughts, emotions and experiences—through the expression of their eyes and looks on their faces. If you could put a face on the events of the past 12 months, what emotions would you see?
Start with fear and confusion.
The heightened level of gun violence in the United States caused widespread panic. During the year, four mass shootings ranked in the top 25 deadliest in the nation's history. No other year had more than two shootings that resulted in more than 10 deaths.
And the attacks occurred in places generally deemed safe: two at schools (in Parkland, Florida, and Santa Fe, Texas), one at night in a bar filled with university students, and yet another in a Jewish place of worship.
A host of other developments around the world engendered more fear: new nuclear weapons in Russia, a trade war with China, Brexit fallout.
Concern mounted over whether Iran would respond to Washington's decision to pull out of the Iran nuclear deal and reimpose sanctions on Tehran, as well as the Palestinian reaction to the U.S. decision to move its embassy in Israel to Jerusalem.
Fear leads to anger and frustration.
Protests filled headlines. There were #MeToo movement accusations, student walk-outs against gun violence, and demonstrations against governments. Zimbabweans protested their new government's failure to fix their poor economic situation after it was passed over from ousted President Robert Mugabe to President Emmerson Mnangagwa. French citizens took to the streets in reaction to increased taxes and living costs, resulting in the worst urban riots in decades.
Such prolonged frustration gives way to political shifts both left and right.
Fueled by anger of widespread corruption and an increasing murder rate, Mexicans elected leftist Andres Manuel Lopez Obrado in a landslide vote. Europe experienced renewed nationalist political movements, even in left-leaning nations such as Germany. China's President Xi Jinping was given constitutional rights to be "president for life"—allowing him to become the most powerful leader in Beijing since Mao Zedong.
Amid frustration, people seek hope for a better future.
Spectators reveled in the participation of North Korean athletes in the Winter Olympics in Pyeongchang, South Korea. People expressed hope that Cuba would become more democratized when the Castro regime finally ended and Miguel Diaz-Canel was sworn in as its president.
But what little hope glistens in the world's eyes barely lasts. Eventually, the repetition of the news cycle and a barrage of bad news becomes overwhelming. It is easy to become indifferent.
Many events have become so politicized, too, that watchers turn a blind eye to the cause of "the other side" and inadvertently dehumanize them. Worse, viewers can even think the other side "deserves it."
Lastly, horrific humanitarian situations can be ignored because they happen in distant places. After all, bad things seem to only happen to somebody else, somewhere else.
Thus the fear, anger, anguish, hope and hysteria that we could see in the world's eyes are lost in a swirl of statistics, headlines and politics.
We may hear that 400,000 children are severely malnourished in Yemen's unending civil war. But we miss the details of Yemeni children eating nothing but the leaves of a vine, boiled into a sour, acidic green paste in order to survive as their parents struggle to find food.
We may briefly gasp at the staggering death toll from Indonesia's earthquake and tsunami in September. But we miss the story of an engaged couple who were planning their futures together while walking on the beach only to be separated—probably forever—by the powerful waves.
We become mesmerized by stunning images of eerie blue flames near Hawaii's Kilauea volcano and the epic scale of the explosion of Guatemala's 11,000-foot-tall Volcan de Fuego. But then we miss learning how it feels for a Guatemalan family to flee for their lives and only hope that those left behind in the panic—whether parents, grandparents, children or babies—survived the 1,300-degree Fahrenheit volcanic flows.
The daily onslaught of events and numbers keep the people involved in them out of the picture. What ends up missing from the headlines and statistics are the stories of real people affected by real events.
Beyond the headlines and soundbites, we can begin to see the faces of 2018…
Face of Loss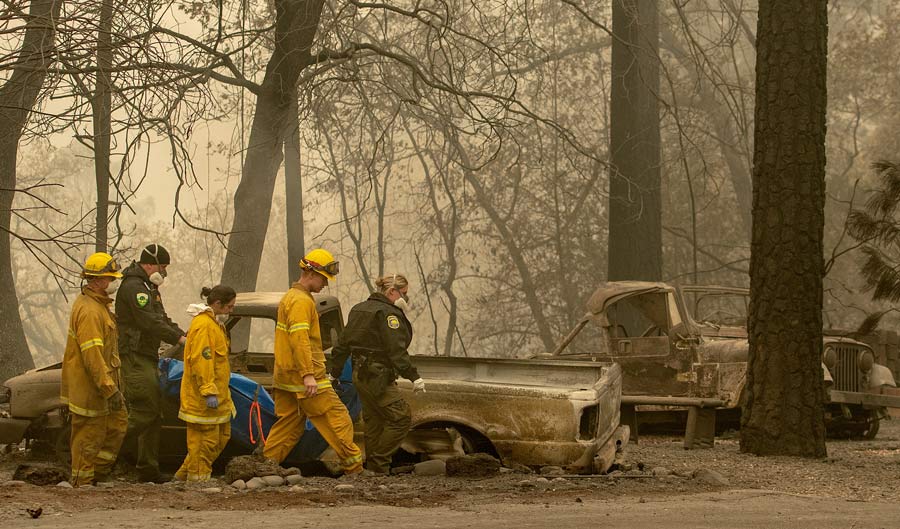 Josh Edelson/AFP/Getty Images
There is a legend about this town: On a blazing summer day in the 1850s, a lumber mill crew with wagon and ox took a break under a grove of tall evergreens. The air was cool, the pine needles fragrant.
"Boys," said the team boss, "this is paradise."
Thus, more than 170 years ago, Paradise, California, was born. From the start, it was enriched with gold mined from nearby hills and lumber harvested from the forests. Over generations, thousands lived and loved here; they built homes and businesses, schools and houses of worship, parks and museums that proudly honored Paradise's place in American history.
In a matter of hours, it all disappeared.
Nearly 9,000 homes. Hundreds of shops and other buildings. The Safeway supermarket. The hardware store. The Dolly-O-Donuts & Gifts, where locals started their day with a blueberry fritter and a quick chat.
This town of 27,000 literally went up in smoke in the deadliest, most destructive wildfire in California history. The death toll is 85. And memories are all that is left of many of the survivors.
Driving past the smoldering ruins of downtown, Patrick Knuthson, a 49-year-old, fourth-generation local, struggled to make sense of what he was seeing. He pointed out places that once were, and were no more: a saloon-style pub, his favorite Mexican restaurant, a classic California motel, the pawn shop, a real estate office, a liquor store, the thrift center and auto repair shop, the remodeled Jack in the Box burger outlet, entire trailer parks.
At the ruined Gold Nugget Museum, the ground was crunchy and hot, a few birds chirped nearby, and a half dozen soot-covered deer stood eerily still under a blackened tree.
Paradise was a town where families put down roots, and visitors opted to stay. Children could bike to the park, go fishing in the town pond, shoot bows and arrows at the nearby archery range. As they got older, they would kayak in the canyons or hike in the forests after school.
"We could tell the kids to go outside and play, and be back when the street lights come on," said Kaitlin Norton, whose uncle is still missing. She does not know if her home still stands.
Like all places, Paradise had problems. There were issues with addiction and poverty, but residents felt safe. And while prices were rising, it was still affordable for many in a state where housing costs have soared.
"You would never miss a meal here," said Terry Prill, 63.
Neighbors waved to each other in the morning, shouting hello as they headed off to work on tree-lined, winding streets and cul-de-sacs. Families kept tidy gardens and planted vegetables, trading their bounty up and down the block.
Louise Branch, 93, says Paradise was a lovely place to retire. "It's a slow town, really. People have yards and dogs," she said. "I especially liked it in the fall when the trees are full of color."
Parks burst with bright orange California poppies and wildflowers in the spring, and soften with light snow in the winter. At 2,500 feet, on a ridge that rises above deep canyons carved by the Feather River and Butte Creek, Paradise offers cool respite from hot, dry weather in the valleys below.
"Paradise is everything the name implies," said Tom Hurst, 67, who grew up there and raised horses at his 7-acre ranch. He has relatives in the local cemetery dating back to the early 1900s.
Now, crews search for live power lines and gas leaks. Rescue teams continue to pull human remains from cars and homes. Fire crews tamp out smoking piles, and a heavy layer of gray-brown haze hangs over the town.
The toxic, smoky air is a visceral reminder of what is missing in this place where the skies were so blue by day, and dark by night.
"The most cherished thing for me about Paradise were the summer nights my mother and I would sit out on the porch under the clear, starry night," said Harold Taylor, who moved to Paradise eight years ago, caring for his mother until she died.
Patrick Knuthson said visitors always were amazed by the glittering stars and the meteor showers, brilliant streaks of light that shot across the summer skies.
"We used to tell people all the time, 'We made sure to turn all of them on for you,'" he said. "It's going to take a long time to get that back."
Face of War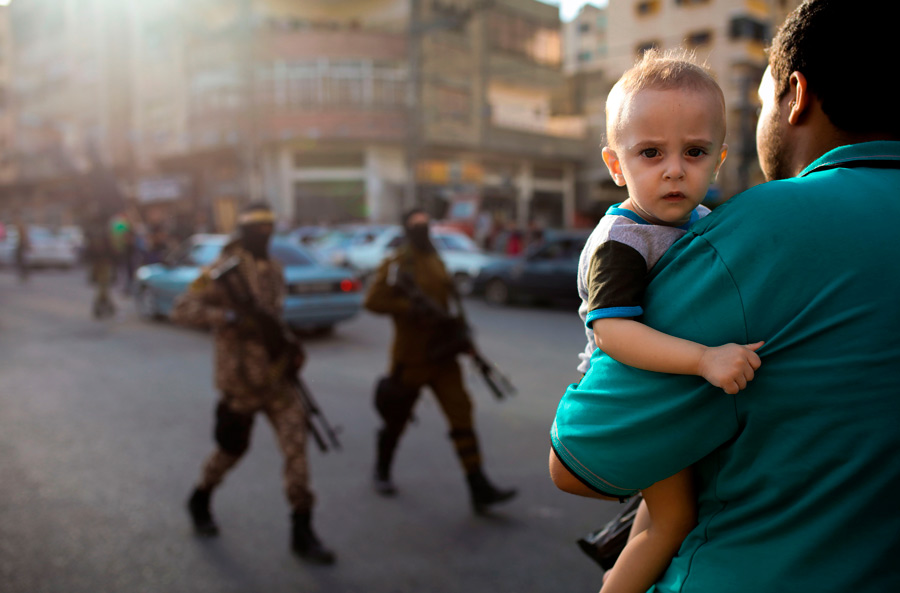 Anas Baba/AFP/Getty Images
Demonstrations by Palestinians were breaking out every week since late March along the border between Israel and the Gaza Strip, with the deadliest confrontation leaving 59 people dead and nearly 3,000 wounded.
Behind the protests were longstanding tensions and repeated violence between Israel and Gaza's Hamas rulers—a militant political group that the U.S., Israel and the European Union label a terror organization.
Threats from Gaza have pushed Israel and Egypt to enact a stifling blockade restricting movement of people and goods.
Israelis living in the southern part of the country live under constant threat of rocket attacks streaming in from Gaza. Houses built since the 1990s include a reinforced room to retreat to during the near-daily attacks.
Meanwhile life must go on for Palestinians living under Hamas.
The 139-square-mile corridor of land along the Mediterranean Sea is wedged between Israel and Egypt, and is home to about 2 million people.
Unemployment is over 40 percent, tap water is undrinkable and Gazans receive only a few hours of electricity a day. Hospitals face constant shortages, the entry and exit of goods is limited, and parts of the territory are still waiting to be rebuilt after a 2014 conflict with Israel.
Gazans have little access to the outside world. They need to obtain hard-to-get permits to enter Israel, while travel through Egypt is restricted to just a few days a year.
Signs of distress are visible throughout Gaza's potholed streets. Young men sit idly on sidewalks, shopkeepers kill time on their smartphones as they mind their empty stores and the smell of sewage from the Mediterranean often wafts through the air.
Hamas has a tight grip on the territory, silencing dissent, banning public gatherings and promoting its conservative Islamic values.
"Despair isn't even the right word to describe what's going on here because things are getting worse and worse," journalist Omar Ghraieb told Los Angeles Times.
Face of Resistance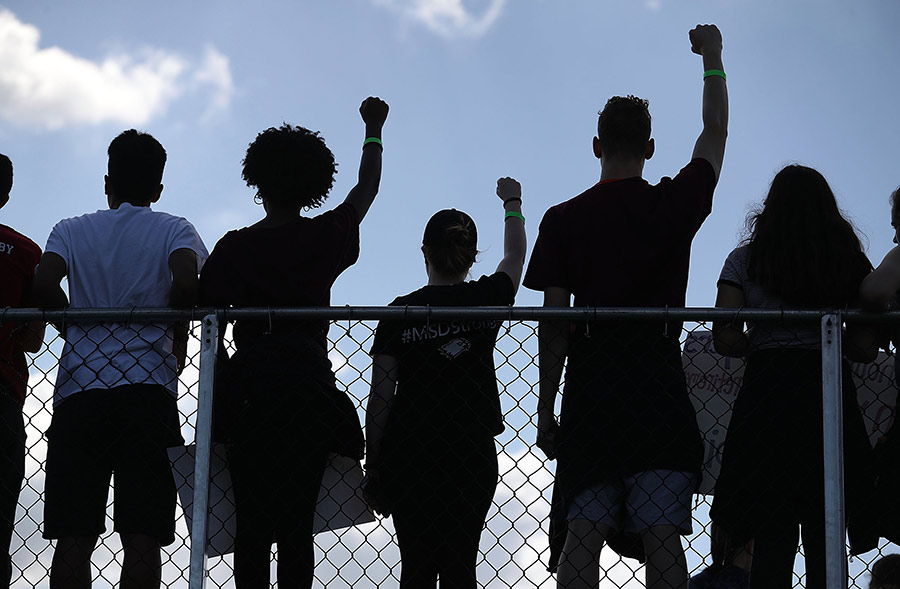 Joe Raedle/Getty Images
They bowed their heads in honor of the dead. They carried signs with messages like "Never Again" and "Am I Next?"
Over and over, they repeated the message: Enough is enough.
In a wave of protests one historian called the largest of its kind in American history, tens of thousands of students walked out of their classrooms on March 14 to demand action on gun violence and school safety.
It was organized by the young survivors of the worst high school shooting in U.S. history, when a 17-year-old killed 14 of his fellow students and three teachers at Marjory Stoneman Douglas High School in Parkland, Florida, on February 14.
Lorenzo Prado, a student who was mistaken for the shooter during the attack, recounted his fears when SWAT units cornered him: "The door started to rattle and the thought that came into my mind was that I was going to die," he told The Guardian.
"The Swat team came in and I thought they were here to rescue me…but I find I am wrong. They told me to put my hands over my head…and when I went out the doors I had six Swat pointing their guns at me."
He also explained the guilt he felt for events that day: "Guilt that I hadn't called my mother…And guilt for Mr. Hixon [a 49-year-old wrestling coach among those killed] whose life I thought I had saved when I let…folks in [to the building where he was hiding] but he lost it when he went out again."
In the surge of activism, young people sought legislative changes on gun control: "We're going to keep fighting, and we're not going to stop until Congress finally makes resolute changes," Maxwell Nardi, a senior student in Henrico, Virginia, told The Associated Press.
But not all felt the same. Twelve-year-old Olivia Shane, an avid competitive trap shooter, said: "People want to take away our guns and it's a Second Amendment right of ours. If they want to take away our Second Amendment right, why can't we take away their amendment of freedom of speech?"
Face of Devastation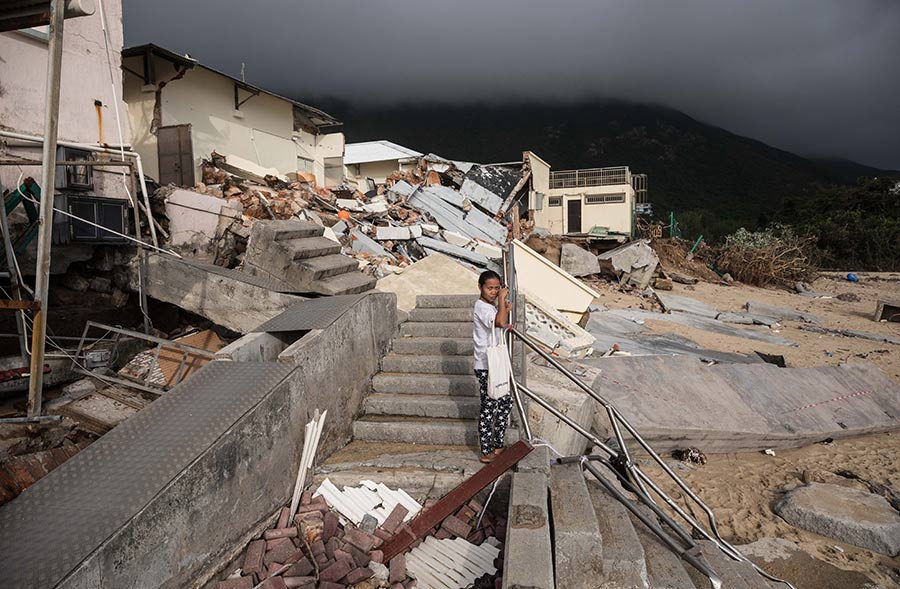 Dale De La Rey/AFP/Getty Images
"The whir of choppers and the buzz of chain saws were all that was heard…near the mining town of Itogon [in the Philippines] as workers looking for bodies dug through the mud using shovels and their bare hands—the ground too wet for heavy machinery," The New York Times reported on the aftermath of Typhoon Mangkhut, considered the strongest in 2018. It had sustained winds of 165 mph and gusts of up to 201 mph.
Continuing, the publication stated: "Workers recovered more than 40 bodies from rubble that was once a gold miners' bunkhouse, destroyed by a landslide triggered by the storm."
The typhoon arrived at the start of the rice and corn harvest season in the Philippines, and farmers were scrambling to save what they could of their crops. The nation has been trying to cope with rice shortages.
This powerful cyclone came during a year of devastating storms in the Atlantic, including Hurricane Michael, which was the most powerful hurricane on record to hit the Florida Panhandle, and Hurricane Florence, which flooded North Carolina for weeks.
A resident of Mexico Beach, Florida, which was hit by the powerful eye wall of Hurricane Michael, returned to find her house missing.
Her house "was a green two-story in a connected row of four," Tampa Bay Times reported. She and her three-year-old daughter "moved all of their valuables upstairs, thinking they might get a little water" in the storm.
When she returned, "she saw almost nothing. No upstairs. No downstairs." Nothing but a slab where the home once stood.
She thought to herself, "It's gone."
"She kept moving through the wreckage. 'There wasn't anything else to do.'"
Face of Change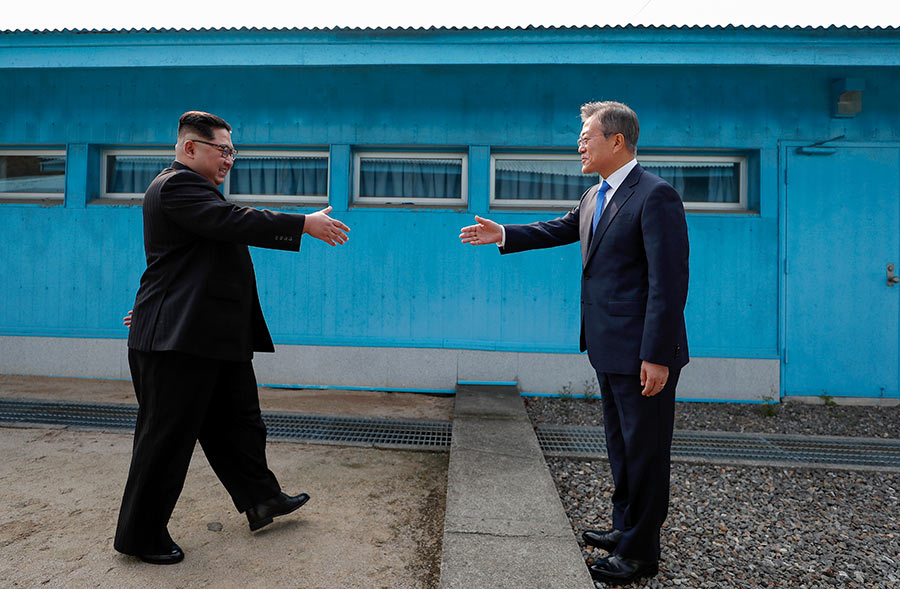 Korea Summit Press Pool/Getty Images
Whereas in 2017 North Korea seemed poised to launch a nuclear war amid worsening tensions with the United States, 2018 brought an extraordinary show of unexpected unity between North and South Korea and diplomacy with Washington. Starting with North Korea's participation in the Winter Olympics in Pyeongchang, the two Koreas suddenly began a process of ending 70 years of anger, suspicion and bloodshed.
This culminated in North Korean leader Kim Jong Un crossing the border into South Korea, hand-in-hand with President Moon Jae-in—the first time any North Korean leader had ever done so—as well as a meeting with U.S. President Donald Trump in Singapore in June. Most of the meetings concerned denuclearization and demilitarizing the heavily guarded border.
On both sides of the Demilitarized Zone, Koreans rejoiced at the thought of reuniting with loved ones.
Dozens of families were selected to attend a three-day reunion in August, with relatives meeting for the first time in at least 65 years. It was likely the last time they would see each other again.
Lee Keum-seom, 92, reunited with her son, whom she lost track of when he was 4 during the panic of the Korean War.
"I never imagined this day would come," she told AFP. "I didn't even know if he was alive or not."
South Koreans brought gifts for their poorer northern neighbors, such as clothes, medicine and food. Lee Soo-nam, 76, who met his older brother, told Reuters he "prepared for him some household medicine including digester and headache pills, nutritional supplements as well as some daily necessaries."
The joy of reunion does not last long, though, and millions more Koreans are still separated.
"Fleeing war in North Korea in 1951, my aunt and her siblings scrambled aboard an American cargo ship pulling away from port, her parents and grandmother shouting their names to keep track of them in the chaos of the evacuation," journalist Jean Lee explained to NPR. "They made it. But their grandfather stayed behind in Wonsan to protect the family property.
"He thought his family would return. They never saw him, or the rest of their family in North Korea, again."
Mrs. Lee explained the difficulty of reunification: "But I know, from speaking to my own family, how conflicted and complicated their feelings are toward North Korea, and how diverse their points of view are. Each generation bears a different history and, as a result, dreams of a different future."
Her aunt told her: "We're not foreigners; we're one nation. I hope we're able to find peace." But "even when we reconcile with a friend, we don't laugh together the next day. There's always some pent-up anger."
Face of Division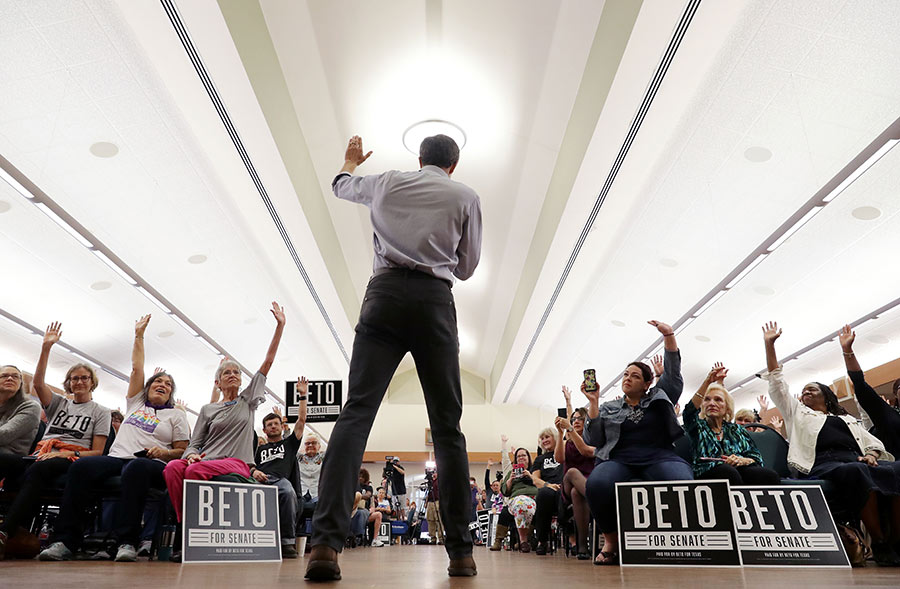 Chip Somodevilla/Getty Images
The 2018 congressional elections were the most contested in history. Events from the fires in California to a caravan of thousands of migrants approaching the U.S. border from Central America were politicized. Political parties spent a record $5.2 billion on the election cycle.
As a result, the voter turnout was the highest since 1914, with just over 50 percent of eligible voters going to the polls.
Candidates elected included a record number of women, as well as the first Muslim and Native American women elected to Congress.
Among those women is the youngest woman ever elected to Congress, Alexandria Ocasio-Cortez. A New York City native, she grew up in a working-class family. She had to take two jobs to help her family make ends meet after her 48-year-old father died of cancer during the 2008 recession.
"According to her website, after experiencing financial and healthcare struggles firsthand, Ocasio-Cortez realized how deeply policy decisions made at the highest levels of government impact everyday families living paycheck to paycheck," Time reported.
The self-styled Democratic progressive "is not the only young up-and-comer shaking up the Democratic party in New York City and across the country," the publication continued. "She is part of a growing trend of millennials, many of whom are persons of color, stepping up as outsiders to challenge long-standing representatives in their districts."
Facing Our Future
Looking beyond the headlines and learning the specifics of real people's lives can change the way we view news events.
Instead of disasters happening to somebody else, somewhere else, we can begin to realize anything can happen to anyone! It helps us empathize with those you can identify with—people composed of the same hopes, dreams, cares and concerns.
Empathy—the ability to understand and share the feelings of another person—is a crucial element to news-watching. As 2019 progresses, the trends experienced last year will continue. These events, from wars and domestic uprisings to weather disasters, were foretold in the Bible to occur and increase in frequency and magnitude. They will involve yet bigger numbers—death tolls, dollars spent, land area destroyed—making it easier to lose concern for the individuals affected.
So why watch bad news if this is the case? Because there is a purpose behind it.
God is giving space for man to try his own systems and ways. The results are seen today in the form of continuing misery, disease, war and poverty.
But God plans to put an end to all of this. The disciples of Jesus Christ asked, "What shall be the sign of Your coming?" (Matt. 24:3). They were looking forward to this culminating event because it meant the beginning of the end to the world's troubles.
Big, terrible events will continue to precede Christ's coming. But the transition to peace and prosperity will be big as well.
Realize: As much as individual people are affected by today's events, individual lives will be touched by the Kingdom that Christ will bring. God's Master Plan to fix the world's biggest problems involves helping people on an individual level.
The Bible shows examples of people's lives helped in this way.
Jesus Christ devoted much of His earthly ministry to healing people and often traveled to the homes of those who requested help. For example, He traveled to "Peter's house, He saw his wife's mother laid, and sick of a fever. And He touched her hand, and the fever left her: and she arose, and ministered unto them" (Matt. 8:14-15).
Following this, Jesus "healed all that were sick: that it might be fulfilled which was spoken by Isaiah the prophet, saying, Himself took our infirmities, and bare our sicknesses" (vs. 16-17).
The account summarized the works Christ did: "The blind receive their sight, and the lame walk, the lepers are cleansed, and the deaf hear, the dead are raised up, and the poor have the gospel preached to them" (11:5).
Elsewhere in the Bible, Christ revealed that this gospel applies to everyone: "And He [Christ] said unto them, Go you into all the world, and preach the gospel to every creature" (Mark 16:15).
Every creature, meaning every inhabitant of this Earth, will hear the gospel—or good news. This is an event that will happen soon. Not a person will be left out of this good news, which involves helping individual people on a grander scale than any humanitarian group today could perform.
It will involve addressing the causes and providing care to each person willing to receive it. It will also involve replacing the failing governments of this world with an effective supergovernment.
Continue to hold onto this awesome vision of the future! Read How God's Kingdom Will Come – The Untold Story! and prepare yourself to see the world transform, one life at a time.