Learn the
why

behind the headlines.

Subscribe to the Real Truth for FREE news and analysis.

Subscribe Now
A United Nations report warned that Afghani civilians will face greater food and housing shortages as well as violence through the coming winter. This comes as the war between U.S.-backed forces and Taliban militants in Afghanistan reaches its 16th year.
With ongoing conflicts such as those in Syria and the war with the Islamic State terror group (ISIS), many have forgotten about the conflict between U.S.-led NATO forces and Afghanistan's Taliban regime that began in 2001. Since then, 2.6 million Afghan citizens have fled to neighboring countries, particularly Pakistan and Iran, to escape conditions caused by violence. Yet increasing persecution from authorities and citizens in those countries, such as police harassment and government pressure, is causing over 5,000 Afghans to return each day, according to the UN report.
UN Under-Secretary-General for Humanitarian Affairs and Emergency Relief Coordinator Stephen O'Brien stated in a press release: "Families have lost their homes and livelihoods. Displaced people are living in tents, unable to feed their children and have had little or no formal education. This cyclical pattern of prolonged conflict must end to avoid another generation of children being lost to war and suffering." In addition to migrants returning to the nation, 1.2 million internally displaced Afghanis are struggling to find housing, food and water supplies.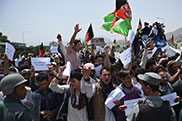 Wakil Kohsar/AFP/Getty Images
In the face of these issues, the UN has appealed for $150 million in emergency aid. Currently, it has received only 13 percent of the requested amount.
Meanwhile, the war shows no sign of ending. Fighting between NATO forces and Islamic militants—both organized Taliban forces and more recently ISIS—continues, contributing to a rise in the number of military and civilian deaths. In early November, heavy fighting in the northern part of the country left over 30 civilians and two U.S. servicemen dead.
Between 2009 and 2016, according to UN data, nearly 20,000 Afghan civilians lost their lives from war-related causes.
In addition, over 1,830 U.S. service members have been killed in action since the war began in 2001, according to the Pentagon. Afghan forces, which have operated more independently as international support in the region has ended, have suffered much greater casualties—over 5,500 were recorded in the first eight months of 2016.
The United States entered Afghanistan in 2001 under the premise that "U.S. military power can not only eliminate those threatening to do us harm, but also install in their place a stable political order conducive to liberal values," Los Angeles Times reported.
"In Afghanistan, the United States and its allies have succeeded on neither count, despite considerable sacrifice and expenditures exceeding one trillion dollars. Notwithstanding many years of Western tutoring, the Afghan government, currently dependent upon international donors for 70% of its operating revenue, has shown little capacity to stand on its own. Efforts to root out pervasive corruption have gone nowhere. Opium production flourishes, with Afghanistan persistently supplying 90% of the world's heroin. Although no longer at the helm in Kabul, the Taliban persists and by some estimates is growing stronger."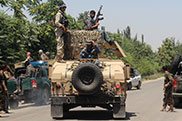 Najim Rahim/AFP/Getty Images
One way in which the Taliban is strengthening its position is by smuggling minerals. Bloomberg reported: "The Afghan government will earn about $30 million in 2015 from its mineral sector for the third straight year, far short of a previous projection of $1.5 billion…That's also a quarter of what smugglers—mostly linked to the Taliban and local warlords—earn annually selling rubies and emeralds…"
"Afghanistan's struggles to generate cash signal that it could be decades before Kabul's leaders wean themselves off funds from the U.S. and its allies. U.S. President Barack Obama…decided to keep 5,500 troops in the country indefinitely after 2016, underscoring the Taliban's strength…"
The country's Mines and Petroleum Minister Daud Shah Saba stated: "Afghanistan needs to continue receiving international funds—otherwise the country won't remain functional at all."
With the United States' inability to secure Afghanistan's needs, the Los Angeles Times article stated that America's new global policy mission objective is simply to "hang on." As conditions worsen for Afghani civilians, their objective may be the same.