Shifts in the European Union's leadership have rekindled hopes of a better future for the continent.
Learn the
why

behind the headlines.

Subscribe to the Real Truth for FREE news and analysis.

Subscribe Now
Goodbye, adieu and auf Wiedersehen. In November and December, the European Union bid farewell to those holding three of its top leadership spots: EU Council President Herman Van Rompuy, Commission President Jose Manuel Barroso, and foreign affairs chief Lady Catherine Ashton—all with expired terms—were replaced.
The continent then said hallo and hola to three new faces for these prominent positions: Donald Tusk, Jean-Claude Juncker, and Federica Mogherini. Many hope these changes will signal a promising, fresh start for the beleaguered continent.
The union has experienced little success since the implementation of the pseudo-constitution Lisbon Treaty, which created the positions of Council President and High Representative of the European Union for Foreign Affairs and Security Policy (the full title for the foreign affairs chief), given to Mr. Van Rompuy and Lady Ashton, respectively. The past five years have seen the eurozone delve into financial crisis, disagreements with Britain over policies, and souring relations with Russia due to the Ukrainian conflict.
Wearied by economic troubles and decades-old political rivalries, Europeans hope the new leaders will be capable of reshaping their competing company of nations into an integrated "United States of Europe."
While this has so far proven to be a fleeting dream, understanding the biographies of the three new leaders helps reveal what is to come for Europe's regional role and its place on the world stage. 
Donald Tusk: European Union Council President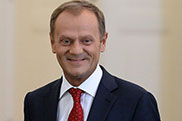 Janek Skarzynski/AFP/Getty Images
Described by one Guardian reporter as "quiet, unassuming, firm and politically ruthless," Mr. Tusk acted as Poland's prime minister from 2007 to 2014, until his appointment as the second EU Council president, effective December 1, 2014.
This position is responsible for chairing EU summits, setting priorities for the European Commission's legislation, and fostering agreement between the loosely related and sometimes divided EU member states. The term for a Council president is two-and-a-half years, with a maximum of two terms.
Mr. Tusk has long been thought of as a potential successor to Herman Van Rompuy.
In a statement following Mr. Tusk's selection, Mr. Van Rompuy called him "one of the veterans of the European Council." He spoke highly of "the determined and confident way he has steered Poland through the economic crisis, and managed to maintain steady economic growth."
Then-President Van Rompuy said Mr. Tusk will face three challenges: the problematic European economy, the ongoing crisis in Ukraine, and settling "Britain's place in Europe."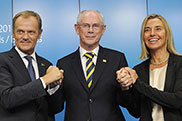 John Thys/AFP/Getty Images
When Mr. Tusk entered his previous post in 2007, Poland was allied with Britain, wary of Franco-German dominion in the European Union, and historically suspicious of Germany's motives. Throughout his seven-year period in office, "keen pro-Americanism waned" and Mr. Tusk "concluded that Britain and David Cameron in particular were making a mess of their tactics and strategy in Europe with other EU governments. Tusk bonded with Merkel, the EU's first among equals, cemented a close Polish-German alliance, and concluded that Poland's destiny rested on its closest possible European integration, setting it at odds with a UK travelling in the opposite direction" The Guardian reported.
According to EUobserver: "Merkel even urged Tusk to consider the office of president before he truly became a candidate. Thus, while Tusk's appointment was a symbolic win for Poland and other new EU members, it was also a win for Germany."
The article continued, "This matters immensely because Tusk's ability to coalesce a strong negotiated position with the support of the indispensable Merkel would quickly and forcefully cement EU policies…decreasing French influence and uncertainty over the British role means a theoretical 'Tuskel' could move Europe forward with policies aligned around a central European view."
Developing mutual trust between Germany and Poland could represent a shift of power toward central European nations. This would ultimately give Germany a greater hand in the direction of the entire continent and increased authority over Europe's legislative actions. In the event of such a power shift, Europeans could see strengthened ties between member states and more stability in the eurozone.
"…just as Juncker has realigned the Commission's organisation in an attempt for more efficiency, a more assertive European Council president closely aligned to the most powerful players in Europe could help build a stronger and more united Europe," EUobserver noted. 
Jean-Claude Juncker: European Commission President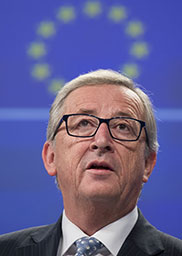 John Thys/AFP/Getty Images
The former prime minister of Luxembourg from 1995 to 2013, Mr. Juncker was selected to become the 12th president of the European Commission, a post some consider to be the most powerful in the power bloc, on July 15, 2014. He assumed the role on November 1, 2014.
The Commission serves as the executive branch for the continent. Its president, elected for a five-year term, is responsible for determining the EU's policy agenda and administering its legislative proposals. Unlike the American presidency, however, the Commission president cannot determine foreign policy, command armies, or set taxes.
Previous Commission President Jose Manuel Barroso served two five-year terms from 2004 to 2014. Under his watch, the Lisbon Treaty was ratified, Turkey became closer to attaining member-state status, a single market for services within the EU was created, and the European Institute of Innovation and Technology was founded—an agency that aims to further the continent's ability to develop products and solutions for the benefit of society.
Mr. Juncker brings a markedly different personality and strategy to the Commission. According to The Telegraph, "…Mr. Juncker is not known to have other interests outside politics. He is married, but has no children…A modest and secretive man, Mr. Juncker, whose country combines both Germanic and French influences, has been relied on by three successive generations of German chancellors and presidents of France as their preferred fixer, a key link in the euro structures that bind Paris and Berlin…He is both pragmatic and ruthless because he sincerely believes that the EU and euro is all that stands between Europe and war."
After his selection as Commission president in July, Mr. Juncker announced his agenda of promoting Europe as a "stronger global actor."
"Europe is chiefly a 'soft power.' But even the strongest soft powers cannot make do in the long run without at least some integrated defence capacities," he wrote in an article on the European Commission's website titled "A New Start for Europe: My Agenda for Jobs, Growth, Fairness and Democratic Change."
Frederick Florin/AFP/Getty Images
The article detailed his mission to consolidate military efforts and establish a more efficient European force: "The Treaty of Lisbon provides for the possibility that those Member States who wish to can pool their defence capabilities in the form of a permanent structured cooperation…Member States should create more synergies in defence procurement. In times of scarce resources, we need to match ambitions with resources to avoid duplication of programmes."
The push for integrated military resources has been a work in progress since the European Defence Agency (EDA) proposed a budget increase in 2010 that would be used to "set up an E.U. defense-planning headquarters in Brussels, a move Britain views as a duplication of NATO facilities and a waste of money," The New York Times reported in an article a few months after the proposition was made.
The budget increase was also intended to allow weapons procurement continent-wide. Soon after its proposal, though, Britain rejected the measure, which stopped the EDA from pushing for a larger budget.
"Under E.U. rules, a group of countries could proceed," the newspaper continued, "though considering Britain's important military role, its refusal to take part in missions planned by the new headquarters would undermine it."
Mr. Juncker intends to circumvent Britain's veto by encouraging other members of the union to integrate their defense resources and establish the headquarters in Brussels, which many feel would be a first step to creating a European army.
In addition to pooling defense resources, Mr. Juncker plans to devote considerable attention to rejuvenating Europe's economy. Speaking to the European Commission after being appointed in July 2014, he announced to "all countries in the European Union, we [will] set in place a minimum social wage, a minimum income, a guaranteed minimum income."
During his inaugural speech, he further detailed his belief in "free movement" of workers, which would allow struggling workers more access to learning other careers and skill sets and make it easier for them to migrate to nations with greater job opportunities.
He stated: "Free movement of workers has always been one of the key pillars of the internal market, which I will defend…I believe we should see free movement as an economic opportunity not a threat. We should therefore promote labour mobility, especially in fields with persistent vacancies and skills mismatches."
These policies oppose Britain's strategy of imposing restrictions on workers migrating to different countries for employment.
Financial Times reported on the day of his appointment: "To a mix of jeers from anti-establishment MEPs and enthusiastic cheers from his supporters, Mr. Juncker promised to be a 'patient, determined and courageous' leader, breaking new ground on social policy and re-industrialisation…'I want a Europe that wins, attacks,' he said." 
Federica Mogherini: European Union Foreign Policy Minister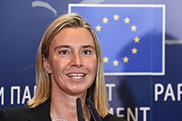 John Thys/AFP/Getty Images
Ms. Mogherini assumed the office of High Representative of the European Union for Foreign Affairs and Security Policy, which serves as the spokesperson for the EU's foreign policy and negotiates with other nations on behalf of the union, on November 1, 2014.
Born in Italy, Ms. Mogherini brings more experience and political ambition into the office than her British predecessor, Lady Catherine Ashton, who had no foreign policy experience and had never been elected to any position prior to being appointed.
Since 2003, Ms. Mogherini has held numerous roles where she has cultivated relationships among nations. Through these offices, she has participated in the Middle East peace process, assisted Italian relations with Afghanistan and Iraq, facilitated ties among left-wing political parties in the EU and overseas, and supported diplomatic endeavors between the U.S. and central European nations.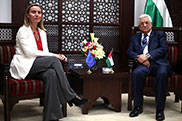 Abbas Momani/AFP/Getty Images
Before being appointed as EU foreign policy chief, she served as minister for foreign affairs in Italian Prime Minister Matteo Renzi's cabinet from February to October of 2014. During her tenure, she notably helped stop a Sudanese woman—Mariam Ibrahim—from receiving a death sentence by her home country for supposedly converting from Islam to Christianity.
Now, as Europe's primary diplomat, her attention has shifted toward the ongoing Israeli-Palestinian crisis. The Jerusalem Post quoted her as saying: "European action can be decisive in this key moment, which is probably the most difficult moment the region has ever seen…for the first time I believe…they need the European Union to be present in order to make steps forward at this time of their history."
To cement her view, a week after being inaugurated, Ms. Mogherini traveled to Israeli and Palestinian regions, visiting with heads of state.
While touring a territory in Gaza, Agence-France Presse reported that she said, "We need a Palestine state—that is the ultimate goal and this is the position of all the European Union…We cannot just sit and wait. If we sit and wait it will go on for another 40 years. We have to have action now."
Ms. Mogherini's second priority is to solve the Ukraine-Russian crisis. She told The Guardian "I will be very involved in Ukraine."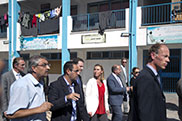 Mahmud Hams/AFP/Getty Images
She then confirmed that Germany will play an increased role in foreign policy decisions, displacing previous British-French control.
"I witnessed as a minister in these past months quite a central foreign policy of Germany already. I think this is something positive…a country that has a history as Germany can play an important role…I welcome the fact that Germany has for sure shown in the recent past the willingness to involve its strength in European foreign policy."
The breadth of experience and aggressive approach Ms. Mogherini brings to her new role could position Europe as a dominant leader in global affairs.