Learn the
why

behind the headlines.

Subscribe to the Real Truth for FREE news and analysis.

Subscribe Now
With each passing week, more headlines herald a massive and growing crisis in global agriculture and food production. These examples speak for themselves: "UN Seeks Urgent Funding to Curb Looming Food Crisis in Somalia"—"Advocacy Group Says Agribusinesses Creating 'Superweed Crisis'"—"Food Shortages May Become Most Critical World Issue by Mid-century"—"Food Prices to Keep Rising as Drought, Demand and Disease Strain Supply"—"Decline of Bumblebees Could Affect Our Global Food Supply"—"California Drought Threatens Food Supply of All Americans."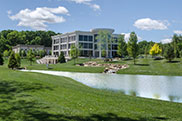 Paula C. Rondeau/The Real Truth
Many more could be cited. For most nations, the effects of these trends are only beginning to take shape. But in some, they are already here! It is anticipated that just in Somalia, just in the next seven months, 200,000 children—just in the age group of five and under!—will die from severe malnutrition, partly because of famine due to ruined soil and erosion, and also resulting from manmade food shortages and poor food quality. Meanwhile, China, the world's most populous nation, reported that nearly a fifth of its arable land has been severely polluted with heavy metals.
The array of other insoluble problems that occupy humanity's attention pales in comparison to the importance of the global food supply!
In the 1970s, my father decided to open a natural food store. Having seen many business fads come and go, he contrasted the constant demand for this basic human need, saying, "Food is here to stay." But in the 21st century, those words appear increasingly obsolete!
World leaders are watching with grave concern, anticipating the horrific consequences that could come upon their citizens. Voices of concern from various corners have been raised, and are growing louder.
But one program not only foresaw this crisis, but has for nearly five decades been committed to educating the world about its causes—and demonstrating a better way.
Deep Roots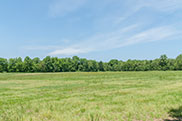 The Real Truth
The Agriculture Education and Research Institute (AERI) operates under the auspices of Ambassador Center, the educational arm of The Restored Church of God, which publishes The Real Truth.
Its beginnings can be traced to Ambassador College, a liberal arts institution founded by Herbert W. Armstrong, Pastor General of the Worldwide Church of God. This college had three campuses: Pasadena, California (site of the Church's Headquarters); Bricket Wood, England; and Big Sandy, Texas. The latter campus, set on 1,600 acres in rural east Texas, is where AERI's forerunner was centered.
Commissioned by Mr. Armstrong to research biblical principles of agriculture, a team led by Ambassador College faculty member and minister Dale L. Schurter, whom I have known for nearly 40 years, applied what they found in Scripture—with stunning results. Spanning both crops and animal husbandry, the quality and yield of what was produced far surpassed what was being done by farmers using artificial methods—often literally "just across the fence"!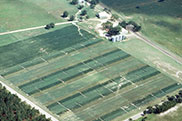 Photo courtesy of Dale L. Schurter
Ambassador's student newspaper The Portfolio recounted the story in 1977: "When Dale Schurter graduated from Big Sandy in 1965, Herbert W. Armstrong asked him to teach a course in agriculture and submit a proposal for an Ag curriculum. In the spring of 1966 Mr. Schurter headed up the [educational, research, production and extension] program…and continued as Ag Department head until 1975…The four areas of effort during the first seven years were research, with a view to recapturing true values in agriculture, student education, extension services (including some soil testing and fertilizer sales) and production."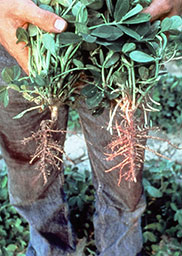 Photo courtesy of Dale L. Schurter
Mr. Armstrong's vision was for Ambassador College to pioneer the use of agricultural principles found in the Bible, coupled with natural cycles, scientific and practical research, and common sense, to find the most effective and sustainable ways to raise healthy animals and produce quality feed crops and food (such as meat, milk, eggs, cheese, vegetables, fruits and honey). The ultimate purpose was to bring happy, healthy and abundant living to those who implemented these practices.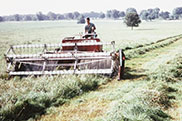 Photo courtesy of Dale L. Schurter
AC students were presented the opportunity to apply what they learned on the college's 1,600-acre (and additional rented 2,600-acre) farm and ranch. Over a five-year period, a 27-course agribusiness major became an important component of the Big Sandy Ambassador College curriculum and in serving the college students, employees and community.
In the decades that followed, the program came to provide food for hundreds of students on the Big Sandy campus, as well as for its sister campus in Pasadena.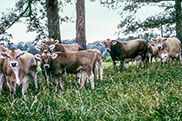 Photo courtesy of Dale L. Schurter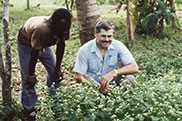 Photo courtesy of Dale L. Schurter
Mr. Schurter and colleagues also organized programs and informational workshops designed to educate the public about biblical agriculture techniques and help those who wanted to implement the practices in their gardens or on their farms.
Local, state and federal agriculture officials as well as various celebrities took notice.
In a 1976 letter to Mr. Armstrong, actress Gloria Swanson stated, "We are just back from three unforgettable days at Big Sandy…What you have begun there can truly have the power to reclaim this country and this planet."
While visiting world leaders, Mr. Armstrong would often invite them to Big Sandy to tour the farm and ranch, and Mr. Schurter would be their escort. This led to many opportunities for him to travel abroad on behalf of Mr. Armstrong and demonstrate what various dignitaries had seen accomplished on campus. From 1978 to 1982, Mr. Schurter visited 23 countries around the world (many several times) to teach biblical agriculture. To date, he has taught these principles in 40 nations.
Through the Ambassador Foundation of the Worldwide Church of God, a project very special to Mr. Armstrong, Mr. Schurter and others conducted work in Thailand. This was to fulfill a request from King Bhumibol and Queen Sirikit to assist them in their efforts to help poor farmers switch from growing opium to health-giving vegetables. Mr. Schurter designed and helped implement a successful soil equilibrium and crop rotation program for the region. Five years later, Mr. Armstrong received a letter from King Bhumibol stating that 90 percent of opium crops had been replaced with vegetables and fruit trees.
Another example of Mr. Schurter's overseas work involved establishing community development efforts in the South American nation of Guyana. At the time, he was working with then-Prime Minister Hamilton Green, national government officials, educational instructors, and local chieftains to augment the level of sustainable food production in the country. These efforts, the broadest project he has undertaken, yielded a 300 percent citrus increase and an average 45 percent increase in other crops with extensive involvement of the local population, in addition to other nationwide benefits.
These are a few examples of similar work accomplished in many other countries as well.
As new leadership assumed control of the Worldwide Church of God, in the wake of Mr. Armstrong's death in 1986, this program was eventually discontinued—part of a wholesale abandonment of all that had been accomplished under his leadership.
But the story does not end there!
Agriculture Program Restored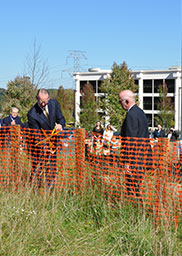 The Real Truth
In May 2013, The Restored Church of God—the true continuation of Mr. Armstrong's ministry—moved its corporate offices to a new, state-of-the-art Headquarters campus in Wadsworth, Ohio. Later in the same year, 59 acres of adjacent woods and farmland were acquired to expand the campus, now encompassing upper and lower sections, to 90 acres, making it three-quarters of a mile long.
Well ahead of this expansion, a restored agriculture program was in view. While it will not have the same scale, or acreage, as the Big Sandy operation of the past, it will again truly be "God's farm," reflecting His standards of beauty, quality and precision.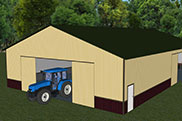 The Real Truth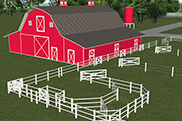 The Real Truth
In addition to AERI operations, this land will also provide room for the Church's annual fall convention, an expanded summer youth camp, additional much-needed parking space for events, a source of natural resources such as lumber, athletic facilities for the Church, youth camp and Ambassador Center, and more.
As of this writing, initial work such as "frost seeding," soil sampling, and mineral balancing have prepared the land for crops. A road system serving the entire upper campus has been mapped out. A number of AERI-related buildings are in the planning phases, some in the advanced stages, beginning with a multi-use barn. Much necessary equipment has been generously donated, allowing for advancement to the program's next phases.
This unique program will further distinguish The Restored Church of God from all other groups, particularly the many offshoots ("splinters") of the Worldwide Church of God. It will become an additional benefit and opportunity for the many who will yet become members of the Church in the years ahead. And it will also benefit the surrounding community, since it will impart proven principles that can be employed in farms and individual backyards.
We expect that, as in the past, any number of world leaders—including presidents and prime ministers as well as ministers of agriculture and others—may visit our campus, and that others will receive representatives of AERI and the Church in their own nations.
Difficult Times Ahead
Most regions of the planet have seen periods of great difficulty in food production. One recent example was America's Dust Bowl catastrophe during the 1930s. But Bible prophecy makes clear that a far worse time is coming, with famine—and the accompanying scourge of disease—to affect many peoples, including the most powerful, prosperous "have" nations.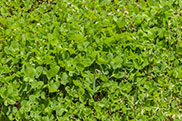 The Real Truth
For those who are paying attention, the early signs of this terrible time are here. Mr. Schurter's book Mounting Worldwide Crisis in Agriculture trumpets a truly dire warning of the severe damage that man has inflicted on Earth's soil—the ultimate source of all food. This absolutely fascinating and thoroughly researched and documented volume introduces and carefully explains the devastating cumulative worldwide effects of chemical fertilizers and pesticides, including insecticides, herbicides and fungicides. It exposes the truth behind Genetically Modified Organisms (GMOs), monoculture farming, and other manmade techniques, as well as reveals the sobering implications now confronting all nations. But the book also brings to light the wonderful good news of how our planet's ecosystem can and will be renewed by God—not men.
Filled with many, many shocking facts, Mounting Worldwide Crisis in Agriculture conclusively PROVES that the Revelation 6 Black Horse of famine and Pale Horse of pestilence are BOTH galloping full-speed toward civilization. In fact, the book's power will make you hear their pounding "hooves" just over the horizon. Read it today free of charge.
Worldwide Restoration Coming!
Mr. Armstrong envisioned Ambassador College's agriculture program as a forerunner of the worldwide restoration of true biblical husbandry that will occur during the Millennium, a thousand-year period of peace, prosperity and re-education to be ushered in by Jesus Christ at His Return. At a ministerial conference in 1967, he stated, "I think we [those who qualify to rule with Christ—Revelation 5:10] are going to get the whole world back into agriculture and farming."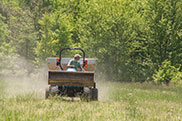 The Real Truth
Many passages describe this wonderful time. Among them is one of the most incredible prophecies in the entire Bible: "Then shall the lame man leap…and the…dumb sing: for in the wilderness shall waters break out, and streams in the desert. And the parched ground shall become a pool, and the thirsty land springs of water: in the habitation of dragons, where each lay, shall be grass with reeds and rushes" (Isa. 35:6-7).
Verses 1-2 add more to what this will mean for all the deserts of the world: "The wilderness and the solitary place shall be glad for them; and the desert shall rejoice, and blossom as the rose. It shall blossom abundantly, and rejoice even with joy and singing: the glory of Lebanon shall be given unto it, the excellency of Carmel and Sharon, they shall see the glory of the Lord, and the excellency of our God."
Ezekiel 34 states, "…I will cause the shower to come down in his season; there shall be showers of blessing. And the tree of the field shall yield her fruit, and the earth shall yield her increase, and they shall be safe in their land, and shall know that I am the Lord" (vs. 26-27).
This will all be accomplished through the power of God, and as a result of mankind learning God's ways in all areas—including agriculture: "The earth shall be full of the knowledge of the Lord, as the waters cover the sea" (Isa. 11:9).
Real Truth readers can catch that vision, and begin to learn and apply "the knowledge of the Lord" now!