Learn the
why

behind the headlines.

Subscribe to the Real Truth for FREE news and analysis.

Subscribe Now
What is wrong with the weather? People the world over are recognizing that extreme weather is becoming normal. Today's storms are more intense and more frequent—and more widespread. Nature is exploding with violent weather—droughts, floods, hurricanes, tornadoes, storms and wildfires—all of which are causing increasing death tolls and financial loss. Disastrous weather worldwide has caused many to ask: What is happening? Why so much bad weather? What, if anything, is behind these events? Are they acts of God, cycles of nature, or mistakes of man? What does the Bible say?
This Personal reveals shocking answers!
The last 20 years have produced many more severe weather events than any other period since record-keeping began in 1880. Seemingly every week, reports around the world announce the "hottest summer ever" or the "worst flood ever," or the "worst fires ever." Experts blame climate change—or global warming—but more and more are unsure of the causes behind this increase in catastrophic weather events.
Wild Weather
2011 saw a devastating earthquake and tsunami strike Japan, along with many other natural disasters around the world. Consider just the summer and fall of that year in the United States—an unprecedented 5.8-magnitude earthquake near Washington, D.C.—a swarm of 800 tornadoes across the Midwest that killed hundreds—a historic drought in Texas—wildfires across Arizona, New Mexico, and Texas—the enormous Mississippi River flood, and another on the Missouri River, with others on California rivers—a giant October snowstorm in the Northeast. The list is nearly endless. And 2012 is shaping up to be much worse!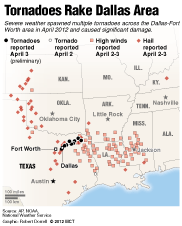 While weather disasters have always occurred, try to remember when so many have happened in such rapid succession. One source declares: "'Unprecedented extreme weather and climate events' look likely in coming decades as a result of a changing climate…The IPCC [Intergovernmental Panel on Climate Change] report's projection for the next century: Worse heat waves worldwide are 'very likely,' 'Medium confidence' exists that droughts will worsen across southern North America, the Mediterranean and elsewhere, and 'High confidence' exists that economic losses from weather disasters are increasing…[In 2011], there [were] 14 billion-dollar U.S. weather disasters…shattering the previous record of 9 set in 2008."
Normally, the U.S. sees three to four of these events per year!
The report continues, "Tornadoes, hurricanes and floods in these 14 disasters killed more than 600 people…" (USA Today).
Meteorologists have noticed something strange is occurring: "No question about it: [2011 was] a wild weather year…in the United States, with record rains, droughts, wildfires and tornadoes" (Reuters).
Across America, abnormally devastating weather—deadlier storms, multi-state flooding, excessive drought, and harder-to-control wildfires—is wreaking havoc on the economy and lives of millions of people. Those who survive must pick up the pieces of shattered lives—homes destroyed or ruined—businesses destroyed—livelihoods gone—loved ones dying, with some never found. In an instant, people can lose everything, including their lives! But the damage is far more than just death and destruction of property. Entire economies can be affected—cities can be erased!
Disasters Increasing
In other parts of the world, unstable weather comes with the Pacific pattern called El Nino, which brings wet weather that saturates the ground and results in flooding in some places and droughts in others.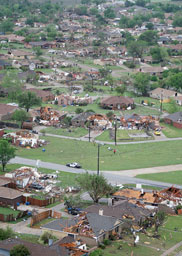 Khampha Bouaphanh/Fort Worth Star-Telegram/MCT
Consider: "A strong El Nino plays havoc with weather from Indonesia to the Atlantic, but in different ways. Indonesia gets unusually dry weather, and…fires in parts of Indonesia have been frequent…Peru, on the west coast of South America, tends to get what California gets—flooding rains" (National Public Radio).
Also note this about ecological changes: "Climate change and other factors are causing a massive 'migration' of tree species across much of the western United States and Canada, according to researchers. While insect attack, disease and fire are contributing to the new arboreal landscape, climate change is causing species that have been established for centuries or millennia to lose their competitive edge, according to the lead author of the study [conducted by the researchers]. The study suggests that many species once able to survive and thrive are being muscled out by opportunistic newcomers. The co-author says that while ecosystems are always changing at very slow rates, the distribution of tree species is now being altered so quickly, due to recent climate change, that humans can notice it" (The Plain Dealer).
Why such violent weather?
Although natural disasters have caused erratic weather patterns throughout history, the exact reason these occur still puzzles scientists. Storm-chasers do not know why some thunderstorms form tornadoes while others do not. Forecasters cannot predict where flash flooding will occur. Only the disaster after it happens tells them. Nor can meteorologists explain why one day will be cloudier than another.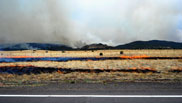 Kkevork Djansezian/Getty Images
Most want to know what is coming—what the future holds. They look to meteorologists for forecasts, seismologists for when the next big earthquake might occur, and economists to predict financial storms that could hit them. People want to know where their lives are headed—and look to psychics, seers and prophets who have no answers. Some look to Bible prophecy to attach meaning to events, but fare no better. Here is why: most mangle verses, inserting their own ideas, rather than believing what the Bible actually says.
Due to the errors of so-called prophecy experts, the future remains hazy to most—as does the meaning behind worsening natural disasters. Yet, by allowing the Bible to interpret itself, you can understand what is happening.
Before looking at God's Word, let's examine the many weather problems plaguing the world today.
Hurricanes
First we look at hurricanes. In recent years, these storms have become more forceful and more frequent. Most Atlantic hurricanes begin as thunderstorms off the west coast of Africa, and travel over warm tropical water, gaining strength, as easterly trade winds send them toward Central and North America. Hurricanes build through three phases: (1) tropical depression—winds from 23-38 mph, (2) tropical storm—wind speed 39-73 mph, and (3) hurricane—above 73 mph. These steps can take days or only a few hours. The worst hurricanes can have winds above 155 mph.
Hurricanes, which range from categories 1 to 5, can cause heavy rain damage, inland flooding, storm surges, tornadoes and sustained high winds. At a hurricane's landfall, up to 12 inches of rain is common, often far inland. This causes severe flooding and property damage, as well as death and destruction.
Storm surges are among the most devastating effects of a hurricane. This is a wall of water pushed at the front of the storm. Nine out of 10 hurricane-related deaths are caused by water surges or flooding.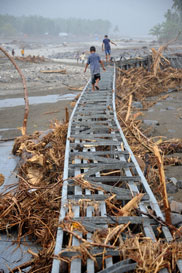 Noel Celis/AFP/Getty Images
In 1992, Hurricane Andrew killed 26 people and caused almost $27 billion in damage! In November 1998, Hurricane Mitch was one of the strongest late-season hurricanes ever. Weakening just before hitting the mainland, it still unleashed an estimated 75 inches of rain. The flooding devastated Honduras and surrounding countries. The death toll was estimated at 11,000—the single greatest loss of life in the Western hemisphere in the last 200 years!
Next is the devastation that Hurricane Katrina caused in New Orleans. The fifth deadliest hurricane in U.S. history, nearly 2,000 died in America's costliest natural disaster ever.
Hurricane Irene hit the American east coast in August 2011. This storm left utter devastation throughout New England. Notice: "It never became the big-city nightmare forecasters and public officials had warned about, but it caused the worst flooding in a century in Vermont" (USA Today).
The storm's disaster zone was 1,100-miles long and consisted of endless trees downed, washed-out roads, and scattered debris. Irene affected more than 65 million people in 11 states, and hammered several major metropolitan areas, resulting in at least 40 deaths, millions of evacuees, 9,000 canceled flights, about six million homes and businesses without power, and approximately $7 billion in overall losses.
Many cities were completely isolated. In North Carolina's Outer Banks, "A highway linking the islands was broken in five places. A new inlet, an estimated 200 feet wide, cleaved northern Hatteras Island" (The Charlotte Observer). Approximately 2,500 residents were trapped.
Irene exposed the weakness of America's crumbling roads, antiquated sewer systems, and outdated power grids. As disasters and ruin pile up, America's infrastructure will only worsen—as will the country's ability to pay for such disasters. For instance, the federal government had to "temporarily suspend…payments to rebuild roads, schools and other structures destroyed during spring tornadoes in Joplin, Mo. and southern states in order to pay for damage caused by Hurricane Irene" (The Washington Post).
All this from just a single Category 1 hurricane!
Violent Storms
Now consider the unprecedented storm that hit Alaska in late 2011. With winds recorded at nearly 90 miles per hour, it had the force of a Category 3 hurricane, and was double the size of Texas, or as big as the entire state of Alaska. The storm itself was moving 60 mph, and brought a 10-foot storm surge, the largest ever recorded in Alaska. Widespread flooding the size of Colorado on Alaska's west coast, coupled with heavy snow and beach erosion, led the National Weather Service to describe the storm as "one of the worst on record."
"This [was] an extremely dangerous and life threatening storm of an epic magnitude rarely experienced."
The sheer size and power of this one storm is hard to fathom. It was reported that it took "an unusual path through the Bering Sea" (CBS). Meteorologists had no explanation for why this storm occurred as it did.
These are just a few of the deadly storms that have hit the U.S. in recent years. Studies have demonstrated a trend: they are getting worse!
Again, why are these weather events happening? What is wrong? Are they caused by humanity, a product of natural weather cycles, or is there some unseen force at work? More and more are asking these questions, but experts have no answers!
Central and North America are not the only areas of the world that have killer hurricanes. Historically, immense typhoons have devastated China, Japan, Korea, the Philippines, Southeast Asia, and areas along the Bay of Bengal. Hundreds of thousands have been killed!
Here is what Jesus Christ said would come just before His Return: "Nation shall rise against nation, and kingdom against kingdom: and there shall be earthquakes in [various] places, and there shall be famines and troubles…" (Mark 13:8).
The Greek word translated "troubles" means "disturbance, that is, (of water) roiling, or (of a mob) sedition: trouble" (Strong's Exhaustive Concordance of the Bible). This word brings to mind a range of problems, some severe, that would come from floods, tremendous cyclones, and other destructive storms—all forms of "roiling water." Mark's gospel indicates these things will all grow much worse. And mob violence and sedition may be directly tied to more of them.
Floods
Next are floods—among the few natural disasters that can happen almost anywhere. There are two main types: ordinary and flash. Ordinary floods are categorized three ways: coastal, due to storms and high tides—river, due to rivers exceeding their banks—and urban, where lack of ground prohibits absorption of water. Think city sprawl, roads and parking lots.
Frozen ground, widespread heavy rain, saturated soil, ice floes clogging waterways, reservoirs, rivers and streams at maximum capacity, and deforestation can all cause flooding. If deep snow melts too quickly, because of abnormally high temperatures, and/or is mixed with rain and snow, under which the soil is frozen, the snow can sometimes cause major flooding. In 2010-2011, a harsh winter and a late spring caused this very thing due to record snowpack in the Western U.S.
Little or no rain for an extended period can leave the ground harder than normal. This will cause the rain from a sudden downpour to run off, instead of being absorbed. On the other hand, if an area has experienced more than normal rain, the ground is already saturated. It cannot hold more water, which must find the lowest point.
Flash floods come suddenly—with little or no warning. A heavy rain, or an accident caused by a dam burst or sudden release of water held by an ice jam, can result in severe flash floods. These can be so powerful they can move huge boulders, uproot large trees, destroy bridges and buildings, and create new river channels. Mudslides can follow.
Major floods occur in many parts of the world. In 2010, flooding left a full seventh of Pakistan underwater. In late 2011, floods from monsoon rains affected 9.5 million people and killed over 500 in Thailand. One-third of the entire country was underwater! Five times in the last half of the 20th century there were catastrophic floods involving the Yangtze River in China.
In the spring of 2011, the Mississippi River—America's largest—flooded, turning millions of acres in the American South into swamp. Most of this land had been used to grow food.
The impact on America's economy and harvest was staggering: "Nearly 3 million acres of farm land in 3 southern U.S. states [were] submerged by flood waters from the raging Mississippi River and its smaller tributaries, adding to troubles in seeding this year's crops in the world's top grain exporter…the loss comes at a time when grains have soared due to dwindling supplies, weather woes in other exporting nations and increased consumption" (Reuters).
Much of Memphis, Tennessee, was underwater.
"In Natchez, Mississippi, the river surpassed its record…exceeding 58 feet…" (CNN). Above Natchez, to avoid an even worse catastrophe, officials had to blow a two-mile-wide hole in a levee to redirect water and relieve pressure. Prior to this emergency measure, river levels "stood at a record-breaking 61.72 feet" (The Christian Science Monitor).
The blast "allowed water to flow into the Birds Point-New Madrid Floodway in Missouri, with the water traveling at 4.1 million gallons per second to create a 200-square-mile lake" (ibid.).
Also, "The U.S. Army Corps of Engineers opened 44 more gates to the Bonnet Carre Spillway in Norco, La., diverting floodwater into Lake Pontchartrain. The spillway was opened…for the first time since 1973" (The Los Angeles Times).
The economic loss of just this flood was billions of dollars. This was an astonishing disaster!
Tornadoes
Then there are tornadoes. Since more occur in the United States than in any other country, it is labeled the "Tornado Capital of the World." The National Weather Service documents about 1,000 touching down each year. It is estimated another 1,000 touch down, but are never documented because they go unseen. The Fujita-Pearson tornado scale rates tornadoes from F0 to F6.
Recent years have seen a big increase in tornado-related deaths. A twister can literally cut a swath through a suburban neighborhood and destroy everything in its path. Yet homes nearby can be virtually untouched.
In the spring of 2011, an F5 multi-vortex tornado (one having several funnels within a main one), far worse than anyone imagined, with 200 mph winds, flattened most of Joplin, Missouri. More than 150 people died. Thousands of trees were leveled, cellphone towers were blown over, and cars were tossed like toys. Roofs were gone where houses survived. Entire neighborhoods were unrecognizable. In minutes, 8,000 homes and businesses were damaged. Joplin was almost wiped out.
Pause to think about the tremendous devastation in just this one town, as well as the human side to what happened. Reporters at the scene fought back tears, and were unable to continue due to the gravity of the destruction. Lives were ruined. Parents lost children—children lost parents and grandparents. Just think of the pain and misery of those left behind.
Then think of the rebuilding process that must occur—the time, energy and money spent. A whole city can be set back decades in a few short minutes—or seconds—when natural disasters strike!
Again, why are these things happening? Experts just do not know!
But Joplin was not the only town almost completely wiped out by tornadoes in 2011. The Missouri F5—which caused the most tornado-related deaths in a single day in America's history—was just one of many across the country during one of the deadliest tornado outbreaks ever. In May, an estimated 370 tornadoes struck the Midwest, while April experienced a record 800! One that ravaged Tuscaloosa, Alabama, was also among the most powerful ever in the U.S.
While meteorologists can explain the physical conditions necessary for inclement weather, they cannot pinpoint the exact reason such weather occurs. For instance, they are able to recognize the principle behind the tornado but not why it does or does not occur.
A University of Pennsylvania physics professor said, "If a draft of air from [a] storm comes along close to the ground and then moves upwards (called an 'up-draft'), it will pull the spinning air upwards…Now comes the part that we don't understand quite as well. So far the spinning air is still really really wide. It then gets pulled in really tight so that it makes a tornado in the same way as a figure skater pulls in his [or] her arms…to spin faster. Scientists aren't exactly sure why this reduction in width happens sometimes but not at other times, but, when it does, wind speeds can go from the 30-40 mph winds of a regular storm to over 300 mi/hour."
A grasp of basic physics, coupled with advanced monitoring of changes in wind direction, can give scientists a clear picture of when conditions are ripe for a tornado. While such information can be helpful in better appreciating the nature and composition of such violent wind rotations, experts cannot guarantee their path or—in Joplin's case—predict if one will become a multi-vortex tornado. It is only by watching video reports and hearing testimonies of those involved after the fact that details can be analyzed.
Wildfires
Next are wildfires. In 2000, the United States saw 123,000 fires, which consumed 8.4 million acres. At the time, this was the most active fire season in history. During the 2001 fire season, there were another 89,000 fires across the U.S. In July 2002, Colorado, Arizona and New Mexico saw the worst forest fires in their history!
Notice these quotes: "Nature rules…firefighters can only watch in helpless amazement as miles of evergreen forest erupt in a furious orange blaze…bearing down on suburbs southwest of Denver" (Akron Beacon Journal). Named the Hayman Fire, it destroyed 618 structures and 137,000 acres of forestland. Approximately 40,000 people were warned or evacuated.
Notice this: "A fire is a chemical reaction that requires fuel, heat and oxygen…In a wildfire, combustion releases hot gases and particles that rise in a column into the atmosphere—30,000 feet in the case of the Hayman fire. The fire creates its own wind as fresh air rushes in to replace the rising air. A large fire can generate hurricane-force winds of 120 mph. This propels the fire up the steepest mountain slopes…The steeper the slope, the faster a fire will move and the hotter it will burn" (ibid.). Nothing can get away!
After a wildfire ends, there is potential for mass erosion due to the absence of vegetation. The soil is exposed to rain and is washed away, causing more problems—mudslides and ash buildup can plug small streams and rivers, resulting in flooding. Such debris can even change their course—and sewer systems can back up, causing health problems.
In May 2011, Arizona's Wallow Fire—the state's largest ever—raged over 538,000 acres. Believed to have been sparked by an uncontrolled campfire—carelessness—it forced thousands to evacuate, destroyed hundreds of homes, and left $109 million in damages. The fires also engulfed more than 15,000 acres of New Mexico.
In addition, human error has been a factor. Of 1,494 wildfires that occurred in 2011, 950 were caused by people!
The National Weather Service warned of wildfire-linked flood danger: "The largest wildfire in state history…burned over 500,000 acres of the white mountains [of Arizona]…numerous locations will be vulnerable to flash floods and debris flows…some area streams and rivers are likely to see flows beyond anything seen in decades if typical or above average rains occur…"
The collective amount of national burned acreage—proportional in size to the state of Connecticut—surpassed 2010: "In Florida, the Everglades has seen 115 fires…three times the norm…At 4.2 million acres, the first half of 2011 is way ahead of the 2.9 million acres for the same period in 2006, which turned out to be the worst year on record at nearly 10 million acres burned" (MSNBC).
In Texas, drought resulted in the worst wildfire season in its history. And meteorologists say this could worsen in 2012.
A climatologist stated, "It's still bad. They are still having fires…I don't think Texas is out of the woods. And looking at the forecast, it doesn't look like it is getting any rosier" (Michael Brewer, climatologist with the National Climatic Data Center).
Also notice: "The devastating Texas wildfire season reache[d] the one-year mark…and there appears to be no end in sight as officials brace for large blazes that could ignite anywhere across the drought-stricken state…In [2011]…wildfires statewide…destroyed nearly 4 million acres and more than 2,900 homes…September 2010 to 2011 was the driest 12 months on record in the state, and weather experts say the historic dry spell will grip Texas well into 2012" (The Associated Press). Vast acreage of crops was destroyed. Extremely fast-moving fires even jumped highways, forcing traffic to be redirected.
Foretold in God's Word
The Bible speaks of how God will use "heat," in various forms, to get the world's attention. Notice: "The Lord shall smite you with…blasting [those are hot winds that bring scorching heat], and with mildew [paleness and rot from too much rain]; and they shall pursue you until you perish. And your heaven that is over your head shall be brass [or hard, meaning no rain], and the earth that is under you shall be iron [rock hard because of drought, heat and misuse of soil]" (Deut. 28:22-23).
Two more forms of natural disasters are also worth mentioning. Earthquakes and volcanoes have also become regular in the news. There is a reason. The Bible foretells that the greatest period of earthquake activity in history is upon us, and it will grow worse. In fact, these disasters will soon affect the security and stability of the whole world—including your life.
Recall that Jesus also warned about increased earthquakes before His Return. Notice: "There shall be earthquakes in [various] places…" (Mark 13:8). This says earthquakes would be scattered here and there—but must also mean that they would increase in both frequency and intensity as His Second Coming drew near. Luke's gospel account says these will be "great earthquakes" (21:11).
Soon will come more powerful earthquakes! They will awaken giant volcanoes. These will be the largest eruptions of all time, and they will affect the weather.
We have examined specific accounts of extreme weather, as well as how they occur. But what has so far been covered is just the tip of the iceberg. There is much more to understand. Few are aware that God's Word talks about the weather, but also that the all-powerful Creator God reveals much more about what will occur in the years just ahead.
To learn more, do not miss part two of my Personal in next month's issue of The Real Truth.