The Restored Church of God, which publishes The Real Truth magazine, announces plans for its World Headquarters, to be built in Wadsworth, Ohio, USA.
Learn the
why

behind the headlines.

Subscribe to the Real Truth for FREE news and analysis.

Subscribe Now
A state-of-the-art complex to house The Real Truth editorial offices and printing facilities will provide a beautiful setting for the magazine's rapidly growing publishing operations and become the worldwide Headquarters of The Restored Church of God (RCG).
Turbulent world conditions and trends make it an urgent priority to reach many more millions of people in a short time frame. To allow this, the organization has begun a large-scale expansion of its facilities.
With significant site preparation underway, construction is to begin in early April 2012. The complex will include: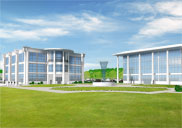 The Real Truth
• An elegant hall of administration, housing brand-new Real Truth offices
• A stunning auditorium in the style of the one found on the Worldwide Church of God's Pasadena, California, world headquarters, at which was produced The Plain Truth, the predecessor to this magazine
• A conference center for the Church's educational training institution, Ambassador Center (AC)
• Immaculate grounds, including exquisitely manicured gardens, pools, paths, bridges, fountains, other water features, and sculptures, all set amid stairwells and terraced landscaping, etc.
The entire complex is designed to reflect the extraordinary tradition of the Worldwide Church of God's three Ambassador College campuses—which repeatedly won awards for their beauty and quality.
The buildings are scheduled to open in April 2013, and will coincide with a major expansion in enrollment for AC.
Visit rcg.org for more information.