Learn the
why

behind the headlines.

Subscribe to the Real Truth for FREE news and analysis.

Subscribe Now
With the shocking murder of a federal judge and the assault of a United States congressional member during a public meeting with her constituents, news media outlets and politicians rushed to assign blame: some among the liberal left claim that controversial rhetoric by conservatives inspired a mentally disturbed man to embark on a shooting spree, while a handful of conservative groups have called the suspect a "liberal lunatic."
Yet the gunman's political leanings are hard to pin down. The Economist reported the suspect's account on popular social networking site MySpace indicated that he is interested in both the Communist Manifesto and Adolf Hitler's Mein Kampf.
Politics aside, the seemingly senseless event elicits the question: Why?
"It was so surreal"
Saturday morning, January 8, 2011, in northwest Tucson, Arizona: United States Representative Gabrielle Giffords held a political event, "Congress on Your Corner," in front of a Safeway supermarket to meet face-to-face with her 8th Congressional District Arizona residents.
Before the event, Ms. Giffords posted an announcement on the Web via Twitter: "My first Congress on Your Corner starts now. Please stop by to let me know what is on your mind or tweet me later" (Guardian).
According to witnesses, the political event began informally, with Ms. Giffords having set up a table outside Safeway and a small crowd, 20 to 30 people, gathering to speak with her.
Attendance included U.S. District Judge John Roll. The New York Times reported, "Ms. Giffords had been talking to a couple about Medicare and reimbursements, and Judge Roll had just walked up to her and shouted 'Hi,' when the gunman, wearing sunglasses and perhaps a hood of some sort, approached and shot the judge."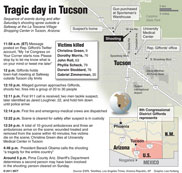 Judge Roll, at age 63, who was less than a month from turning 64, immediately died. BBC states he had spent more than 40 years on the federal bench.
Armed with a 9 mm pistol equipped with an extended magazine, the gunman then shot the congresswoman and opened fire into the unsuspecting crowd. Ms. Giffords—third-term congresswoman, member of the Blue Dog Coalition for Democrats, the first Jewish woman elected to Congress from Arizona, and the third female elected for the state—was shot in the head at point-blank range. The bullet entered the back of her head, passed through the left hemisphere of her brain, and exited out the front.
A witness said in The New York Times, "I saw the congresswoman talking to two people, and then this man suddenly came up and shot her in the head and then shot other people. I think it was a semiautomatic, and he must have got off 20 rounds."
The shooter was tackled by two male bystanders after he ran out of ammunition and tried to reload his pistol. A woman took the magazine clip the suspect had dropped while reloading.
In all, six people were murdered:
U.S. District Judge John Roll.
Gabe Zimmerman, age 30, Giffords' community outreach director; he was engaged to be married.
Dorothy Morris, 76.
Phyllis Scheck, 79.
Dorwin Stoddard,76, who died while shielding his wife.
Third grader Christina Green, age 9, born September 11, 2001.

The nine-year-old girl's father told CNN, "It does say something about our society that our daughter was born on a tragic day and taken out on a tragic day."
Although initial reports incorrectly claimed that Congresswoman Giffords was among the dead, an ambulance rushed her to Tucson's University Medical Center, where she underwent brain surgery. Doctors report that Ms. Giffords, who was able to follow simple commands after the procedure, is expected to survive. Surgeons removed part of her skull in case her brain swelled and pressed against it.
The 40-year-old Fulbright scholar and University of Cornell graduate has served on several congressional committees, including the House Armed Services Committee. A political moderate who narrowly won re-election against Tea-Party-backed Republican candidate Jesse Kelly, she supported gun rights and tougher immigration restrictions during her campaign. This included tighter border security, although she opposed Arizona's controversial immigration law.
During the shooting, 12 others were wounded, including Ron Barber, her district director, and Pam Simon, a community outreach worker, who are both expected to recover from their injuries.
"Nobody really kind of realized the massiveness of what happened," one of the two men who helped subdue the suspect said on CNN. "It was so surreal. You don't believe what's really happening in front of you. People are really dying. As the police took him away, I looked up and it was just—it hit me like a ton of bricks. All these people that were wounded, and all these people's lives were changed in an instant."
Response to the Tragedy
President Barack Obama, in a public statement, called the shooting "an unspeakable tragedy." Mr. Obama stated, "We do not yet have all the answers. What we do know is that such a senseless and terrible act of violence has no place in a free society. I ask all Americans to join me and Michelle in keeping Representative Giffords, the victims of this tragedy, and their families in our prayers."
Arizona Governor Jan Brewer ordered that flags in her state be flown at half staff for what she called "an unbelievable tragedy."
Safeway Inc. publicly announced: "We share the grief and shock that everyone in Tucson and the nation are feeling following this tragic act of violence. Our thoughts and prayers are with Congresswoman Giffords and with each of the victims and their families. Like everyone else, we are struggling to understand this tragedy and are giving all assistance we can to the law enforcement agencies that are investigating."
Speaker of the House John Boehner said, "I am horrified by the senseless attack on Congresswoman Gabrielle Giffords and members of her staff. An attack on one who serves is an attack on all who serve. Acts and threats of violence against public officials have no place in our society. Our prayers are with Congresswoman Giffords, her staff, all who were injured and their families. This is a sad day for our country" (ibid.).
Canada's Department of Foreign Affairs also expressed grief and offered condolences to the victims. Foreign Affairs Minister Lawrence Cannon wished the congresswoman a speedy recovery.
Troubled Youth
Authorities have arrested suspected shooter Jared Loughner, age 22, who faces two counts of murder and three counts of attempted murder.
The Federal Bureau of Investigation and its director, Robert Mueller, has taken charge of the investigation since the deadly assaults involved the murder and assault of federal workers.
Prior to the incident, Mr. Loughner had posted bizarre and threatening messages on the Internet.
Although the suspect had tried to enlist into the U.S. Army after he had been suspended from college, the Pentagon confirmed that he was rejected. Due to the Privacy Act, the reason for his rejection has not been released.
In the aftermath of the slaughter, left-wing critics blamed guns and right-wing commentary for the senseless and sudden brutality. Yet conservative groups point out that former classmates describe the suspect as a "left winger." A former U.S. Senator claimed the gunman's anger was motivated by talk of repealing the new healthcare law.
As officials, opinionators and bystanders debate and search for answers, looking to physical causes for life and death effects, they ignore that this is now the age of rage—and the real problem is spiritual in nature.
The Real Truth analysis "Why the Age of Rage – Has the World Gone Mad?" thoroughly examines this subject and leaves no doubt as to why acts of violence continue to occur in this modern time.
Articles
SOCIETY & LIFESTYLES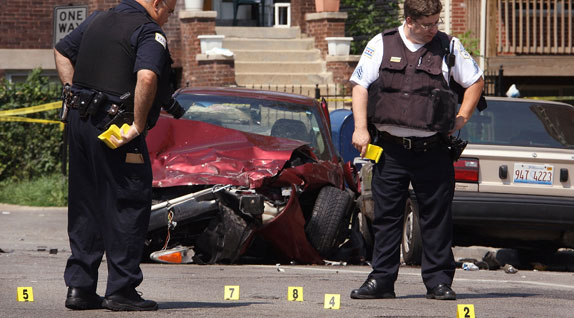 Why the Age of Rage – Has the World Gone Mad?
The endless cycle of meltdowns, outbursts and violence is growing worse. What is behind the rage?