The extremes in weather worldwide have prompted many to question if they are mere happenstance—or if there is something else behind them.
Learn the
why

behind the headlines.

Subscribe to the Real Truth for FREE news and analysis.

Subscribe Now
Russia declared a state of emergency in 27 drought-stricken regions around Moscow as wildfires burned uncontrollably during what officials consider the hottest season in 130 years. Monsoon rains in Pakistan and Afghanistan caused the worst flooding since 1929, killing more than 1,500 people in Pakistan alone, with many hundreds more missing. (See our World News Desk report in this issue, "Pakistan Flooding Kills Over 1,500.") China has also seen massive flooding, which killed more than 900 people, collapsed numerous bridges and buildings, and left 30,000 trapped.
Additionally, the United States saw a summer of 100-plus degree temperatures, violent tornadoes and intense flooding, which killed greater numbers than in previous years.
It appears nature is exploding with more violent weather—droughts, floods, hurricanes, tornadoes, storms and forest fires. Indeed, the last two decades have produced a greater amount of severe weather events than any other period since records began in 1880.
What is going on?
Worst Ever
Every week, there are more reports about the "hottest summer ever" or the "most flooding ever," or the "worst fires ever." Consider just some of the headlines worldwide: "July Falls Just Short of Setting Heat Record," "Russia Lowers Grain Forecast Amid Fires," "Converging Weather Patterns Caused Last Winter's Huge Snows in U.S.," "Argentina Colder Than Antarctica Spurs Record Power Imports, Shuts Plants," "West Australia Wheat Crop Suffers From Little Rain, Farmers Say," "India Rainfall 38% Above Normal Last Week, Weather Bureau Says."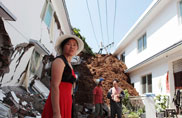 STR/AFP/Getty Images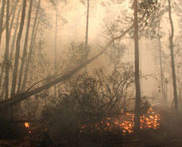 Andrey Smirnov/AFP/Getty Images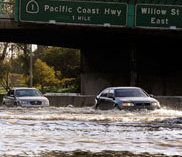 Kevork Djansezian/Getty Images
Then there were the heavy rains that caused the Maquoketa River and nine-mile Lake Delhi in Iowa to swell to unprecedented levels. This resulted in a 92-year-old reservoir dam bursting, which drained the entire lake, and caused millions of dollars of damage downstream. More than 900 condo owners, who once owned lakefront property, were left speechless as they watched the entire lake disappear before their eyes—and with it, millions of dollars worth of property value.
"By Sunday afternoon, the shore of the lake was a steep cliff leading down to mud flats, then a thin channel of running river water," The Des Moines Register reported. "The air reeked of rotting fish. Lawns were muddy messes, laden with soaked furniture, carpet, drywall, insulation, mattresses and other household goods."
Even more unstable weather is expected with the arrival of the Pacific pattern El Nino, which often brings with it wet fall weather that saturates the ground and results in flooding in various places and droughts in others.
"…A strong El Nino plays havoc with weather from Indonesia to the Atlantic, but in different ways. Indonesia gets unusually dry weather, and in fact fires in parts of Indonesia have been frequent recently. Peru, on the west coast of South America, tends to get what California gets—flooding rains," National Public Radio reported.
Although natural disasters have caused erratic weather patterns throughout history, the exact reason many of them occur still puzzles scientists. Storm-chasers do not understand why certain thunderstorms form twisters while others do not. Forecasters cannot predict where flash flooding will occur until it has already swept away victims. Nor can meteorologists accurately explain why one day will be cloudier than another.
What are they missing?
No Coincidence
While meteorologists, climatologists and scientists can understand when conditions are ripe for a disaster, they do not understand the reason such erratic weather patterns occur. These brilliant scholars fail to recognize that there is a greater power behind Earth's unstable weather patterns.
Throughout the centuries, God has used the weather to get man's attention. He has protected and punished His people by controlling and guiding the weather. When His people please Him, He uses weather to bless, protect and save them. When their ways displease Him, He uses the elements as punishment.
The Bible foretold long ago that natural disasters would intensify just prior to the Return of Jesus Christ: "For nation shall rise against nation, and kingdom against kingdom: and there shall be famines, and pestilences, and earthquakes, in diverse places" (Matt. 24:7).
We are now under a curse because our cities are filled with hatred, poverty, violence, riots, crime, pornography and pollution. For that, our farmlands are cursed with drought, floods, insects and disease. The soil is losing the ability to produce healthy food due to harmful chemicals, and has become rock hard, with its nutrients depleted.
God is trying to get the world's attention! He is a loving, merciful God, who wants us to enjoy the good things of life. But He also demands that humanity obey Him—He will not continue to bless nations that refuse to follow His laws.
Only God Almighty is able to bless nations with rain at the right time of the growing season, and stop damaging weather patterns: "Then I will give you rain in due season, and the land shall yield her increase, and the trees of the field shall yield their fruit" (Lev. 26:4).
Man alone cannot completely understand the weather—nor can he stop erratic patterns. It is only by obeying God that he can understand them, and be protected from them.
To learn more about what is prophesied about weather patterns, and what it means for you, read our comprehensive report "What's Wrong With the Weather?"