While pockets of severe deprivation do exist in the West's lands of plenty, the overall picture of the poor is starkly different in the rest of the world.
Learn the
why

behind the headlines.

Subscribe to the Real Truth for FREE news and analysis.

Subscribe Now
The dollars and cents of poverty beyond the shores of the United States is sobering beyond words. According to the United Nations-commissioned Millennium Project: "More than one billion people in the world live on less than one dollar a day. Another 2.7 billion struggle to survive on less than two dollars per day. Poverty in the developing world, however, goes far beyond income poverty. It means having to walk more than one mile every day simply to collect water and firewood; it means suffering diseases that were eradicated from rich countries decades ago."
"In some deeply impoverished nations less than half of the children are in primary school and under 20 percent go to secondary school." Around the world, nearly 70 million children do not receive a basic education and 774 million adults are illiterate.
Each year, eight million children under age 5 die from preventable causes, such as malaria, diarrhea and pneumonia, according to the World Health Organization (WHO).
Living on less than a dollar or two per day—well below the earning potential of a homeless panhandler in a large North American city—equates to a life that most Americans would rather not think about, much less experience.
But this is reality for roughly 36 percent of human beings on the planet!
The scourge of poverty affects every country to a degree, but in certain parts of the globe, it is the rule rather than the exception.
Poverty in Asia
A resident of a dying fishing village near Pakistan's increasingly polluted Manchar Lake told interviewers for the United Kingdom group Panos: "We have been living here since the beginning. Seven generations have lived and died here…We, who are standing on the edge of death now, have seen our hair grow white here.
"Today again, my mother-in-law has an upset stomach and is vomiting. This is an injustice to us: the water of Manchar has turned to poison. Children go to bathe in this water and…even if one drop of this water enters their mouth, they will lose their lives…
"Recently three of our women, who each had eight-month-old babies, died due to the poisonous waters. In our homeland…there is only misery for us…We have no livelihood…there are only small fish. We now survive by begging.
"In the times of our forefathers, the water was so sweet that if you…drank water out of the small hollows left in the ground by the cattle's footprints, even that was sweet. The water has been bad like this since the last 10, 15 years…now even dogs will die if they drink it, let alone human beings…"
In China, which has made great strides in developing an urban middle class, there are still millions who live in miserable conditions.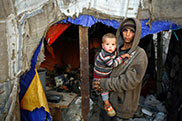 Haidar Hamdani/AFP/Getty Images
"When she gets sick, Li Enlan, 78, picks herbs from the woods that grow nearby instead of buying modern medicines," The New York Times reported. "This is not the result of some philosophical choice, though. She has never seen a doctor and, like many residents of this area, lives in a meager barter economy, seldom coming into contact with cash.
"'We eat somehow, but it's never enough,' Ms. Li said. 'At least we're not starving.'
"In this region of southern Henan Province, in village after village, people are too poor to heat their homes in the winter and many lack basic comforts like running water. Mobile phones, a near ubiquitous symbol of upward mobility throughout much of this country, are seen as an impossible luxury. People here often begin conversations with a phrase that is still not uncommon in today's China: 'We are poor.'"
A recent International Business Times report suggested that more than 82 million in China live below the poverty line (less than one dollar a day).
India
The largest city on the Indian subcontinent—and the world's largest city proper—holds millions of impoverished residents within its confines. National Geographic described life there: "All cities in India are loud, but nothing matches the 24/7 decibel level of Mumbai, the former Bombay, where the traffic never stops and the horns always honk. Noise, however, is not a problem in Dharavi, the teeming slum of one million…where as many as 18,000 people crowd into a single acre (0.4 hectares). By nightfall, deep inside the maze of lanes too narrow even for the putt-putt of auto rickshaws, the slum is as still as a verdant glade. Once you get accustomed to sharing 300 square feet (28 square meters) of floor with 15 humans and an uncounted number of mice, a strange sense of relaxation sets in."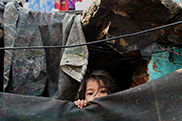 Money Sharma/AFP/Getty Images
Those who live in the rest of the country fare little better. According to India's Socioeconomic and Caste Census, the nation still has the world's largest number of poor people in a single country. Of its over 1.2 billion inhabitants, an estimated 363 million live below the poverty line. Nearly three-quarters of these live in rural areas.
South America
In a resurgent Latin America, with countries such as Venezuela rising in wealth on the crest of oil profits, many have not yet felt the flush of success. The Wall Street Journal reported: "Less than three years into [President Nicolas] Maduro's tenure, Venezuela's economy is in shambles amid low oil prices, and poverty is more prevalent than it was when the leftist Chavismo movement took power nearly 17 years ago."
"A new study conducted by a consortium of Venezuelan university professors called Encovi says 76% of citizens are now living in poverty when measured by income, the highest level since 1975. That compares with a peak of 55% and a low of 21% during Mr. Chavez's tenure.
"Measuring poverty, tricky anywhere, is complicated in Venezuela by a dearth of data. Mr. Maduro's government stopped publishing poverty statistics after it took over in 2013 and hasn't released basic economic indicators like inflation or output since late 2014."
Foreign Policy reported on what the situation was like before the government stopped releasing economic data: "When the Venezuelan government defends itself from its critics, it usually points to declining poverty rates as proof of its success. For a while, this worked; poverty figures indeed improved during a portion of the chavista years. But the days when poverty was a winning issue for chavismo are over. Official statistics now show that poverty is rising rapidly."
"In order to calculate the poverty rate, [Venezuela's official statistics office] estimates the cost of a representative basket of goods, which includes things such as food, dress, housing, transportation, health, communications, and education. The basket is intended as a representative sample of the type of things an average Venezuelan family consumes during a year. If per capita income falls below the cost of this basic basket of goods, the person is considered poor.
"According to this measure, the number of Venezuelans classified as poor shot up in [2013] by 1.8 million people. Roughly 6 percent of all Venezuela's 30 million people became poor in [2013] alone. The situation is even direr when one looks at extreme poverty, i.e., the number of people whose income cannot even buy a representative basket of food and drink. In [2013] alone, the number of extremely poor Venezuelans rose by 730,000. They now reach close to three million people, or roughly 10 percent of the population."
Africa
On a continent with a name that is nearly synonymous with poverty, the statistics are stunning.
More than 40 percent of Africans are unable to obtain sufficient food daily (Millennium Project).
In 1960, Africa was a net exporter of food. By 2007, the continent's food imports exceeded exports by $22 billion (Food and Agriculture Organization of the United Nations).
Declining soil fertility, land degradation, and AIDS have caused food production per capita to drop slightly over the last 30 years, despite dramatic population increase (ibid.).
More than 50 percent of Africans suffer from cholera, infant diarrhea, and other water-related diseases (Millennium Project). Treatment of waterborne illnesses such as diarrhea and cholera consumes 12 percent of government health budgets in sub-Saharan Africa (Water Supply and Sanitation Collaborative Council).
In Africa, a child under age 5 dies of malaria every two minutes—about 305,000 child deaths per year (WHO).
Conditions are particularly bad in the countries on the southern border of the Sahara Desert stretching from Senegal to Ethiopia. In the region, one million children under 5 die each year from causes related to malnutrition, and one in four children are underweight.
View from a Distance
In the developed world—where typical daily obstacles may include an extended wait at a red light, a slow commute, and spotty cellphone coverage—it is nearly impossible to comprehend a world where an open sewer may run past one's front door. Where a simple latrine exists nowhere near one's home. Where the most basic necessities, such as food and water, may be available tomorrow—but may not. Where going to bed hungry is a given.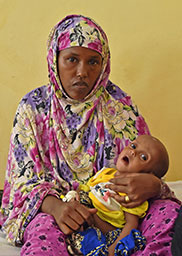 Albert Gonzalez Farran/AFP/Getty Images
Those who care enough to think about this at any length cannot help but throw up their hands and ask, "What can be done?"
This fundamental question remains unanswered in most minds: Is there a solution?
The Templeton Foundation posed a related question to a number of notable figures: "Will Money Solve Africa's Development Problems?"
Dr. Donald Kaberuka, former president of the African Development Bank, replied in part: "Alone, money cannot solve Africa's development problems. Proof, if any was needed, is the fact that many of Africa's natural resource-rich countries score very low on human development indicators."
William Easterly, a professor of economics at New York University, shared the same opinion: "…after fifty years of trying and $600 billion worth of aid-giving, with close to zero rise in living standards in Africa, I can make the case for 'No' pretty decisively. Aid advocates talk about cheap solutions like the 10-cent oral rehydration salts that would save a baby dying from diarrheal diseases, the 12-cent malaria medicine that saves someone dying from malaria, or the $5 bed nets that keep them from getting malaria in the first place."
Despite the aid money flowing, Dr. Kaberuka wrote, millions continue to die from malaria and diarrheal diseases. Most potential malaria victims are still not sleeping under bed nets.
"Clearly, money alone does not solve problems," he stated.
The Only Real Solution
The Real Truth article The Poverty Trap – How It Will Be Eliminated! clearly describes the solution to the problem. It starts: "Nearly 2,000 years ago, Jesus Christ uttered words that have proven true throughout the history of man: 'For you have the poor with you always' (Mark 14:7).
"But why?
"Philanthropists, charities, relief agencies, governments and popular movements alike have struggled to stamp out poverty. Religions of virtually every belief have called for adherents to assist the poor. In the wealthier nations of the world, food banks exist to feed the disadvantaged. Governments, from federal to local, have set up programs to house the unemployed and those who live paycheck to paycheck. The 'Great Society' of the 1960s spent multiple millions of dollars as America waged war on poverty.
"Sadly, poverty 'won.'
"Still, the destitute living in the United States, Britain, Australia, Canada and other prosperous nations of the West nearly live like royalty in the eyes of millions trapped in the living nightmare of day-to-day existence in developing regions—developing nations in which refrigerators and indoor plumbing are practically nonexistent and brutal regimes are a way of life.
"Again, why did Christ say, 'For you have the poor with you always'?"
Read the rest of the article to find out the answer straight from your Bible! 
Real Truth Magazine Articles
ECONOMY & PERSONAL FINANCE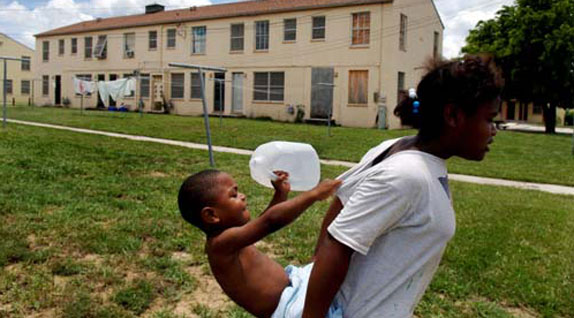 The Great "Poverty Line" Lie!
Just how poor are America's poor?