Learn the
why

behind the headlines.

Subscribe to the Real Truth for FREE news and analysis.

Subscribe Now
Most professing Christians speak endlessly of the "love of God." Modern preachers speak just as endlessly about the need for Christians to "love their fellowman." Aren't Christians merely those who "show love"? If so, what is it? How can one show love if he does not know what it is?
Let's consider several verses—and remove all confusion!
The apostle Paul wrote, "...because the love of God is shed abroad in our hearts by the Holy Spirit which is given unto us" (Rom. 5:5). When a Christian receives God's Spirit, he receives some (a very small amount at first) of the love of God. Over time, through actively exercising it, the depth and amount of love grows. It is actually one of the nine "fruits of the Spirit."
God's Way is practiced by exercising these fruits: "love, joy, peace, longsuffering, gentleness, goodness, faith, meekness [or humility, the opposite of vanity and pride], temperance" (Gal. 5:22-23).
There are two different ways of life. One is the give way—the way of love and outgoing concern—God's way! The other is the get way—the way of selfishness and self-concern—the way of this world.
Most people are interested in enjoying pleasures and the accumulation of physical things. One man observed, "Life is about seeing who can die with the most toys." That may be true of this world, but it is not true of God's Way and the way of a Christian.
Jesus Christ taught, "It is more blessed to GIVE than to receive" (Acts 20:35). Practicing this way of life leads to abundance, peace, prosperity, supreme happiness and joy. Christ likened God's Spirit to a river flowing out of each person. Notice: "If any man thirst, let him come unto Me, and drink. He that believes on Me, as the scripture has said, out of his belly shall flow rivers of living water. (But this spoke He of the Spirit, which they that believe on Him should receive…)" (John 7:37-39).
The fruits of God's Spirit are to be visible and abundant to all who view God's true people. But it was only through and after Christ's resurrection that He could send His Spirit to be present and active in each Christian. Continuing in verse 39: "…for the Holy Spirit was not yet given; because that Jesus was not yet glorified [resurrected]."
Carnal minds cannot obey spiritual laws. It is impossible! One must have and utilize the power of the Spirit of God (II Tim. 1:7) to be able to keep God's spiritual Law—or to demonstrate real love.
Now read the Bible definition of love: "For this is the love of God, that we keep His commandments: and His commandments are not grievous" (I John 5:3). Many people who claim to have love believe that the Commandments are, in fact, grievous. God says they are not. He calls His Law holy, and just, and good…spiritual" (Rom. 7:12, 14).
Through Paul, the Bible explains that the Commandments and the Law are the same: "Love works no ill to his neighbor: therefore love is the fulfilling of the law" (Rom. 13:10). God's Word reveals that love is "the fulfilling of the law." Keeping the Commandments is fulfilling the Law—and doing this "works no ill to his neighbor."
Did Christ Change the Law?
Did Christ bring a new definition of sin? Did He alter God's Law in some way? And did it relate to the subject of love?
Christ declared, "Think not that I am come to destroy the law, or the prophets: I am not come to destroy, but to fulfill" (Matt. 5:17). He also taught that the New Testament Church is built, in part, on the prophets of the Old Testament, where the Law of God is first given. Notice: "And are built upon the foundation of the apostles and prophets, Jesus Christ Himself being the chief corner stone" (Eph. 2:20). The Law of God is not done away.
Immediately after Matthew 5:17, Christ examined several of the Ten Commandments. He magnified and strengthened each one He referenced.
Concerning the Sixth Commandment, He explained that not only is killing your brother a sin, but it is also a sin to hate him. Regarding adultery, He said that even lusting after a woman violates the Seventh Commandment.
Violating the spirit of the Law is sin—and all sin is against God (Psa. 51:4). God's spiritual Law governs every action in life. It is best described in a single word—love. It is outgoing concern for others. The way of this world is incoming, not outgoing. It practices the get (for self) way of life. But the first four commandments teach how to love God and the last six how to love our neighbor (Matt. 22:36-39).
Jesus said, "I have kept My Father's commandments" (John 15:10)—and He expects us to do the same thing. Christ's obedience to God's Law did not somehow take us off the hook. This same verse explains, "If you keep My commandments, you shall abide in My love." This means you
If you want to "show love" to others, OBEY GOD!
God's Law—a Mirror
God's Law shows how to have a right relationship with Him and with our neighbors. Think of it as a spiritual mirror. Here is James' description: "But be you doers of the word, and not hearers only, deceiving your own selves. For if any be a hearer of the word, and not a doer, he is like unto a man beholding his natural face in a glass [mirror]: for he beholds himself, and goes his way, and straightway forgets what manner of man he was. But whoso looks into the perfect law of liberty, and continues therein, he being not a forgetful hearer, but a doer of the work, this man shall be blessed in his deed" (1:22-25).
Do you ever hear preachers describe God's Law as a "perfect law of liberty"? Almost certainly not! Yet it is, for those who practice obedience to it.
Like any mirror, God's Law must be used. While it cannot wash your face, it will expose the dirt that is there. Remember, Paul wrote that "by the deeds of the law is the KNOWLEDGE of sin," and that "by the deeds of the law there shall no flesh be justified in His sight." The Law will not remove the dirt. It simply notifies you that dirt is present.
The Law also has no power to forgive sins. Only Christ's sacrifice can do this. But, at conversion, Christ's blood only forgives past sins. The Law points out how to obey God in the future, but it has no inherent ability to forgive sins that are past (or for that matter, future sins).
Notice what Paul wrote: "Being justified freely by His grace through the redemption that is in Christ Jesus: whom God has set forth to be a propitiation through faith in His blood, to declare His righteousness for the remission of sins that are past , through the forbearance of God" (Rom. 3:24-25).
Christ's blood, and nothing else, covers past sins.
Of course, some conclude that since the Law cannot forgive sins, we do not need to keep it. This is like saying that, because the mirror cannot remove dirt, there is no need to ever use one to find it. No one would say this about a mirror.
This is why Paul stated, "What shall we say then? Shall we continue in sin, that grace may abound? God forbid. How shall we, that are dead to sin, live any longer therein?" (Rom. 6:1-2).
Once you have been forgiven, you are "dead" to the penalty of sin. It no longer has any effect on you. But God did not send His Son to die for you so that you could go right back to practicing what brought His death in the first place. Regarding sin, we are not to "live any longer therein."
A few verses later, Paul is even plainer: "What then? Shall we sin, because we are not under the law [under its death penalty], but under grace? God forbid. Know you not, that to whom you yield yourselves servants to obey, his servants you are to whom you obey; whether of sin unto death, or of obedience unto righteousness?" (vs. 15-16).
Allow no one to twist this verse into stating that we are no longer "under" an obligation to keep the Law. The Bible's answer to such deceit is "God forbid." But the newly forgiven is clearly now no longer under the Law's penalty. Would you throw away a mirror because it exposed dirt on your face? Or would you appreciate it because without it you could not have seen the dirt—either accumulated from the past (and now to be covered at conversion) or future dirt that will periodically be seen during the rest of your Christian life? (To learn more read our booklet What Is True Conversion?)
Suggested Reading: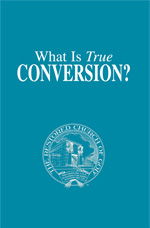 What Is True Conversion?