As Hugo Chavez and other leftist leaders in Latin America rise to power, how will this impact U.S. interests in the region?
Learn the
why

behind the headlines.

Subscribe to the Real Truth for FREE news and analysis.

Subscribe Now
Venezuelan President Hugo Chavez's fiery rhetoric shows he intends to more aggressively advance radical, anti-U.S. socialism throughout South America. His threats against the United States and close alignment with its adversaries are raising concerns in Washington.
Following a landslide re-election to a second six-year term as Venezuela's president, Mr. Chavez wasted no time announcing his intentions to nationalize key industries and use his nation's petroleum wealth to advance a radical socialist revolution that he hopes will spread throughout South America.
Called by some the "Karl Marx of the Caribbean," Mr. Chavez, 52, broke with tradition by draping a presidential sash over his left shoulder instead of his right as a symbolic gesture of his socialist credentials. "Those of you who want to know what type of socialism I have planned for Venezuela should read Marx and Lenin," he said, referring to the founders of communism. Venezuelan legislators in Congress in turn chanted, "Long live socialism!"
Venezuela's National Assembly later unanimously gave Mr. Chavez sweeping powers to legislate by presidential decree for 18 months, a move critics said propels Venezuela toward a dictatorship by handing Mr. Chavez unchecked power. Wearing red, hundreds of his cheering supporters waved signs declaring "Socialism is democracy."
The Associated Press reported that Mr. Chavez has said he will nationalize Venezuela's largest telecommunications company and the nation's electricity sector, slap new taxes on the rich and impose greater state control over the country's oil and natural gas industries. He is also pushing for eliminating term limits and extending his presidency beyond 2013.
"Since Chavez took office in 1999, his government has seized company assets, farmlands and private buildings for cooperative ventures and imposed state control through joint ventures in the oil sector, raising the taxes and royalties foreign partners pay. His wealth redistribution efforts have made him widely popular among Venezuela's poor and working classes. But critics say Chavez, who now effectively controls all branches of government in Venezuela, is worsening persistent economic problems by ill-considered fiscal and monetary policies, and by creating too much uncertainty about the future" (AP).
The Associated Press also reported that Mr. Chavez has increased his popularity by using a bonanza in oil profits to set up state-funded cooperatives and fund social programs, from subsidized grocery stores to free universities. Political opponents have accused Mr. Chavez of seeking to transform Venezuela into a Soviet-style centralized economy. While he has said he plans to implement a "21st century socialism," critics counter it is becoming a totalitarian state led by a leader obsessed with power. Mr. Chavez has accentuated comparisons with Fidel Castro by creating a single party to steer his socialist revolution.
Political analyst Gloria Cuenca said Hugo Chavez's threat to nationalize companies was a glimpse of the next six years. "It seems he has decided to stoke the fire to deepen his revolution, which from my point of view aims to look a lot like Castro's Cuba." Mr. Chavez insists he needs more power to save Venezuela from exploitation and even attack by capitalist countries, particularly the United States.
Awash With Petroleum Wealth
A founding member of the Organization of Petroleum Exporting Countries (OPEC) and its only non-Muslim member, Venezuela possesses South America's largest petroleum reserves and is the world's eighth largest oil exporter. Venezuela is the fourth largest oil exporter to the United States, which remains the top buyer of Venezuelan oil. The U.S. provides Mr. Chavez with billions of dollars for social programs aimed at helping Venezuela's poor as well as aid for countries around the region (AP).
Mr. Chavez's government has used Venezuela's wealth to buy foreign political influence and loyalties in the Caribbean, Central America and South America, and to purchase weapons from Russia, China, Spain, Brazil and Iran for billions of dollars. It is estimated that Venezuela has spent up to $25 billion in foreign aid throughout Latin America and the Caribbean. Mr. Chavez has also signed energy deals with France, India and China to lessen Venezuela's economic dependence on America.
Venezuela is among the top countries in total proven oil reserves. It supplies 11-15% of U.S. imports of crude oil—1.5 million barrels a day—and wholly owns five refineries in the United States. Consequently, Venezuela is a key player in the future energy security of the U.S. and the world!
The global oil market remains tight and may be more susceptible to short-term supply disruptions and higher, more volatile prices. Recently, tension between Venezuela and the United States has caused concern about the stability of Venezuelan oil supplies. On several occasions, Mr. Chavez has threatened to stop exporting oil to the United States or to close Venezuela's U.S.-based refineries (U.S. Government Accountability Office).
Venezuela's economy has grown 10% in each of the past three years on the back of rising oil prices. The Chavez administration has benefited from oil prices that averaged more than $60 a barrel in 2006, compared with approximately $15 a barrel when he first won office in 1998.
High oil prices made the country's economy the fastest-growing in South America in 2006, but near-record spending by the government also resulted in the region's highest inflation rate.
Richard W. Rahn, director general of the Center for Global Economic Growth, warns that Mr. Chavez is steering Venezuela toward an almost inevitable economic collapse. In a commentary that appeared in the Washington Times, Mr. Rahn wrote, "What has not been reported is the full extent of the corruption in Venezuela and how this ultimately will destroy the economy. Venezuela has had a rapidly growing economy in the last few years, due to high oil prices, but the house of cards is about to collapse."
In 2006, Mr. Chavez raised royalties on oil companies and forced some into joint ventures with the government. After he announced moves to nationalize Venezuela's communications and petroleum industries, the Venezuelan stock market plunged 20%. The country's currency lost 17% of its value and was exchanged at nearly twice the official rate, disturbing financial markets and frightening foreign investors. The drop in the price of oil to an 18-month low then worsened declines in the country's stocks and bonds.
Leftism Spreads in Latin America
If U.S. leaders took comfort believing conditions would improve throughout Latin America following Fidel Castro's death, Mr. Chavez has done his best to dispel such wishful thinking by tightening his grip on Venezuela. With the 80-year-old communist ruler ailing, Mr. Chavez's speech at his own inauguration in Venezuela was viewed as a claim to leadership of Latin American socialism.
The Rising Left
The guidance and support of Venezuela's Hugo Chavez have helped the political left make a resurgence in Latin America.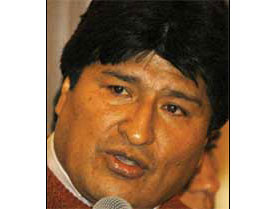 MCT; Tribune reporting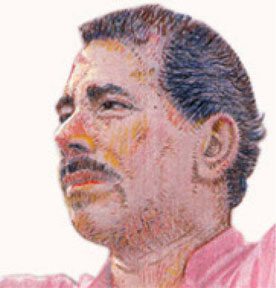 MCT; Tribune reporting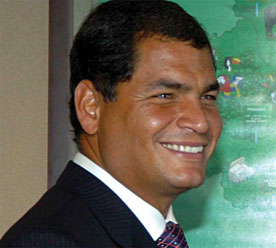 Tribune reporting
Mr. Castro has been a thorn in the side of the United States since he seized control of Cuba in a 1959 communist coup and imposed socialism by nationalizing major industries.
Mr. Chavez has accused U.S. President George W. Bush of plotting to assassinate him, has made crude comments about Secretary of State Condoleezza Rice, and has bashed the United States on the al-Jazeera television network. Mr. Bush responded to Mr. Chavez's calls to nationalize major industries by expressing concern for the Venezuelan people and for how democratic institutions were being undermined. The Bush administration stressed that any U.S. firms affected must be compensated.
In recent months, anti-U.S. developments have accelerated throughout Latin America. Like their counterparts in Venezuela, voters in Bolivia, Ecuador and Nicaragua all have elected outspoken leftist presidents who defiantly oppose U.S. policies:
Evo Morales: Entering his first year in office as president of Bolivia, South America's poorest country, Mr. Morales and his Movement to Socialism won the election, vowing to return to the indigenous population the natural resources, land and political power, which he and his party claimed was in the hands of only a few wealthy families.
Last May, Mr. Morales nationalized Bolivia's oil and gas industry by using the military and deriding foreign investors. Bolivia holds South America's second largest gas reserves. This year he intends to nationalize the country's mining industry and seize large tracts of private property and give it to impoverished peasants.
Rafael Correa: At his inauguration earlier this year, Ecuador's new president vowed to put the nation's poor ahead of foreign debt payments. Mr. Correa rejected a free-trade pact with the United States and announced he would not renew U.S. use of an air base when a treaty expires in 2009. He also proposed that Latin American countries create a "Bank of the South" independent of international finance organizations.
Daniel Ortega: On January 1, the former Marxist Sandinista revolutionary who battled a U.S.-backed Contra insurgency in the 1980s returned to Nicaragua's presidency after 16 years. An enthusiastic crowd of 300,000 attended his inauguration. Mr. Chavez has offered to help Mr. Ortega rebuild Nicaragua's collapsing economy.
At his installation ceremony, Mr. Ortega wore the white and blue of Nicaragua's flag in his sash, while Mr. Chavez donned the red and black colors of the Sandinistas.
Consorting With Iran
An especially disturbing development for America has been the strengthening of ties between Latin America's leftist leaders and Mahmoud Ahmadinejad, Iran's controversial president—men who share hostility toward what they view as U.S. imperialism.
Mr. Ahmadinejad visited Ecuador, Nicaragua and Venezuela earlier this year, starting his four-day trip with an official visit with Mr. Chavez, who has thrown his support behind Iran's nuclear program. It was Mr. Ahmadinejad's second visit to Venezuela in four months. Mr. Chavez has made numerous trips to the Islamic republic. Both presidents vowed to spend billions of dollars financing projects to thwart U.S. influence in Latin America and Africa.
Both Venezuela and Iran are OPEC members. Messrs. Chavez and Ahmadinejad said they agreed to support an oil production cut by the cartel to halt a recent 15% tumble in crude prices. Iran is the world's fourth largest oil exporter. Mr. Chavez presented Iran's president with a Persian translation of a book about Simon Bolivar, the 19th century Venezuelan liberator of South America. In turn, Mr. Chavez was given a book about Ayatollah Ruhollah Khomeini, the father of the 1979 Iranian revolution.
Supporting a proposal made by Iran, Mr. Chavez has called on OPEC to sell oil denominated in euros rather than dollars. Banco Central de Venezuela has slashed the percentage of its $35.9 billion in reserves invested in dollars and gold to 80% from 95% a year ago. The country also has boosted its euro holdings to 15% from less than 5% a year ago.
When he met with his Iranian counterpart in Caracas, Mr. Chavez quoted Bolivian President Morales who declared, "Death to American imperialism." When this was translated into Persian as "Death to America," a catch phrase of Iranian demonstrations, Iranian delegates broke into applause. Mr. Ahmadinejad is rumored to be negotiating to buy Venezuelan uranium as an unmonitored supply for Tehran's nuclear program.
Robert Spencer, a leading expert on Islam, said he is deeply concerned about the increasingly cozy relationship between two dictators in opposite hemispheres. Mr. Spencer, director of popular website Jihad Watch, said he believes the two men pose a serious threat to the United States.
He also said Mr. Chavez, a socialist, and Mr. Ahmadinejad, a jihadist, share a similar vision of establishing "a perfect kingdom on earth, and that perfect kingdom would be something that would be instituted and maintained by the sword, by force." The Tehran-Caracas alliance cuts off any chance for the United States to achieve oil independence from the Islamic world, Mr. Spencer said. "The danger, of course, is very great."
U.S. Opposed by Friend and Foe
The sharp differences between the United States, Venezuela and Iran were underscored at the United Nations in September 2006, when Mr. Chavez said the U.S. was "the greatest threat" to the world and likened President Bush to "the devil." It marked the first time in UN history that a U.S. president was verbally and personally attacked in the General Assembly. "The devil came here yesterday, and it smells of sulfur still today," Mr. Chavez said, referring to Mr. Bush.
The day after Mr. Ahmadinejad defiantly told the General Assembly that Iran is determined to pursue nuclear technology, Mr. Chavez told reporters he, too, would like to explore nuclear energy. This development raises the prospect of a socialist, anti-U.S. nation possessing nuclear weapons in the Western Hemisphere, reviving memories of the 1962 Cuban Missile Crisis that brought the world to the brink of nuclear war.
"Venezuela's Hugo Chavez is rapidly becoming the new Fidel Castro, but with petro-dollars, at the UN," a CBS News foreign affairs analyst said. "His anti-Bush comments are making him increasingly popular with member states."
Following his inflammatory address to the UN, Mr. Chavez was roundly applauded by diplomats from throughout the world—a scene many in the West found as troubling as Mr. Chavez's comments.
Gerver Torres, a former Venezuelan government minister, said Mr. Chavez's "main motivation now is to do everything he possibly can to negatively affect the United States, Bush in particular. He is trying to bring together all the enemies of the United States. He believes the United States is the devil."
Why is it that the tide seems to be turning against the U.S. on virtually every front? America's allies and enemies alike are waxing more powerful as the United States wanes in power and influence. When one understands that the United States can trace its heritage back to ancient Israel, international developments can be understood.
The Old Testament prophet Ezekiel symbolically equated Jerusalem with the House of Israel in his prophecies for the end-time (Ezek. 4:1, 3; 5:4-5). He predicted national sins would leave modern Israel exposed and vulnerable. "Surely, therefore, I will gather all your lovers [allies] with whom you took pleasure, all those you loved, and all those you hated; I will gather them from all around against you and will uncover your nakedness to them, that they may see all your nakedness" (Ezek. 16:37 – NKJV).
The presence of anti-Americanism in Venezuela and Latin America is a symptom of a global crisis that will soon engulf the entire world in the most horrific time in history. The American and British peoples will suffer dreadful setbacks, but ultimately will be liberated after the worst punishment ever to afflict nations, and will be restored to greatness for the benefit of all mankind!
To learn more about the startling result of where these events are leading, read our book America and Britain in Prophecy.