Learn the
why

behind the headlines.

Subscribe to the Real Truth for FREE news and analysis.

Subscribe Now
JOHANNESBURG (Reuters) – The BRICS bloc of developing nations agreed on Thursday to admit Saudi Arabia, Iran, Ethiopia, Egypt, Argentina and the United Arab Emirates in a move aimed at accelerating its push to reshuffle a world order it sees as outdated.
The group's leaders left the door open to future enlargement, potentially paving the way for the admission of dozens more countries motivated by a desire to level a global playing field they consider rigged against them.
The expansion adds economic heft to BRICS, whose current members are China, the world's second largest economy, as well as Brazil, Russia, India and South Africa. It could also amplify its declared ambition to become a champion of the Global South.
But long-standing tensions could linger between members who want to forge the grouping into a counterweight to the West—notably China and Russia—and those that continue to nurture close ties to the United States and Europe.
"This membership expansion is historic," Chinese President Xi Jinping, the bloc's most stalwart proponent of enlargement, said. "It shows the determination of BRICS countries for unity and cooperation with the broader developing countries."
Originally an acronym coined by Goldman Sachs chief economist Jim O'Neill in 2001, the bloc was founded as an informal four-nation club in 2009 and added South Africa a year later in its only previous expansion.
The six new candidates will formally become members on January 1, 2024, South African President Cyril Ramaphosa said when he named the countries during a three-day leaders' summit he is hosting in Johannesburg.
The entry of oil powers Saudi Arabia and UAE highlights their drift away from the United States' orbit and ambition to become global heavyweights in their own right.
"BRICS has embarked on a new chapter in its effort to build a world that is fair, a world that is just, a world that is also inclusive and prosperous," Mr. Ramaphosa said.
"We have consensus on the first phase of this expansion process and other phases will follow."
BRICS Friends and Allies Lead Candidates
The countries invited to join reflect individual BRICS members' desires to bring allies into the club.
Brazilian President Luiz Inacio Lula da Silva had vocally lobbied for neighbor Argentina's inclusion while Egypt has close commercial ties with Russia and India.
Russia and Iran have found common cause in their shared struggle against U.S.-led sanctions and diplomatic isolation, with their economic ties deepening in the wake of Moscow's invasion of Ukraine.
"BRICS is not competing with anyone," Russia's Vladimir Putin, who is attending the summit remotely due to an international warrant for alleged war crimes, said on Thursday.
"But it's also obvious that this process of the emerging of a new world order still has fierce opponents."
Iran's President Ebrahim Raisi celebrated his country's invitation to join BRICS with a swipe at Washington.
"The expansion of BRICS shows that the unilateral approach is on the way to decay," Iran's Arabic-language television network Al Alam quoted him as saying.
Beijing is close to Ethiopia and the country's inclusion also speaks to South Africa's desire to amplify Africa's voice in global affairs.
Pledge to Rebalance World Order
In a reflection of the bloc's growing influence, United Nations Secretary-General Antonio Guterres attended Thursday's expansion announcement and echoed BRICS' longstanding calls for reforms of the UN Security Council, the International Monetary Fund and World Bank.
"For multilateral institutions to remain truly universal, they must reform to reflect today's power and economic realities," he said.
Though home to about 40 percent of the world's population and a quarter of global gross domestic product, internal divisions have long hobbled BRICS ambitions of becoming a major player on the world stage.
BRICS countries have economies that are vastly different in scale and governments with often divergent foreign policy goals, a complicating factor for the bloc's consensus decision-making model.
The debate over enlargement has topped the summit in South Africa. And while all BRICS members publicly expressed support for growing the bloc, there were divisions among the leaders over how much and how quickly.
Last-minute deliberations over entry criteria and which countries to invite to join extended late into Wednesday evening.
Bloc heavyweight China has long called for an expansion of BRICS as it seeks to challenge Western dominance, a strategy that is shared by Russia.
Other BRICS members support fostering the creation of a multipolar global order. But Brazil and India have both also been forging closer ties with the West.
Brazil's Lula on Tuesday rejected the idea the bloc should seek to rival the United States and Group of Seven wealthy economies.
Real Truth Magazine Articles
GEOPOLITICS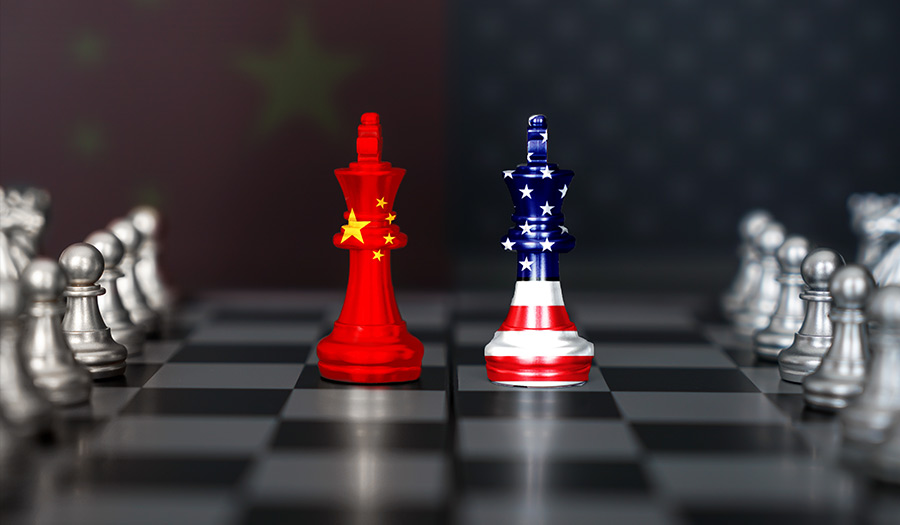 U.S./China: An Unbridled Rivalry
Recent diplomatic communications have done little to resolve the geopolitical rift between the two nations.