Thousands are fleeing the United States for the "Great White North"—yet their future remains uncertain.
Learn the
why

behind the headlines.

Subscribe to the Real Truth for FREE news and analysis.

Subscribe Now
Suitcases, duffel bags, and children in tow, sleep-deprived yet hopeful people are marching through fields intent on reaching freedom and prosperity. Some travel hundreds of miles fleeing government authorities. These desperate refugees are willing to do whatever it takes to avoid returning to a nation they left years ago.
Hungry migrants look forward to a meal, water and a small cot on the ground in a massive stadium or in a makeshift tent city. They will call this place home for the next several weeks, relieved to go to sleep at night having escaped immediate deportation.
Or have they?
If you think the preceding scenario describes refugees from war-torn areas such as Syria or Myanmar, think again.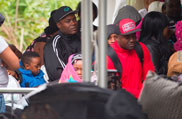 Geoff Robins/AFP/Getty Images
This is the plight of thousands of illegal immigrants who have left the wealthiest nation on Earth, the United States, for their northerly neighbor, Canada. With the White House taking a more hardline approach to immigration enforcement—such as the January 27 executive order limiting entry from seven Middle Eastern countries—worried immigrants have been filing into the northern country. They arrive seeking asylum, believing the grass could actually be greener on the Canadian side. But this overwhelming mass movement is beginning to test the limits of Ottawa's social system, and refugees arriving may find conditions not much better than what they left.
Who Is Coming?
Beginning in January, more than 11,300 people have entered the country illegally from the United States. According to Reuters, the number of illegal migrants from July through the first half of August was nearly 7,000 alone. The majority of refugees have been arriving in Quebec, Canada's second most populous province.
Most recent migrants are of Haitian decent. Following the aftermath of the devastating 7.0 magnitude earthquake that leveled the Haitian capital of Port-au-Prince in 2010, many sought refuge in the U.S. They were granted temporary protected status, which permitted them to live and work in America while recovery efforts were ongoing in the Caribbean nation. This status was granted based on humanitarian need—not as a path for permanent residency. Periodically, the status is reviewed based on conditions in Haiti. The current extension of this status is set to expire in January 2018. Fearing deportation, more than 6,000 Haitians have crossed the border between New York and Quebec since July.
Yet Haitians are not the only migrants who are concerned. Those from Central America—El Salvador, Nicaragua and Honduras—who were also granted temporary protected status when they fled their countries, could potentially lose their status in early 2018 as well.
A source familiar with the thinking of the Canadian government told Reuters the trend has officials worried. The person, who requested anonymity because of the sensitivity of the situation, stated: "The question is, which group is next, and how are we going to deal with it, and what is the impact on Canadians?"
False Hope?
The current uptick in illegals moving north began in early 2017. Canadian Prime Minister Justin Trudeau publicly contested the American immigration executive order. On January 28, he posted this to his Twitter account: "To those fleeing persecution, terror & war, Canadians will welcome you, regardless of your faith. Diversity is our strength #WelcomeToCanada."
Many took Mr. Trudeau's comments as an unrestricted welcome. The prospect of friendlier immigration conditions grew in the minds of countless people. Others saw the statement as nothing more than a political opportunity.
Regardless of the prime minister's intentions, Canada now faces a mounting immigration crisis. Pressured by significant political backlash at home, Mr. Trudeau appears to have recently softened his stance. "Canada is an opening and welcoming society," he told reporters on August 21. "But let me be clear. We are also a country of laws. Entering Canada irregularly is not an advantage. There are rigorous immigration and customs rules that will be followed. Make no mistake."
Mr. Trudeau's handling of the situation has met heavy criticism from Members of Parliament. Conservative Michelle Rempel accused the prime minister of creating a "crisis" and being "irresponsible." She went on to state, "I think he's giving false hope to people crossing the border." Meanwhile, far-left MP Jenny Kwan accused the government of sending "contradictory and disingenuous information" to the border crossers.
The prime minister must walk a fine line regarding immigration, or he risks upsetting those who voted for him when Canadians return to the polls in October 2019. Complicating matters, the province of Quebec was a key factor in the prime minister's 2015 election. He could lose his office if Quebecers grow dissatisfied with the government's actions.
Is There a Solution?
The exact number of refugees who have abandoned their temporary protected status in the U.S. and traveled to Canada is still largely unknown. But news accounts of people crossing the border for fear of deportation in America continue.
There is a strange irony here. Those leaving the U.S. because their TPS could be revoked are entering a country that ended its equivalent program three years ago. It remains uncertain what Ottawa will do for those who sought asylum believing it was freely offered to them.
Sadly, such impossible situations are not new. King Solomon stated in Ecclesiastes 1:9, "There is nothing new under the sun." Over the centuries, people have fled from one corner of the Earth to another hoping to find religious freedom, financial prosperity, safety and happiness—the so called "greener grass."
Some appear to find it, while many others continue to search.
Why are some of the richest nations on Earth unable to provide a lasting solution? One answer: man's governments.
Thousands of illegal immigrants flooding the border and living in tent camps with no place to go is an unsustainable problem and reflects poorly on those in charge. This is not an issue that can be hidden behind paper and red tape.
So, what hope do refugees the world over have? No matter where they end up—Canada, Haiti, Honduras, etc.—the decision to help them will have political motivations and will leave some unhappy.
The U.S.-Canada migrant problem is just one small example in the world. Consider Turkey and the thousands of Syrian refugees, or boatloads of North African migrants storming a beach in Italy or Spain. Once peaceful towns are being overrun by hordes of people who have no job, no money, no home, no food, and nothing but time on their hands. Then there is the ongoing South Sudanese Civil War and the Myanmar refugee crisis. All this mass movement of human beings stresses the limits of mankind's social systems, resulting in political instability and civil disorder.
For more perspective on mankind's inability to bring lasting solutions to the challenges it faces, read Why Man Cannot Solve His Problems.