Learn the
why

behind the headlines.

Subscribe to the Real Truth for FREE news and analysis.

Subscribe Now
In the first study of its kind, researchers from The Rockefeller University and La Jolla Institute for Allergy and Immunology discovered that the mosquito-borne Zika virus can cause permanent brain damage in adults. The study, which was published in the journal Cell Stem Cell, has reinforced fears that the virus could have long-term effects.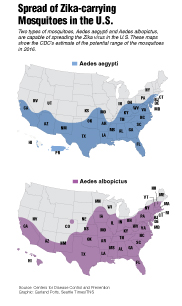 "Based on our findings, getting infected with Zika as an adult may not be as innocuous as people think," Joseph Gleeson, a co-author of the study, said.
According to the research, the infection may affect neurons that are responsible for replacing lost and damaged brain cells. Although the symptoms of such damage are subtle, "the virus could theoretically impact long-term memory or risk of depression."
The United States Centers for Disease Control and Prevention reports that there have been more than 11,350 confirmed cases of Zika in the United States and its territories. The true number of cases, however, is unknown, since many that carry the disease only evidence mild symptoms, if any.
As a result, it is difficult to track or control the spread of the disease. The Fiscal Times reported: "If a man is infected, he can pass on the virus through semen, a blood transfusion or other bodily fluids. Unfortunately, researchers are unsure how long Zika remains in a man's body."
"The virus seems to be traveling quite a bit as people move around the world," Dr. Gleeson concluded. "Given this study, I think the public health enterprise should consider monitoring for Zika infections in all groups, not just pregnant women."