Learn the
why

behind the headlines.

Subscribe to the Real Truth for FREE news and analysis.

Subscribe Now
The emergence of the Islamic State, formerly known as ISIS or Islamic State in Iraq and Syria, has led some authorities to regard the faction as a potential replacement to al-Qaida, the longtime global militant Islamic group.
ISIS, which began in 2003 in Iraq, initially joined forces with al-Qaida. Both Sunni Muslim organizations were united in their conflict against the West. After internal squabbles, however, the larger, more established al-Qaida renounced association with the emerging group—an unprecedented move.
The Washington Post quoted a statement by al-Qaida's General Command, in which their leadership declared that "ISIS 'is not a branch of the [al-Qaida] group…does not have an organizational relationship with it and [al-Qaida] is not the group responsible for their actions.'"
Both organizations have the goal of the establishment of a caliphate or an Islamic state, but seem to differ on how to achieve this. Over the last several months, they have shown themselves to be fundamentally different organizations.
Al-Qaida's governmental structure was developed and long operated under the military principle of "centralization of decision and decentralization of execution" (ibid.). Though they achieved some success under the leadership of Osama bin Laden, al-Qaida's founder, the organization has of late become more fragmented.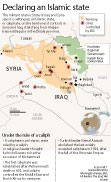 The Islamic State's leadership appears to have strengthened al-Qaida's original approach, but with some key differences.
Charles Lister of the Brookings Institute told CNN, "…ISIS has evolved as a tightly controlled group with 'an almost obsessive level of bureaucracy, account-keeping, and centrally controlled but locally implemented military-political coordination.'"
But unlike al-Qaida, it has also "'developed an increasingly efficient model of governance, capable of simultaneously implementing harsh medieval justice and a whole range of modern social services'" (ibid.).
Mr. Lister described al-Qaida as willing to take a more "gradual approach to success" while the Islamic State has a "hunger for rapid results."
Another factor in the deviation from al-Qaida is how much actual territory the Islamic State controls. Analyst Shiraz Maher noted in Business Insider that "'ISIS controls more territory than the governments of Israel and Lebanon. It controls nearly a third of Iraq alone, according to the Long War Journal.' Iraq has a population of 35 million, and is the fourth most populous member of the Arab League."
The influence of the Islamic State is mostly due to current volatility in the region, namely the collapse of the Iraqi government and three-year Syrian civil war. Being able to control land in both of these regions has been a major factor in making a true Islamic state become a reality. Because of its progress, the group declared in late June that the caliphate has been reinstituted.