Learn the
why

behind the headlines.

Subscribe to the Real Truth for FREE news and analysis.

Subscribe Now
The growing influence of radical groups combined with a noted increase in overall lawlessness is sparking a greater number of police killings across the United States.
"This year is on track to be one of the most deadly for police officers since 2001, when terrorists hit the World Trade Center…" The Washington Times reported.
The newspaper also stated, "Overall, 62 police officers have been killed this year, compared with 45 this time last year."
While the numbers are not overwhelmingly large, the media outlet stated: "'A few years ago, we really started to see a rash of violence against law enforcement, so much so that the community had to band together to address that situation from the top, starting at the Department of Justice,' said Steve Groeninger, a spokesman for the National Law Enforcement Officers Memorial Fund. 'There was a focus on training and safety and responding to calls. The point was to make sure that each and every officer made it home at the end of their shift. It's disheartening to see these numbers tick up again.'"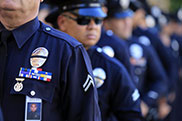 Mark Boster-Pool/Getty Images
According to the Federal Bureau of Investigation, the majority of deaths are caused by firearms. For example, "Of officers killed in 2012 [the most recent data published], most (44) were killed with firearms. Of these, 32 were killed with handguns," the organization reported in its yearly "Law Enforcement Officers Killed & Assaulted" study.
"Over the last 25 years or so there's been a gradual erosion toward authority figures and of respect for police officers. It's highly visible," Jim Pasco, executive director of the Fraternal Order of Police, the nation's largest police officers union, told The Washington Times.
He continued, "The vast majority of people respect police officers and what they do, but there's always going to be that deranged minority with unfocused rage and resentment."