Learn the
why

behind the headlines.

Subscribe to the Real Truth for FREE news and analysis.

Subscribe Now
Typhoon Washi caused deadly flash flooding and mudslides in the southern region of the Philippines, killing more than 1,200 people and driving 45,000 others from their homes.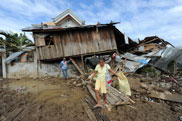 Ted Aljibe/AFP/Getty Images
The country's disaster agency reported that as many as 10,000 homes were destroyed, and up to 145,000 people in 13 southern and central provinces were affected. The worst-hit cities were Cagayan de Oro and Iligan, in the southern Mindanao region. In response, President Benigno Aquino declared a state of national calamity.
"The sheer numbers of dead bodies prompted health concerns among residents," The New York Times reported. "Officials are planning mass burials."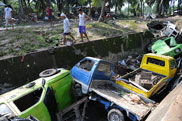 Cherryl Vergeire/AFP/Getty Images
"For public health purposes, we're doing this," Mayor Lawrence Cruz of Iligan told The Associated Press. "The bodies are decomposing and there is no place where we can place them, not in an enclosed building, not in a gymnasium."
Typhoon Washi, which wiped out entire villages along with schools, homes and bridges, and sent people fleeing to overcrowded evacuation centers, has caused worry among health officials that communicable diseases will spread, Reuters reported.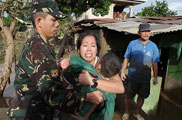 Ted Aljibe/AFP/Getty Images
The media outlet quoted John Salva, a spokesman for the charity World Vision, as stating on ANC Television that evacuation centers are filled to capacity, and water and food is in short supply.
"It is really overcrowded, there is almost no space between people," he said. "Diseases are starting to appear."