Learn the
why

behind the headlines.

Subscribe to the Real Truth for FREE news and analysis.

Subscribe Now
After issuing a negative outlook warning on April 18, credit rating agency Standard and Poor's downgraded its long-term sovereign debt rating of the United States from "AAA" to "AA+" on August 5. The downgrade generated immediate worldwide repercussions as worried markets plummeted to record lows.
"The outlook on the long-term rating is negative," an S&P release stated. "We could lower the long-term rating to 'AA' within the next two years if we see that less reduction in spending than agreed to, higher interest rates, or new fiscal pressures during the period result in a higher general government debt trajectory than we currently assume in our base case."
The historic move is mainly based on the deep schism between Republican and Democrat parties regarding the nation's high levels of debt.
The agency added: "The political brinksmanship of recent months highlights what we see as America's governance and policymaking becoming less stable, less effective, and less predictable than what we previously believed. The statutory debt ceiling and the threat of default have become political bargaining chips in the debate over fiscal policy."
The next day, the Dow Jones dropped 634.76 points—its worst dive since 2008.
The European Central Bank purchased bonds from Italy and Spain as preventive measures to help stabilize market reactions to the announcement. Bloomberg reported that "benchmark equity indexes for Europe, Australia and China extended losses to more than 20 percent from recent peaks, the level some investors consider a bear market."
Anxiety also caused markets worldwide to tumble.
"In China—which holds large amounts of U.S. debt—a commentary published by the official Xinhua news agency was critical of the U.S. government and questioned whether the U.S. dollar should continue to be the global reserve currency," CNN reported.
Several American organizations tied to the debt crisis, such as Fannie Mae and Freddie Mac were also downgraded, NPR reported. "The agency also lowered the ratings for: farm lenders; long-term U.S. government-backed debt issued by 32 banks and credit unions; and three major clearinghouses, which are used to execute trades of stocks, bonds and options."
Other countries could be next. Analysts warn that "France and Britain are most vulnerable within Europe to a rating review following the U.S. downgrade, with anemic growth and hefty borrowing placing them among the shakiest of the world's triple-A rated lenders," Reuters reported.
Personals
ECONOMY & PERSONAL FINANCE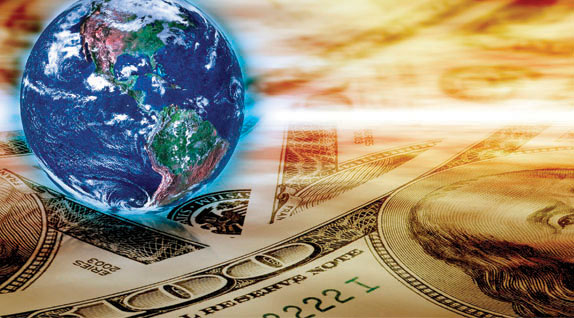 The Coming Global Financial Collapse!
Economic prosperity now seems more elusive than ever—with no simple solution in sight.