Learn the
why

behind the headlines.

Subscribe to the Real Truth for FREE news and analysis.

Subscribe Now
An 8.9-magnitude underwater earthquake struck near the east coast of Honshu, Japan, 231 miles northeast of Tokyo. Australia's ABC News reported the March 11 quake "was the largest to hit Japan, the fifth strongest tremor worldwide since 1900 and the seventh strongest in history, according to the US Geological Survey [USGS] and Japanese seismologists."
The earthquake, which struck at 2:46 p.m., was powerful enough to be felt in Beijing, China, some 1,550 miles away. It was nearly 8,000 times stronger than the one that rocked Christchurch, New Zealand, nearly 30 days earlier.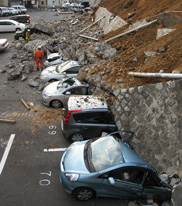 JIJI Press/AFP/Getty Images
A Tokyo resident told BBC World Today, "I first thought it was just the usual moderate quake we have from time to time. Then it started shaking really violently. I've always lived in Tokyo, but I've never felt such a big quake in my life."
Another Tokyo resident said, "Suddenly the ground started to shake and I thought I felt sick or something, but I gradually realised this was the huge one we expected for years" (ibid.).
Preceded by two days of foreshocks, the quake caused extensive structural damage, blackouts (four million people lost power in metropolitan Tokyo), a 33-foot tsunami, and at least 90 fires. It set a nuclear plant ablaze in the city of Onahama, about 170 miles northeast of Tokyo, causing a problem in the plant's cooling system. As a result, the government declared a state of emergency and urged 2,800 residents near the plant to evacuate.
Tsunami Warnings
Tsunami waves created whirlpools and caused mass flooding that destroyed dams and swept away automobiles, boats, train cars and houses.
According to the USGS, "A tsunami warning has been issued for parts of the U.S. West Coast in addition to the earlier warning for Hawaii and the western Pacific islands."
Warnings include Oregon, Alaska and the California coast. Officials in Northern California say residents should expect as much as five-foot-high tsunami waves, with a series of waves lasting up to 12 hours.
The BBC stated, "A tsunami warning covers Japan, the Philippines, Hawaii, the Pacific coast of Russia, Indonesia, Taiwan, Australia, New Zealand and also Central and South America." This includes Mexico.
Recovering from Damages
Japan felt 47 aftershocks ranging from magnitude 7.1 to magnitude 2.5 during the first five hours after the original earthquake.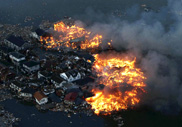 STR/AFP/Getty Images
Police report they have so far discovered 200-300 bodies in the northeast city of Sendai, close to the epicenter. A rescue operation is underway (consisting of Japan's military, 300 planes and 40 ships) in quake-affected areas. The Chief Cabinet Secretary said that Japan has already received offers of assistance from the international community.
Japan's Prime Minister Naoto Kan told the public, "Damage has been inflicted over a wide area. I offer deepest sympathy to people affected by the disaster. Some nuclear plants have stopped automatically, but no information about any leaks of radiation. We ask people of Japan to act calmly."
Why Is This Happening?
Although earthquakes and volcanoes have claimed millions of lives in the past 500 years, the danger is now greater than ever since the population has dramatically increased during the last two centuries, and some of the world's most earthquake-prone regions have become the most densely populated.
Currently, a worldwide network of seismographs detects about one million small earthquakes annually. In addition, the U.S. Geological Survey predicts about 18 major earthquakes (7.0-7.9-magnitude) and one great earthquake (8.0 or higher) every year.
But soon more powerful earthquakes will shake the earth, awakening giant volcanoes that will affect the security and stability of the whole world! These powerful events will not just alter the face of single mountains, but that of the whole earth!
The Bible foretells that this single greatest period of earthquake and volcanic activity in history lies just ahead. God will use earthquakes, volcanoes and even tsunamis to reveal His presence, His deliverance, His wrath and His power. He will also use them to announce Christ's Return, to accompany prophetic events, and to reshape the earth's surface.