Learn the
why

behind the headlines.

Subscribe to the Real Truth for FREE news and analysis.

Subscribe Now
Although days have passed since the storms that caused the worst flooding in years, new problems have cropped up in the American Midwest: more levees giving way and deluging the areas below, standing floodwaters mixed with poisonous chemicals and raw sewage, and failing crops.
The flooding is the result of slow-moving storm systems, which dumped 16 inches of water over nearly two weeks of continuous rain. The Midwestern states of Illinois, Indiana, Iowa, Michigan and Wisconsin were most affected. At least 10 deaths were flood-related.
Despite the rain tapering off, many areas along the Mississippi River and its major tributaries are still in danger of flooding. A document obtained from the federal government by the Associated Press revealed that 27 levees are in danger of overflowing if sandbagging efforts fail—releasing floodwaters able to cover thousands of acres, flooding the banks of the river below and destroying any homes in its path.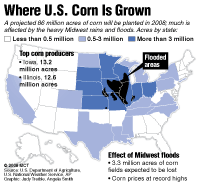 Iowa was perhaps the worst hit over the weekend, with 38,000 residents evacuated from 26 communities. In Cedar Rapids, Iowa, water levels reached the tops of street signs, and a once-bustling downtown was filled with water that lapped storefront awnings. Damage estimates for the city are $737 million.
In Wisconsin, 300-acre manmade Lake Delton broke through an Army Corps of Engineers embankment, carving a path of destruction to the Wisconsin River. With the lake largely drained, the surrounding Wisconsin Dells area will have to economically eke through the summer without one of its crucial tourist attractions.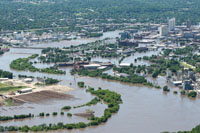 Getty Images
The American Red Cross reported that it has spent all of its funds and will begin borrowing in order to continue assisting flood victims.
Areas where flood waters have slowly begun to recede have other hazards. The remaining water is a noxious mix of sewage, pesticides, herbicides and animal carcasses. Also, broken gas lines, compromised building structures and sink holes have made homes unsafe.
The floodwaters covering America's Corn Belt may soon affect the rest of the nation as well. Fields of newly sprouted corn are underwater, and a soybean crop is unable to be planted due to the sopping soil. Experts estimate the region will produce 15% less corn than last year—boosting already high prices. With corn prices skyrocketing, meat products and fuel costs are expected to rise as well.