Learn the
why

behind the headlines.

Subscribe to the Real Truth for FREE news and analysis.

Subscribe Now
Since being struck by a 7.9-magnitude earthquake on May 12, which devastated the Sichuan Province, China continues its rescue efforts as the death toll rises daily. Early casualty estimates of 8,500 were surpassed two days later, with 14,463 confirmed dead, 14,051 missing, 25,788 buried under debris and 64,746 injured, according to Xinhua News Agency.
The quake—centered in China's Wenchuan County, about 960 miles southwest of Beijing—struck early in the afternoon, when schools and other buildings were filled with people. As buildings collapsed, thousands who were unable to flee into the open were buried in the wreckage.
The death toll is expected to increase, especially as rescue workers are able to reach and surmise the damage in the regions that were cut off in the disaster. The Chinese army is now mobilized in a massive rescue effort, which has been hampered by rain, mudslides and damaged roads. Each minute of the operation is critical to save those still buried.
Rescuers in the town of Yingxiu have reported that 7,700 people there were killed—three quarters of the town's population.
The quake's epicenter was the sparsely populated rural region of Wenchuan, which was cut off from the outside world after the earthquake. From Beichuan County, just east of the epicenter, more than 5,000 people died and 80% of buildings collapsed. As rescue workers sift through the rubble, more and more bodies are being recovered. A further 10,000 people were injured in the region, and hospitals are full. Having evacuated the remaining damaged buildings for fear of collapse, people have resorted to living in the streets.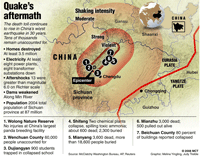 Nearly 30 aftershocks occurred within hours after the quake and were felt as far away as Pakistan, Vietnam and Thailand.
China is located in the highest earthquake risk zone in the world. The country also has the longest historical records of earthquakes affecting it, dating back 2,000 years. The May 12 quake was the worst to hit the region since 1976, when a major earthquake resulted in the deaths of 242,000 people in the northeastern city of Tangshan. In 2003, an earthquake killed 268 people west of Xinjiang. The largest quake reported in the region to date was the Shaanxi earthquake of 1556, which left 830,000 dead.