Learn the
why

behind the headlines.

Subscribe to the Real Truth for FREE news and analysis.

Subscribe Now
Escalating violence in Mexico's drug war has claimed more than 100 lives in the past week—including about 20 police officers, with heavily armed drug cartels targeting high-ranking police officials. Voice of America reported that cartel hitmen have assassinated nine federal agents.
The drug war has led to at least 1,100 deaths since January. If the death rate remains the same, the number of deaths in 2008 will surpass last year's total of about 2,500.
The violence is said to be a response to policies implemented by Mexican President Felipe Calderon, who declared war on the cartels upon taking office in 2006, and has authorized the use of over 25,000 armed troops to combat drug trafficking.
At a memorial service for one of the fallen officers, President Calderon confirmed his commitment to fighting the war on drug cartels. He said that organized crime groups were striking back against the federal government "because they know we are hitting their criminal structure." He also said the government is "determined to recover streets that never should have ceased being ours" (LA Times).
The United States National Drug Intelligence Center said the Mexican cartels are "predominant smugglers, transporters, and wholesale distributors of cocaine, marijuana, methamphetamine, and Mexico-produced heroin in the United States."
The U.S. State Department estimates that 90% of cocaine enters the nation via the Mexican border. Mexican cartels also grow marijuana and run methamphetamine labs in the U.S.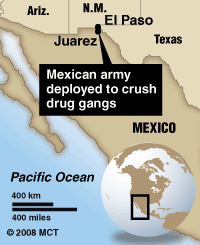 Additionally, the drug gangs are linked to kidnapping, human and arms trafficking, and auto theft. Gruesome violence is also used, including beheadings and other brutal forms of torture.
Much of the conflict occurs at the border, where cartels fight one another and the government for control of illegal trade routes into the U.S. The Mexican border town of Juarez, which is across from El Paso, Texas, has been one of the worst hit.
Last weekend, Municipal Police Chief Juan Antonio Roman was gunned down near the steps of his house, becoming the third senior police official to be killed in Juarez that week. Investigators estimate that assailants fired over 60 shots. Officer Roman's name had been on a hit list left by cartel members at a police monument in the city.
In response to this unhampered violence and the brazen killings of police officials, thousands of citizens wore white and silently marched Juarez's streets in protest.
U.S. President George W. Bush has asked Congress to approve a $500 million emergency aid package for the area, which will include helicopters and additional training for Mexican police in stopping smuggling and decreasing police corruption.