Learn the
why

behind the headlines.

Subscribe to the Real Truth for FREE news and analysis.

Subscribe Now
It was an ambitious and noble effort to bring peace to a war-torn region. On June 21, some 25 winners of Nobel Prizes in peace, economics, literature, physics, chemistry, and physiology and medicine attended the "Conference of Nobel Laureates, Petra II: A World in Danger."
The two-day peace conference, convened by Jordan's King Abdullah II and Elie Wiesel, a Nobel Peace Prize winner and Jewish Holocaust survivor, was held in the ancient city of Petra. Its purpose: to find a peaceful solution to the long-standing troubles between the Israelis and Palestinians.
In his inaugural address, King Abdullah said, "The intellect, knowledge and talent of the world's Nobel Laureates have brought better lives to millions of people in our world, and this week, we have a unique opportunity to have them apply their highly innovative minds to some of the most pressing contemporary global problems."
Mr. Wiesel stated, "Hatred, an old and new infectious disease, is still ravaging the human heart. Indifference imperils our future." Explaining that the theme of last year's Petra Conference was "A World in Danger," he said, "Sadly, our world is still in danger, growing danger, so we kept the title for this year's conference."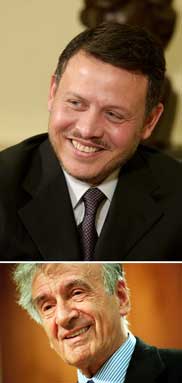 MCT
Many dignitaries attended, including former U.S. Ambassador Richard C. Holbrooke, Deputy Prime Minister of Thailand Sathirathai Surakiart and the Dalai Lama.
Meeting for the first time since Hamas won control of the Palestinian government, Palestinian Authority President Mahmoud Abbas and Israeli Prime Minister Ehud Olmert embraced each other. Both leaders agreed to set a date for a future summit meeting.
In addition to searching for solutions to the Israeli-Palestinian peace process, the peace conference focused on the non-proliferation of weapons of mass destruction, education, health and poverty, and economic empowerment. Discussions included joint Israeli-Jordanian-Palestinian economic projects (such as quarry exploration and advancing a canal project that will bring water from the Red Sea to the Dead Sea).
Certainly, the leaders and thinkers had commendable intentions. Yet their best efforts and hopes for achieving peace in the Mid-East were abruptly answered days later by the sudden breakout and escalation of war between Israel and Hezbollah.
The horror of war has wracked the world for thousands of years. Its fruits are terror, destruction, economic upheaval, orphaned children, population displacement, widespread devastation of the land, atrocities, hunger, disease, untold suffering, misery, despair, injuries, death and even genocide. All of this yields greater hatred and revenge, endless retaliation and more war, because nothing is ever permanently resolved through military conflict.
Long-standing ethnic, tribal and religious differences, coupled with boundary disputes and outright aggression to seize the land or property of others, have always served to fuel the next war fought between the same peoples or nations.
Few understand that all wars, battles, conflicts and hostilities are caused by one common denominator—a root cause. Found at the very core of human nature, it breaks apart families—transforms safe neighborhoods into crime-ridden ghettos reminiscent of war zones—has historically led the churches of the world to wage religious wars and conduct inquisitions—and has, to varying degrees, corrupted all governments, from the Third World to Western democracies. From marriages and families to neighborhoods, churches and governments, everyone is affected. This keeps even the world's brightest minds—despite their genuine concern—from discovering the answer to true and lasting peace.