Learn the
why

behind the headlines.

Subscribe to the Real Truth for FREE news and analysis.

Subscribe Now
Still reeling from the coronavirus pandemic and street protests over the police killing of George Floyd, exhausted cities around the nation are facing yet another challenge: a surge in shootings that has left dozens dead, including young children.
The spike defies easy explanation, experts say, pointing to the toxic mix of issues facing America in 2020: an unemployment rate not seen in a generation, a pandemic that has killed more than 130,000 people, stay-at-home orders, rising anger over police brutality, intense stress, even the weather.
"I think it's just a perfect storm of distress in America," said Atlanta Mayor Keisha Lance Bottoms after a weekend of bloodshed in her city.
Jerry Ratcliffe, a Temple University criminal justice professor and host of the "Reducing Crime" podcast, put it more bluntly: "Anybody who thinks they can disentangle all of this probably doesn't know what they're talking about."
The discussion surrounding the bloodshed has turned political—with both liberals and conservatives accusing the other side of fomenting violence.
"Law and order are the building blocks of the American dream, but if anarchy prevails, this dream comes crumbling down," White House Press Secretary Kayleigh McEnany said last week.
Police officials in New York City and elsewhere say the recent bloodshed has shown there are consequences to some reforms they see as misguided, particularly on bail reform, enacted before the protests happened but exacerbated by the moment.
Emboldened criminals feel "that the cops can't do anything anymore, that no one likes the police, that they can get away with things, that it's safe to carry a gun out on the street," New York Police Department Chief Terence Monahan said this week.
Mr. Monahan's remarks came after a holiday weekend that saw a wave of shootings leaving 10 dead. Through Sunday, shootings were up more than 53 percent—to 585—so far this year.
The recent spasm of violence was captured in a New York Post headline about a crime-ravaged city crying out for help. It was nearly identical to one that ran 30 years ago—when there were more than 2,000 murders a year. But crime has been declining for more than a decade—there were about 300 last year.
Crime has spiked in other major cities, too. In Dallas, violent crime increased more than 14 percent from April to June. In Philadelphia, homicides were up 20 percent for the week ending July 5 over last year at this time. In Atlanta, 31 people were shot over the weekend, five fatally, compared with seven shootings and one killing over the same week in 2019.
While Ms. Bottoms championed the movement to stop needless deaths at the hands of the police, she said at a news conference that "this random, wild, wild West shoot 'em up because you can has got to stop."
Tracie Keesee, a longtime police official in Denver and New York who co-founded the Center for Policing Equity, said it is important to get answers on what is driving the crime, whether it's drugs, domestic violence or poverty. She cautioned against broad-stroke generalizations.
"You have to get into the numbers," she said.
Reform advocates say blaming a spike on the necessary push for police reform ignores the root causes of crime and the progress of the movement.
Government officials need to "be thoughtful and nuanced and contextual about these things," New York City Council Speaker Corey Johnson told radio station WNYC this week.
To link the shootings to reforms, Mr. Johnson added, gives "an inaccurate picture of what criminal justice reform is about and is just demonizing the moment that we're in and not talking about what brought us here today."
Like New York, Chicago had already seen an increase in homicides and shootings in the first part of the year. But while the violence tapered off in New York under stay-at-home orders, shootings in Chicago remained steady, likely because of gang warfare, said Wesley Skogan, who studies crime at the Institute for Policy Research at Northwestern University.
Seventeen people were fatally shot in Chicago and 70 wounded, one of the bloodiest holiday weekends in memory there.
Trying to understand the surge in U.S. violence can seem impossible because of the complexities of race issues, gun rights, hyper-partisanship, and on and on.
We framed this Gordian-knot problem in the article Making Sense of an Earth Filled with Violence: "This is an age of paradoxes. A suicide bomber explodes himself to kill and maim in the name of religion, and across the world a groom kisses his bride for the first time. A hotheaded brother dukes it out with his sibling over a girl, and elsewhere a father teaches his daughter to drive. A man harbors a bitter grudge against his neighbor for decades, and a 20-something tosses his graduation cap into the air at a nearby university.
"Why is the world this way?
"Societies have attempted for millennia to solve the problems of violence—not realizing the 'way of peace they know not; and there is no judgment in their goings…' (Isa. 59:8). Man will continue fruitlessly trying to manufacture peace, only to bring even worse hatred and cruelty.
"How can violence end? It starts with individuals realizing the extent that violence pervades their lives, and beginning to understand there is another way to live."
Learn the answers by reading all of Making Sense of an Earth Filled with Violence.
Articles
SOCIETY & LIFESTYLES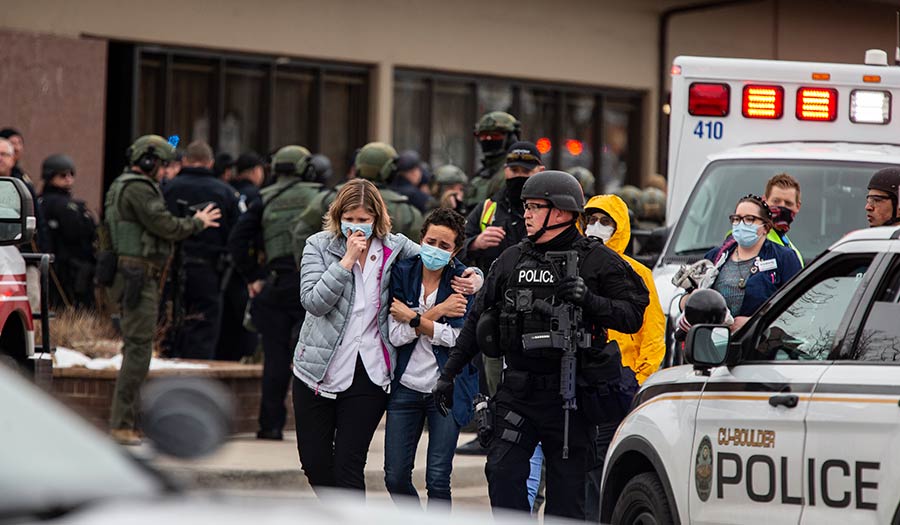 Making Sense of an Earth Filled with Violence
Mass shootings. Terror attacks. Gruesome murders. Why do such horrific acts fill today's headlines?