Learn the
why

behind the headlines.

Subscribe to the Real Truth for FREE news and analysis.

Subscribe Now
In the first hours of 2017, a gunman opened fire at a nightclub during New Year's celebrations in Istanbul, Turkey—39 were left dead and 70 wounded. The city's governor said the gunman "rained bullets" in a very cruel and merciless way on innocent people who were there to celebrate New Year's and have fun.
For those in nations like America, such a body count seemed rare when the year rang in. Yet several months later a gunman in Las Vegas sprayed more than 1,100 rounds into a crowd of 22,000 concertgoers—58 dead and 546 injured.
These are just two tragic incidents that took place during a year when everything seemed to flip upside down.
Events were topsy-turvy the world over: Nuclear war is again a real possibility, decades-long government reigns ended, the U.S. and Caribbean were hammered by the worst hurricanes in over a decade, neo-Nazis and anarchists in the group Antifa openly protested on American streets.
It did not stop there. A Nobel Peace Prize winning world leader had a terrible spate of ethnic cleansing in her own nation. The U.S. president—inaugurated in January—was derided in the media while the Dow Jones Average was at record highs. While the Islamic State terror group was ousted from all its major strongholds in Iraq and Syria, the two nations are left to cope with bombed out shells that were once vibrant cities, and more terrorist attacks have been committed across the globe in the name of ISIS.
Normalcy that ensued for years—decades even—all seemed to flip. The events of the last 365 days cry out that something needs to change.
Alt-right vs. Antifa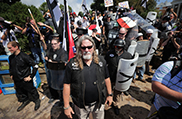 Chip Somodevilla/Getty Images
America's political divide grew to chasmic proportions during the year. A Pew Research Center study revealed that differences between political parties in 2017 were three times greater than any other category such as race and religion.
Political groups with radical leanings made violent waves during the year, namely in clashes that erupted during an "alt-right" protest against the removal of Confederate monuments in Charlottesville, Virginia, on August 12. The clash included far-right groups such as white supremacists and neo-Nazis and leftist groups including the anti-fascist Antifa and the Revolutionary Communist Party.
According to NPR, both sides "faced off, kicking, punching, hurling water bottles at and deploying chemical sprays against one another." That single event left 30 injured and one dead.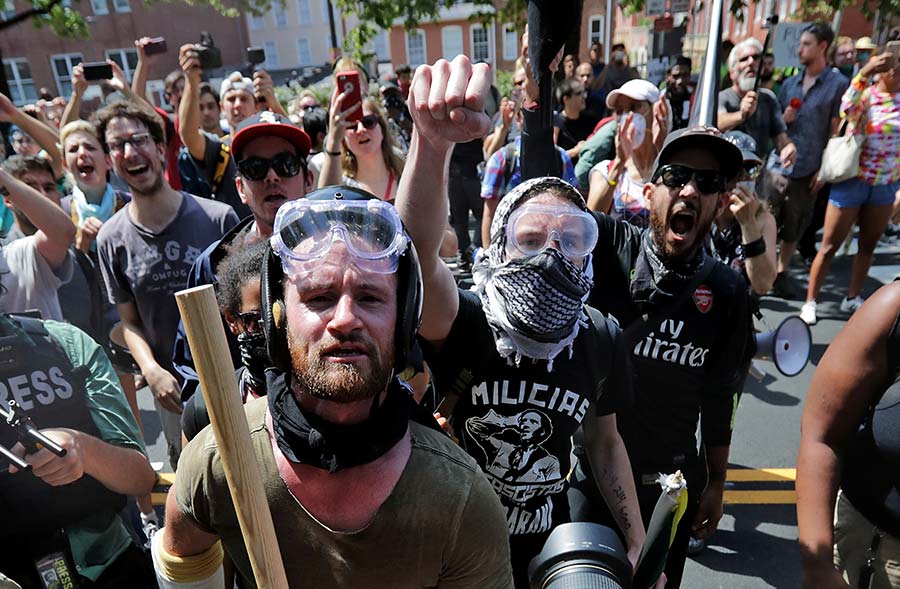 Chip Somodevilla/Getty Images
Racial tensions also boiled over in 2017 after a number of white police officers were found not guilty in the shooting deaths of black men. In September, peaceful daytime protests in St. Louis turned violent at night and led to more than 120 arrests and dozens of injuries.
After ISIS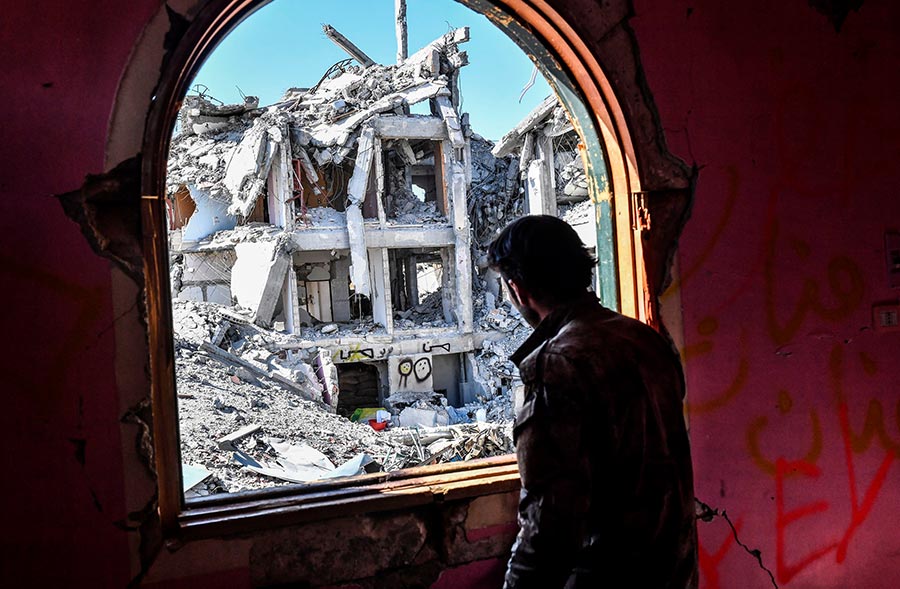 Bulent Kilic/AFP/Getty Images
The Islamic State terror group lost all of its major strongholds in Syria and Iraq during the year including the cities of Raqqa and Mosul. An affiliate group in the Philippines was also routed from Marawi by the Southeast Asian nation's army.
While ISIS continues to radicalize new members via the internet, the battle against the group in the Middle East and its three-year pursuit of a caliphate has effectively reached an end. Yet this victory gave way to stark realities.
All that is left in the wake of these conflicts is essentially rubble. The de facto ISIS capital of Raqqa has been destroyed. Craters left by airstrikes mark places where apartment buildings once stood. Aerial images reveal rows of what were once homes, as well as factories and high-rises turned into indistinguishable piles of debris.
With a common enemy defeated, old rivalries are flaring up in Syria, with Russia, the United States, Turkey, Iran, Saudi Arabia, and Kurdish separatists all seeking political influence in the unstable region.
And even though ISIS has no strongholds left, its influence will no doubt continue as families and governments attempt to pick up the pieces.
Nature Unleashed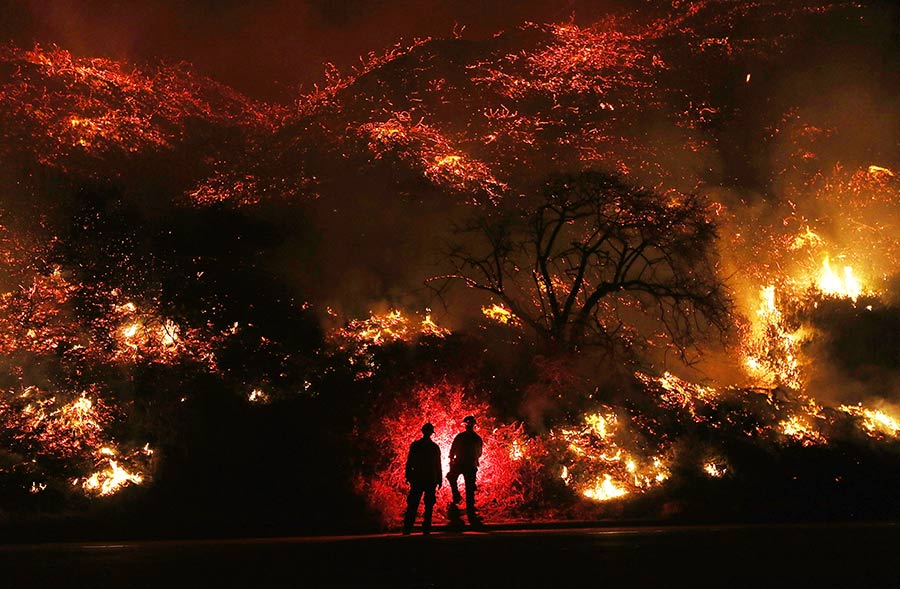 Josh Edelson/AFP/Getty Images
Entire neighborhoods in Northern California were burned to the ground in 2017 in wildfires that left at least 40 dead and destroyed nearly 6,000 structures. All that was left were charred outlines of places that families called home. Blazes also raged near Los Angeles, burned historic giant sequoias in Yosemite, and charred more than 1 million acres of forest in Montana in what was described as one of the worst fire seasons in U.S. history.
Beyond California's hazy, flame-lit skies, the world was hit hard by the other end of the spectrum of natural disasters: water. The Atlantic hurricane season was the costliest in history and the most powerful in terms of wind and storm surge force since 2005. In a matter of weeks, Hurricane Harvey inundated Houston, Texas, and hurricanes Irma and Maria devastated Florida, Puerto Rico and other Caribbean islands.
In addition, an earthquake in Iran killed 540 and injured nearly 8,000, and a quake near Mexico City killed 370 people. Monsoon floods in Southeast Asia caused more than 1,200 deaths, and a landslide in Sierra Leone caused 500 deaths.
Ethnic Persecution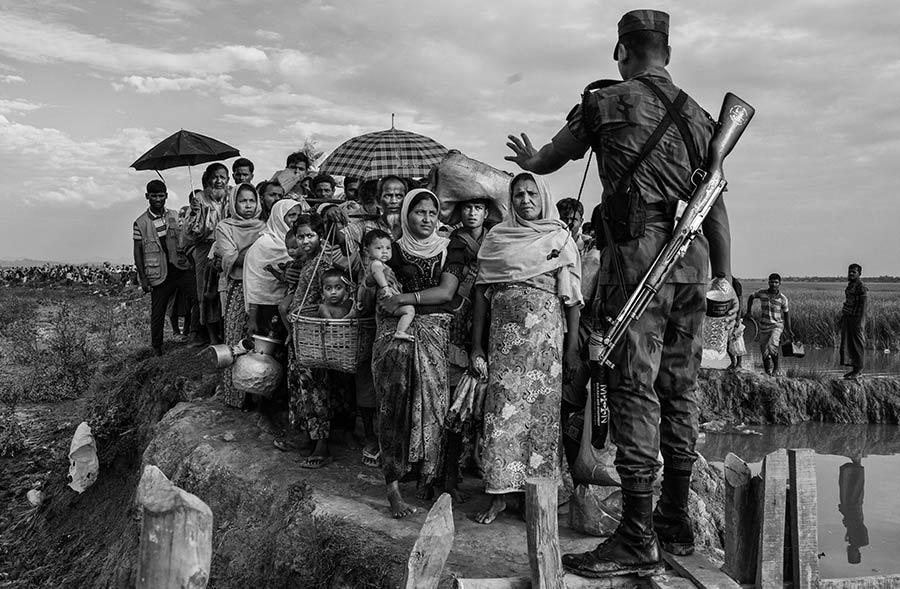 Kevin Frayer/Getty Images
The lives of more than 600,000 Rohingya Muslims were utterly turned upside down beginning in late August, when Myanmar security officers began "clearance operations" that included burning Rohingya villages. The action came after an attack by an insurgent group.
The thousands of Rohingya, who are not considered citizens in the Buddhist-majority nation, fled to Bangladesh from what the United Nations labeled ethnic cleansing, with accounts of Rohingya men being executed, women raped, and infants murdered.
In Africa, international officials warned of genocide in South Sudan as the country's four-year civil war continued. In February, the UN reported that 1 million people were at risk of starvation as a result of the South Sudan government's scorched earth methods of warfare.
Nuclear Face-off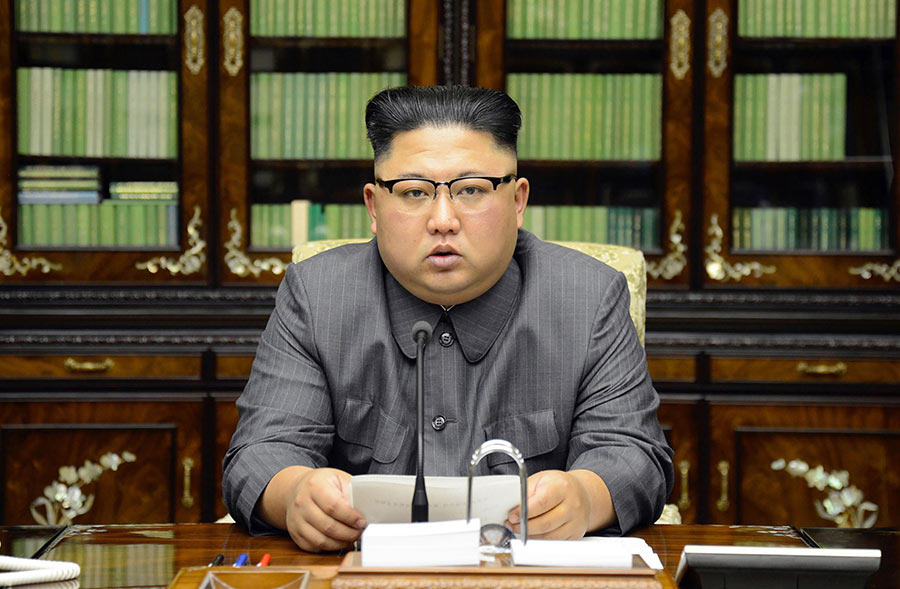 Korean Central News Agency/Korea News Service via AP
Decades of "strategic patience" with North Korea's nuclear program morphed into heated brinkmanship throughout the year. The North's leader Kim Jong Un has launched more missiles than all of his predecessors put together and has reportedly tested the nation's first hydrogen bomb.
U.S. President Donald Trump promised to "totally destroy" the rogue state if forced during a UN address, to which Mr. Kim responded with a televised statement to the world vowing to take the "highest level of hardline countermeasure in history."
The nuclear threat loomed over Mr. Trump's Asia visit in November, during which he and Chinese President Xi Jinping agreed to further sanctions against North Korea. Later, Washington re-designated North Korea as a state sponsor of terror.
Beyond the political arena, public concern is mounting over Pyongyang's apparent ability and willingness to use nuclear weapons. A Pew Research Center poll released in early November revealed that the majority of Americans (71 percent) feel their government should take North Korea's nuclear threats "very seriously," an increase from 56 percent in 2013.
Terror & Sorrow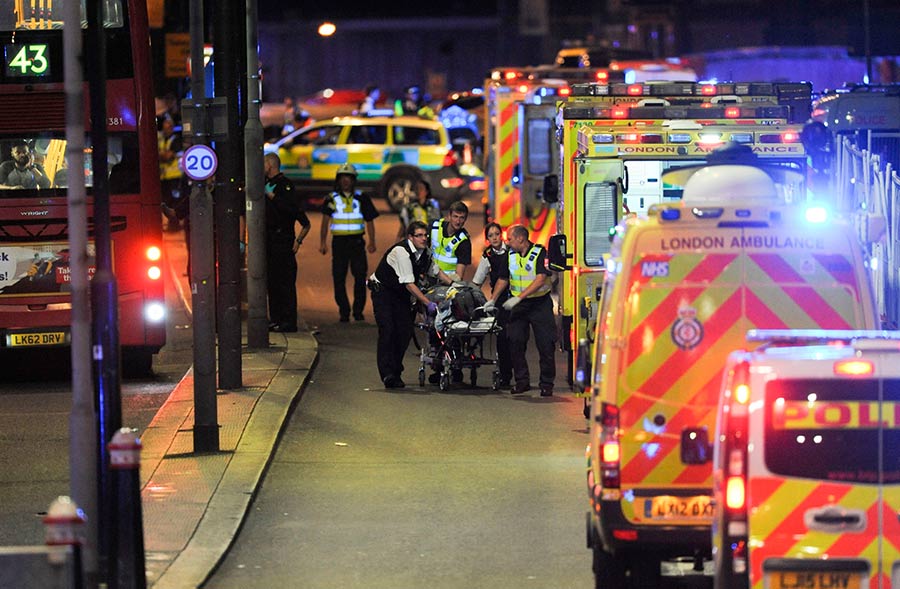 Daniel Sorabji/AFP/Getty Images
Terror attacks and mass killings also punctuated the year. The U.S. had its most deadly shooting in Las Vegas after a gunman opened fire on a crowd attending a music concert in October: 58 dead, 546 injured. In November 5, a man opened fire in a church in Sutherland Springs, Texas: 26 killed, 20 more wounded.
Only days earlier, New York City's deadliest terror attack since 9/11 occurred when a driver plowed a truck through a bicycle path on October 31: eight dead, 11 injured.
Across the Atlantic, the United Kingdom suffered a spate of stabbings at Westminster and London Bridge, as well as a bombing at a Manchester stadium in May that killed 22 and injured over 100.
Sadly, the attacks in the West pale in comparison to those in Africa and the Middle East. At least 512 were killed and 316 injured in Mogadishu, Somalia, after a suicide truck bombing in October. Just a month later, Egypt experienced its deadliest attack in modern history when gunmen used explosives and opened fire on worshippers in a mosque, killing 311 and injuring 122.
Perceiving an uptick in random, senseless violence, many are asking: Is anywhere safe?
Power Shifts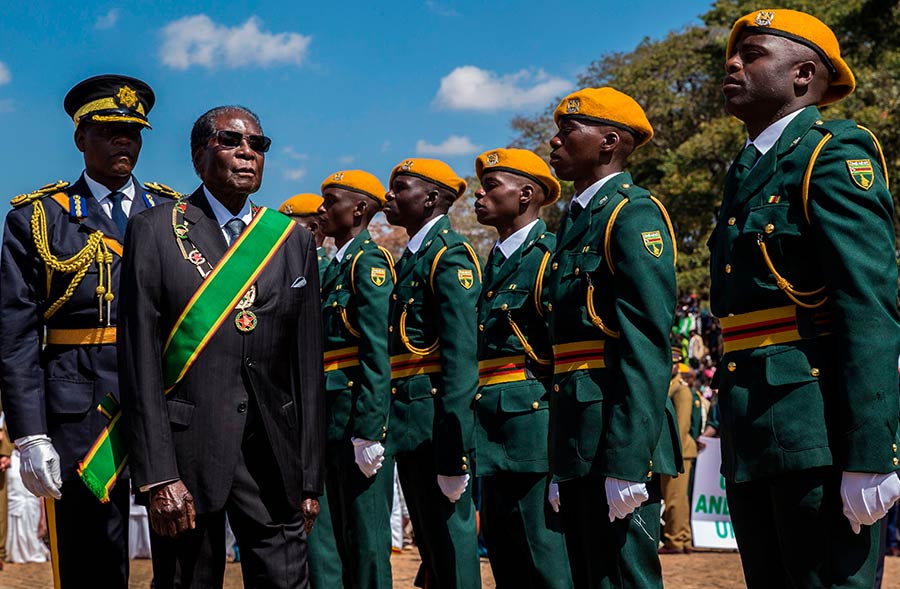 Jekesai Njikizana/AFP/Getty Images
Unexpected political shake-ups gripped the world in 2017. Kenya's presidential elections were fraught with violence as opposition leader Raila Odinga called on supporters to resist the outcome of President Uhuru Kenyatta remaining in office. More than 30 died in the months-long bloodshed.
To the south, the Zimbabwean military forced strongarm President Robert Mugabe to resign, ending his 37-year tenure.
Other leaders across the globe consolidated their power. China's Xi Jinping positioned himself to become the nation's most powerful leader since Mao Zedong.
Turkey's Recep Tayyip Erdogan assumed greater authority after a controversial referendum to rewrite the constitution. Venezuela's Nicolas Maduro held a similar contested election to oust opposition officials amid widespread protests against massive inflation and food shortages. Many speculate the move could allow him to stay in office indefinitely.
Meanwhile, other nations began to splinter. Movements for independence by the Catalonians in Spain and Kurdish peoples in northern Iraq, Syria and Turkey were met with fierce resistance from their host countries.
2018 and Onward
The lesson from 2017 may be the timeworn adage of "expect the unexpected"—especially as the problems of last year spill into the next.
While protestors in Charlottesville, Virginia, have long dispersed, the event represented America's ever-worsening political partisanship, with those on the far-right and left growing in number.
ISIS has lost nearly all of its important land holdings, yet it will continue to wage violent jihad through the citizens it has radicalized.
More than 5 million Iraqis have been displaced since ISIS took territory in 2014, according to the UN. They join the 66 million worldwide in exile as a result of violence, persecution, food insecurity, or poor governance in countries such as Myanmar, South Sudan, and Syria. And within that group is an entire generation of children growing up without a proper education and scarred by experiences of brutality, poverty, disease and homelessness.
North Korea's threats are poised to ratchet up, as Pyongyang claimed it will be able to produce a missile capable of reaching the United States with a nuclear warhead as early as mid-2018. More officials are saying war with North Korea is unavoidable since, according to National Interest, "The United States will not live with a North Korea that can destroy American cities with a nuclear-tipped ICBM."
Though the hurricane season is over, experts are predicting more powerful storms in the near future. With them will come a host of humanitarian and economic crises that could bring nations to their knees—not able to recover before the next storm blows in.
Puerto Rico illustrates this perfectly. It has been in recession since before the 2008 financial crisis. With the devastation from Hurricane Maria, one economist predicts it may take over 10 years to fully recover. Others put the number at 20-30 years.
The upside-down world of 2017 will continue into 2018. Add to this that 21st century problems are often more complex, confusing and pervasive than ever before. Given this, the prospects for next year seem grim and hopeless.
But how can you look past today's constant stream of bad news and make sense of the events and trends?
Keep reading The Real Truth. Not only will it continue to display events that are important for you to know, it will also bring clarity to these issues.
This publication provides a unique perspective, pointing to the solutions to the problems mankind faces. It will help ensure you do not lose sight of the good news buried underneath today's stream of bad news!